World Corn Market 2021 and Ukrainian Realities: From Global to Local
The current corn season features a number of variables making the work of agricultural producers worldwide no easier at all. The new variant of COVID-19, Omicron, which is impeding economic activity, was coupled with a sharp increase in gas and oil prices, entailing higher prices for services, in particular, for grain drying and transportation.
In some corn regions, there were weather-related harvesting challenges, as well. However, all this did not prevent USDA analysts in November to project a 6.4 mln t increase in the global corn production in the 2021/22 season. Thus, according to the Agriculture Department's report, the world corn harvest this season will amount to 1,204.62 mln t. The export capacity in 2021/22 is estimated by USDA experts at 203.47 mln t.
Food and environmental policy
Louis Dreyfus Company (LDC) notes that since 2011/12, the world corn production has increased by 32%. This growth has well-grounded reasons and, following the trends, will persist.
The growing global population is one such reason. It may seem that 12% of the world's corn used for food is not that much. However, in the global consumption structure, 60% of corn is used as feed for poultry and livestock. Thus, more than 70% of the world's volume of corn is either way associated with food, and the latter is increasingly needed every year.
Another reason to believe that world corn output will further grow is the change in environmental policies in favour of the use of alternative energy sources, in particular, bioethanol. Today, more than a third of the corn is used worldwide for so-called industrial purposes, including the production of biofuels.
Considering the 'green' policy of the European Union and other world initiatives, it is clear that this industry is gaining momentum. For example, even today in the U.S. 50% of corn is used for the production of bioethanol.
World's largest corn producers
The United States is the world's leading producer of corn. Most of the crop is used for domestic consumption and about 17% is exported. But even with these volumes, the U.S. is currently the principal exporter of corn. This year the country is forecast to harvest 377 mln t of corn, of which 63.3 mln t will be exported.
China is the second-largest world corn producer. It is projected that the PRC will harvest 273.5 mln t of corn in 2021/22. However, the situation in the foreign markets is opposite to that in the U.S.: Chinese corn is not exported, 100% of it is consumed by the domestic market. Moreover, China is the key importer. For example, 35% of the total export of corn from Ukraine is headed to this country. Experts suggest that China will buy about 26 mln t of grain in the current season.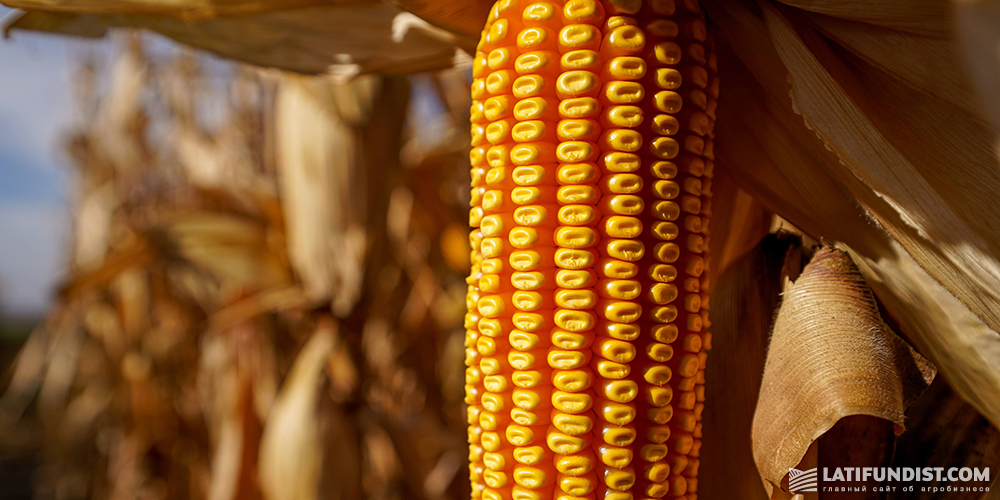 Brazil is the third global producer of maize. This country is also one of the largest exporters. The total volume of Brazil's corn production should reach 86.6 mln t. More than a quarter of this grain, about 23 mln t, will be exported to foreign markets.
Argentina, too, can be referred to as the world corn major, not so much in terms of production volume, but in terms of export size. In its November report, the USDA forecasted an increase in Argentine corn production to 54.5 mln t and record exports of 39 mln t, or more than 71% of the produced volume.
Ukraine's corn exports
We have a situation very similar with Argentina: production volumes are not that large compared to the giants, but Ukraine together with the U.S., Brazil and Argentina is among the top sellers of corn which cover 85% of exports. Every year 75-85% of Ukrainian corn is delivered to foreign markets. Of the amount that remains for domestic consumption, 90% is used for feed production.
The Ministry of Agrarian Policy and Food of Ukraine (Minagro) anticipates a record-breaking harvest of corn — 40 mln t. USDA analysts in the latest report project that agriproducers in Ukraine this season will harvest 38 mln t of corn, of which 31.5 mln t will be traded abroad.
The European Union is the number one buyer of Ukrainian corn. Proximity not only facilitates logistics in the EU countries, but also makes Ukrainian corn more environmentally friendly for them. In terms of countries, China imports more Ukrainian corn. It is also in demand in the Middle East. According to Oleksandr Karpenko, head of Black Sea Cluster at Louis Dreyfus Company, Turkey is a promising market for our producers. Geographically it is the closest market to Ukraine and there is no competition there other than with Russia.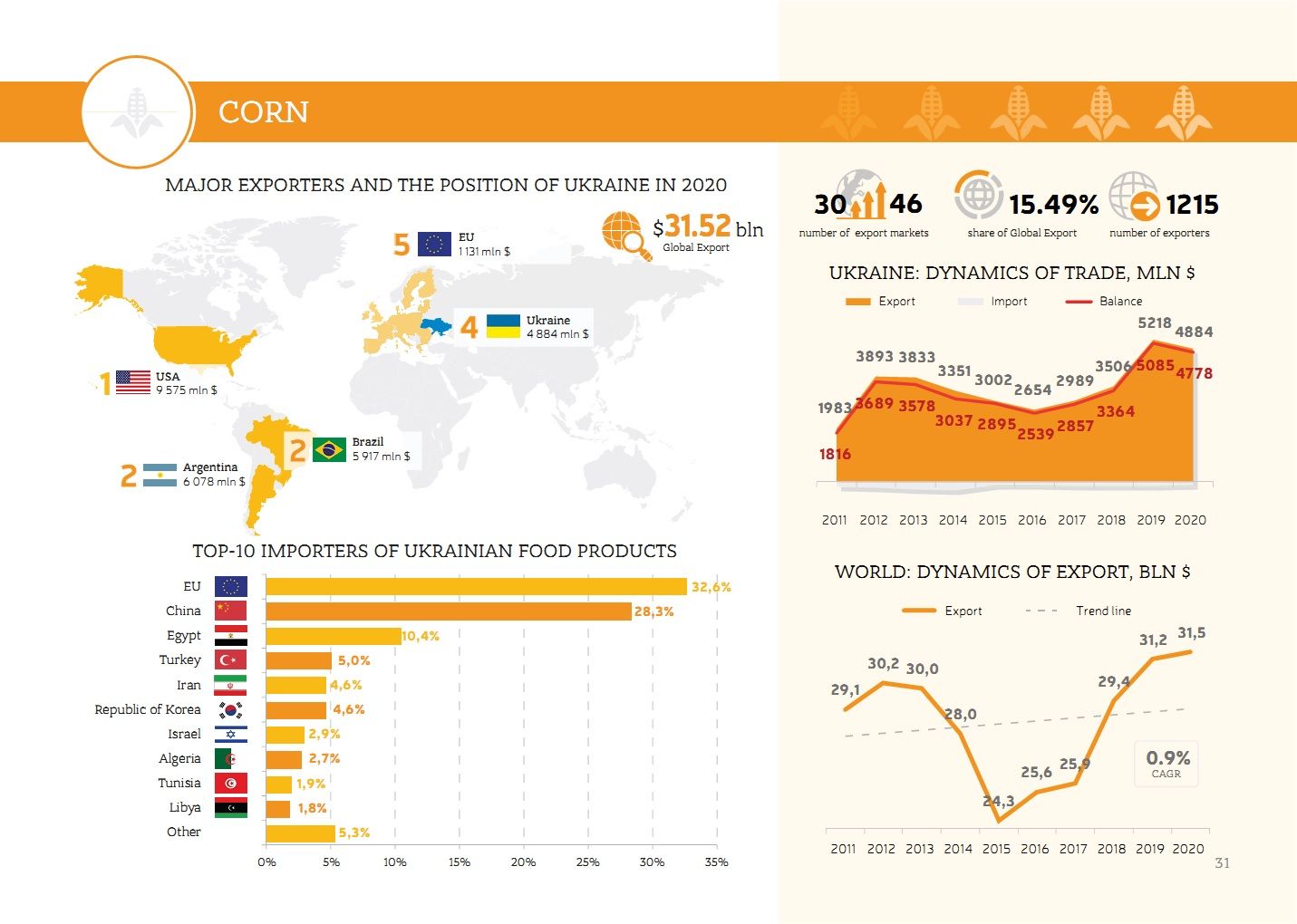 It should be mentioned that since 1991 Ukraine has increased corn production by 8x, but still lags behind the EU countries in terms of yields. In a season of average conditions, Ukrainian farmers harvest about 7 tons of corn per hectare, European 10 t and more. Louis Dreyfus Company analysts are convinced that in the next 10 years Ukraine can catch up with Germany and France in terms of corn yields.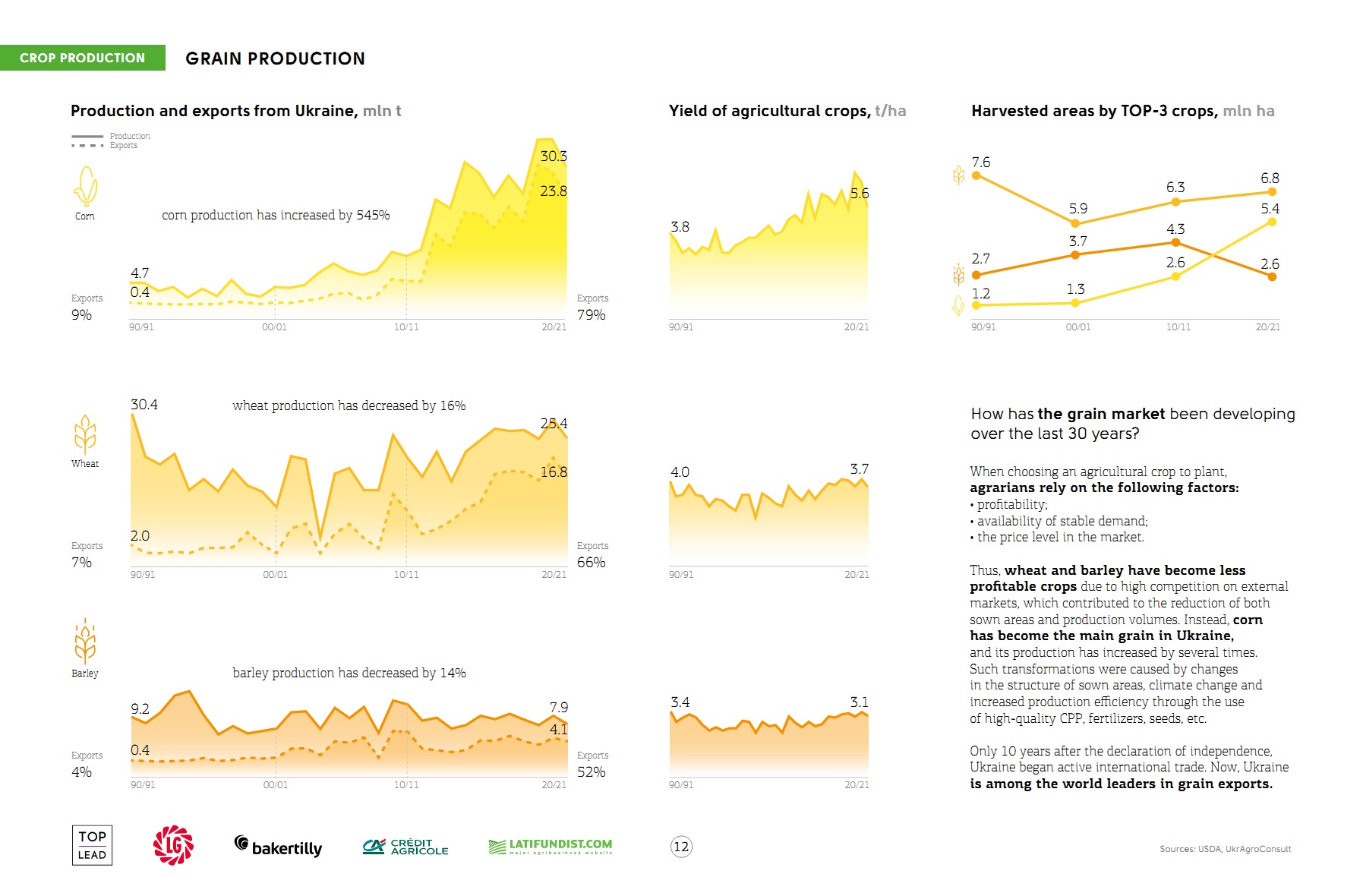 Trends and perspectives
Ukraine covers about 15% of the global corn market. Last marketing year, the dollar value worth of corn exported was USD 5.1 bln. There is room for growth for Ukrainian producers in this area, as export quotas are steadily increasing. For example, in 2020 they amounted to 600 thou. t, while in 2021 their volume has reached 650 thou. t.
Oleksandr Karpenko

Head of Black Sea Cluster at Louis Dreyfus Company

"Only 3-5% of Ukrainian corn is genetically engineered. Ukraine has taken its place on the world corn map — those are markets that give priority to non-GMO corn, and our producers have developed their brand there. This may change over time. GMO-corn, of course, has its advantages. For example, it is easier to estimate yields and plan for higher production, but everyone chooses for himself, and today non-GMO corn has more liquidity in the world."
In his opinion, for maintaining and strengthening positions on the global corn market, apart from keeping track of the demand for GMO corn, Ukrainian agrarians have to take account of a few other trends:
sustainable development, to which the world is moving. It gives the opportunity to receive a premium for exported goods, open more European markets and new directions;
seasonality impacting the price formation. It is for a fact that Argentina and Brazil currently have a stronger influence on the global corn market than Ukraine. In these countries, the harvest begins in February and their production may have a significant effect on Ukrainian export prices. Thus, in the second half of the season, when Brazil and Argentina compete with Ukraine for exports to the key markets, it is worth analyzing in detail the possible risks associated herewith;
production technologies. In growing corn, moisture, optimum mineral nutrition and temperature conditions in spring and summer are the vital factors for Ukraine. If we learn to control them and reduce the risks where control is not possible, the producers will have real chances to steadily increase production at reasonable costs.
Recently the Minister of Agrarian Policy and Food of Ukraine Roman Leshchenko stated that corn is the key to Ukraine's energy independence, as it ensures the production of gas, fuel and high-quality feed.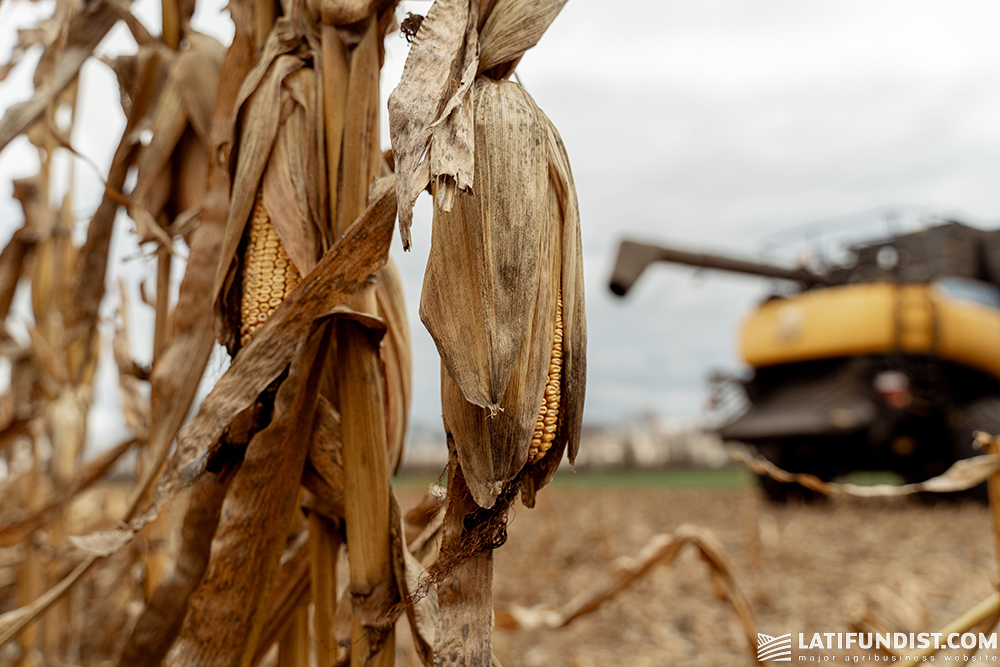 He argues that the deep processing of corn will be the next phase of the agrarian policy of the state: the producers will be relieved of some taxes and will be provided with preferential conditions as part of the "investment nannies" regime. Yet it is hard to say whether this encourages national agriproducers to give up on global markets and start selling on the domestic market, investing in processing.
Farmers stand ready to sell corn to domestic consumers, but this process is severely limited by the lack of financing of the latter. Ukrainian buyers often cannot store corn until the end of the season. That is why today those agrarians who are able to store their crops independently and sell them to Ukrainian buyers at the end of the season have an advantage in this field.