Farmland marketed in Ukraine nears 144 thou. ha
As of 3 December, the number of farmland sale transactions in Ukraine totalled 56,964, the Agrarian Ministry reports. The area of land under registered transactions is 143,881 ha.
Since the opening of the farmland market in Ukraine on 1 July 2021 the weighted average price per hectare has reached UAH 33,618 (apx. USD 1228).
Basic data on farmland market in Ukraine as of 6 December:
the weighted average contract value per land plot — UAH 33,618
the total number of transactions of purchase and sale of land plots for commodity agricultural production (land shares) — 20,633, which is 19% of all land transactions in the country
the total area of land shares sold — 74,866 ha
the average size of the land plot — 3.62 ha
the maximum price for the land plot — UAH 5,035.0 mln in Lviv region
the maximum size of the plot — 46.75 ha in Donetsk region, the price of which was UAH 1,575.43 mln. The registration date is October 11, 2021
The highest number of land sale transactions in regions as of 3 December:
Kharkiv: 5,586

Kyiv: 4,298

Poltava: 4,282

Khmelnytsky: 4,022

Vinnytsya: 3,994

Sumy: 3,951
Largest farmland volume sold in regions:
Kharkiv: 20241,6 ha

Kirovohrad: 15686,5 ha

Dnipropetrovsk: 12852,8 ha

Poltava: 11740,6 ha

Kherson: 11121,9 ha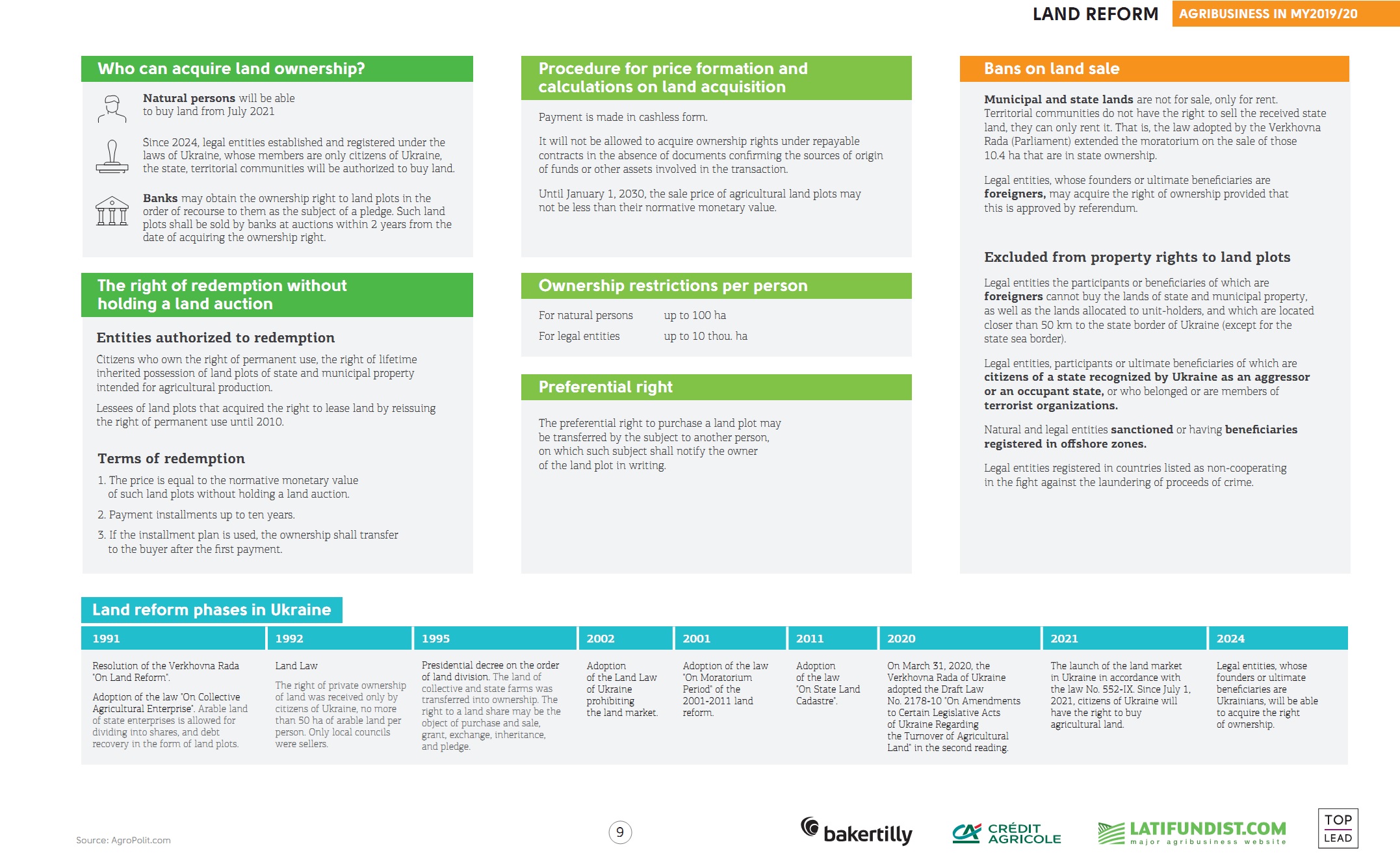 The StateGeocadastre projected the cost of farmland in Ukraine upon land market opening with the highest being traded in Cherkasy region and the lowest in Chernihiv.
Farmland market for individuals—citizens of Ukraine, not more than 100 ha per person—was opened on July 1, 2021.
Learn more: