Ukraine wheat prices moved down, corn remains firm
Ukrainian 12.5% and 11.5% wheat offers FOB Berdyansk on Jan. 11 were down USD 2 a ton versus Friday, at around USD 304 a ton and USD 301 a ton, respectively, Refinitiv Agriculture writes.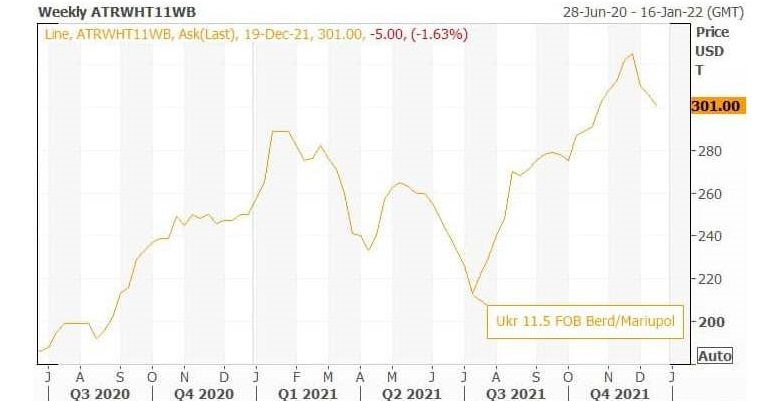 The offer price for 11.5% wheat in Mykolaiv for January shipment fell by USD 4 against Friday to USD 329 a ton FOB.
"Trading activity was low early in the week, but recovered in anticipation of the January USDA report. Prices are under pressure from sizable wheat harvests in Australia and Argentina, as well as improved moisture reserves for winter wheat in Russia and Ukraine. At the same time, the weaker US wheat crop condition is limiting price declines," the message reads.
Turkey's TMO scheduled on January 18 another wheat tender for 335,000 t for February 10-March 10 loading period, which could support prices.
On Friday, corn prices were firm at 275 USD/ton FOB Mykolaiv for January delivery amid improving demand. Most operators are bullish ahead of the January USDA. The global corn ending stocks are expected to fall by around 1.46 mln t mth/mth to 304.08 mln t. In addition, Conab cut its Brazil corn production forecast to 112.9 mln t, well behind USDA's 118 mln t in December and even more pessimistic than AgRural's 114.4 mln t.
Previously reported that dry conditions in Latin America pushed down corn and soybean production forecasts.