Ukraine & Croatia. Cooperation in Agro-Industrial Sector. Top Messages by Sergey Fatkullin
A market's accessibility makes it more competitive. The Ukrainian agricultural market is no exception. The domestic agriproducers are enthusiastic about establishing business relations with representatives of different countries. In February the embassies of Ukraine and Croatia hosted an online meeting "Agricultural cooperation of Ukraine and Croatia: Opportunities and innovations". The event was supported by Ambassador Extraordinary and Plenipotentiary of Croatia to Ukraine Anica Jamic and Ambassador Extraordinary and Plenipotentiary of Ukraine to Croatia Vasyl Kyrylych. Representatives of embassies and businesses discussed fields of cooperation between the countries in the agricultural sector. Latifundist.com interviewed the Honorary Consul of Croatia in Ukraine Sergey Fatkullin, who gave more details about the prospects of cooperation in the agro-industrial sector.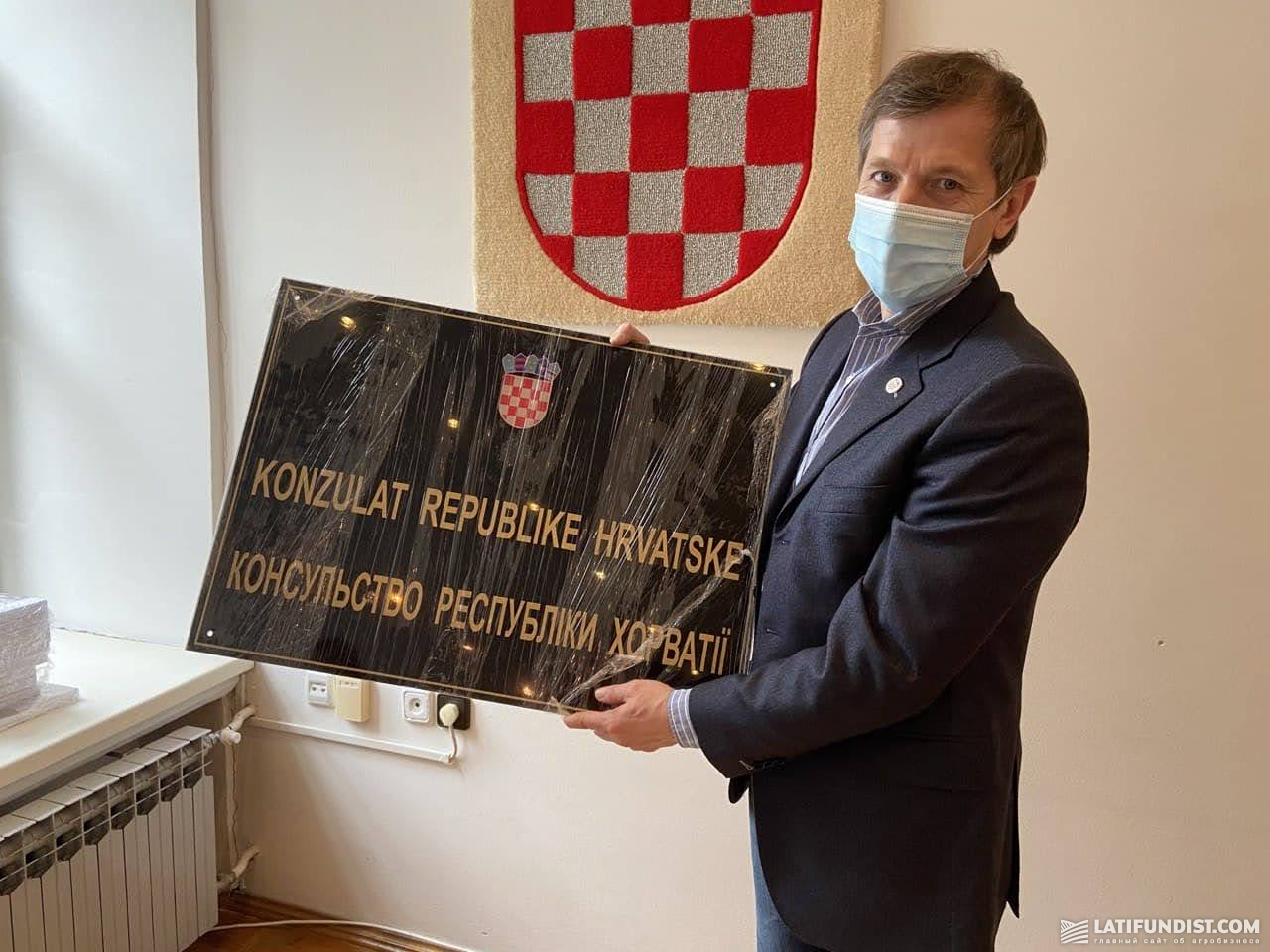 1. Features of the Ukrainian and Croatian agro-industrial complexes
The two markets are essentially different. In Ukraine, the focus is on the large-scale production of cereals and industrial crops, in Croatia, horticulture and organic farming is prioritized. The share of organic farming in Croatia's agricultural sector is three times higher than in Ukraine. Besides, farmers in Croatia do bio-farming and related to it activities. They are building a blockchain for fisheries. In turn, Ukraine is attractive because there are about 100 AgTech startups developing in our country. Hence, it is quite easy to find points of contact and be useful to one another.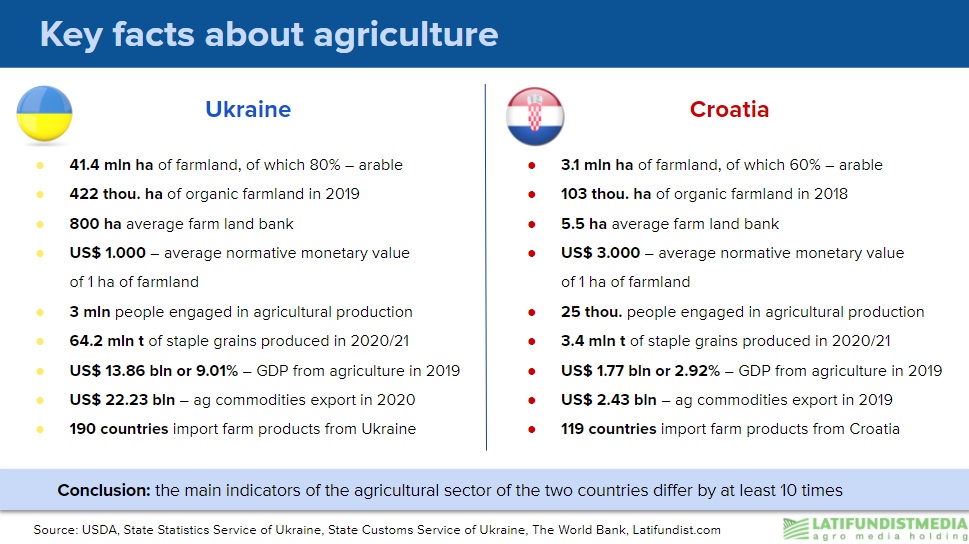 2. Bigger and smaller
With regard to the size of the countries and their geographical location, the main agricultural indicators of Croatia and Ukraine differ manifold. As already mentioned, the arable land area in Ukraine is 13x larger than that in Croatia. The share of agriculture in Croatia's GDP is 7x smaller than the share of agriculture in Ukraine's. The Croatian agricultural sector generated USD 1.77 bln or 2.9% of the country's GDP in 2019. Given the scale of agricultural production and the development of other export destinations, Croatia delivers 9x less (in terms of money) agricultural commodities to foreign markets than Ukraine.
3. Crop yields
Clearly, the volumes of grains and oilseeds produced in Ukraine and Croatia are incomparable. Nevertheless, according to USDA data, the yield of industrial crops in Croatia is significantly higher than in Ukraine. For example, in 2020/21 in Croatia, with the bulk yield of corn of 2.1 mln t, its average yield reached 8.27 t/ha. Ukrainian agronomists, unlike Croatian agronomists, have to control the cultivation of crops on larger plots of land. In Ukraine, an agronomist oversees 3 thou. ha of farmland. However, the experience of Croatian crop growers may be of interest to Ukrainian agriproducers.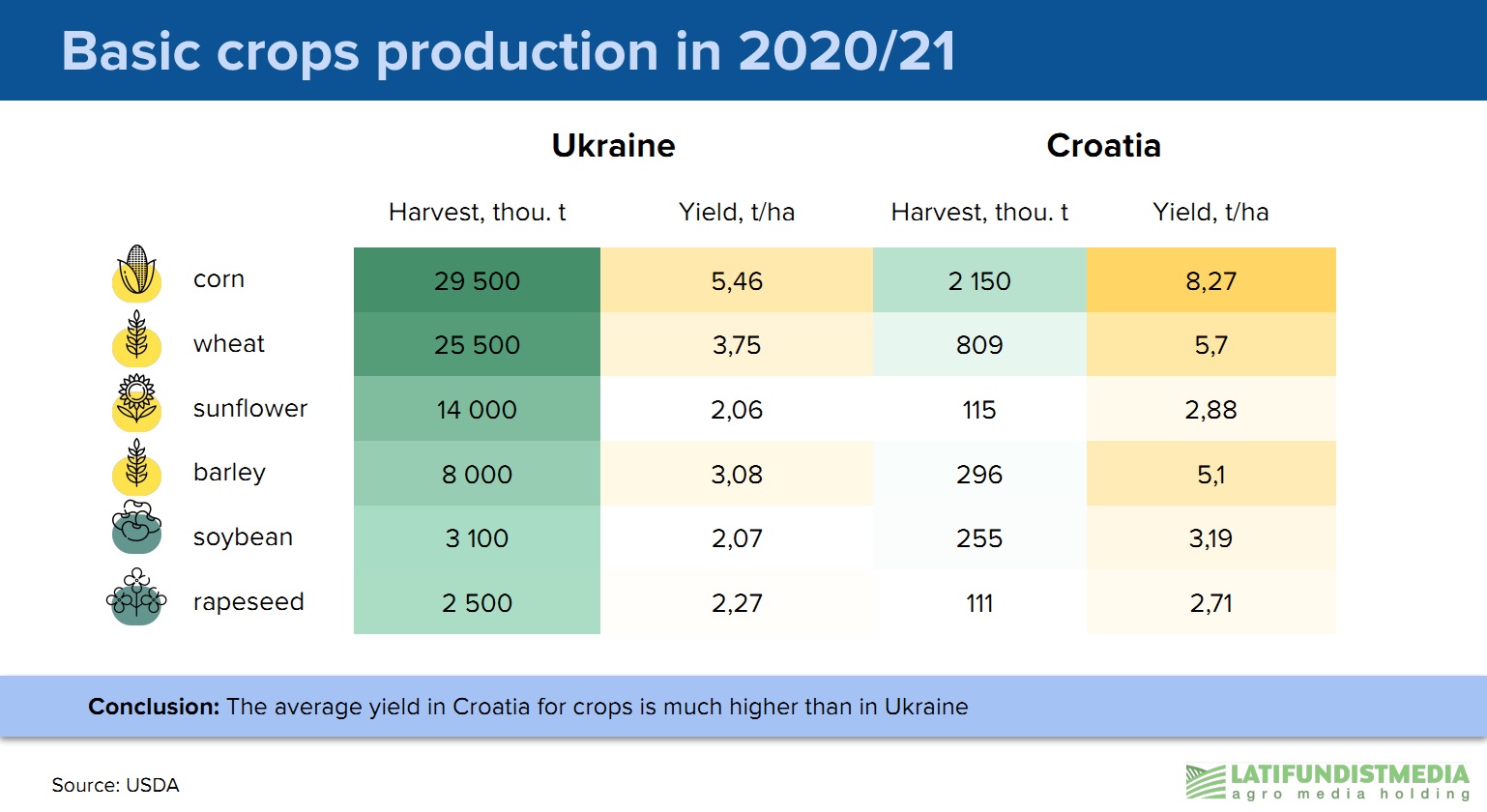 4. Export balance
The trade turnover between the countries totals USD 10.2 mln. Remarkably, both Ukraine and Croatia supply one another with the same amount (in terms of money) of agro-products. In 2020, agricultural products accounted for 15.5% of Ukraine's total exports to Croatia. The share of agro-products and processed products in Croatia's shipments to Ukraine summed 9.8%.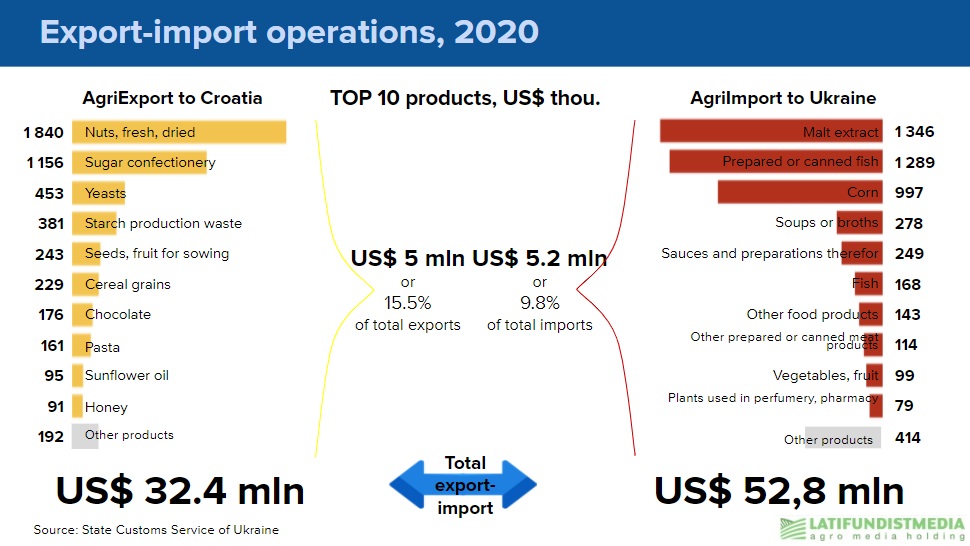 5. Value-added turnover
It is noteworthy that value-added products form the basis of agricultural trade between the countries. Almost half of Croatian agricultural exports (in terms of money) to Ukraine in 2020 are value-added products: malt extracts and prepared or preserved fish. Moreover, Ukraine has a strong position in the supply of bakery products, chocolate and fresh or chilled beef to Croatia. In 2020, confectionery, yeast, pasta, sunflowerseed oil and other products were among the top ten agricultural products exported from Ukraine to Croatia.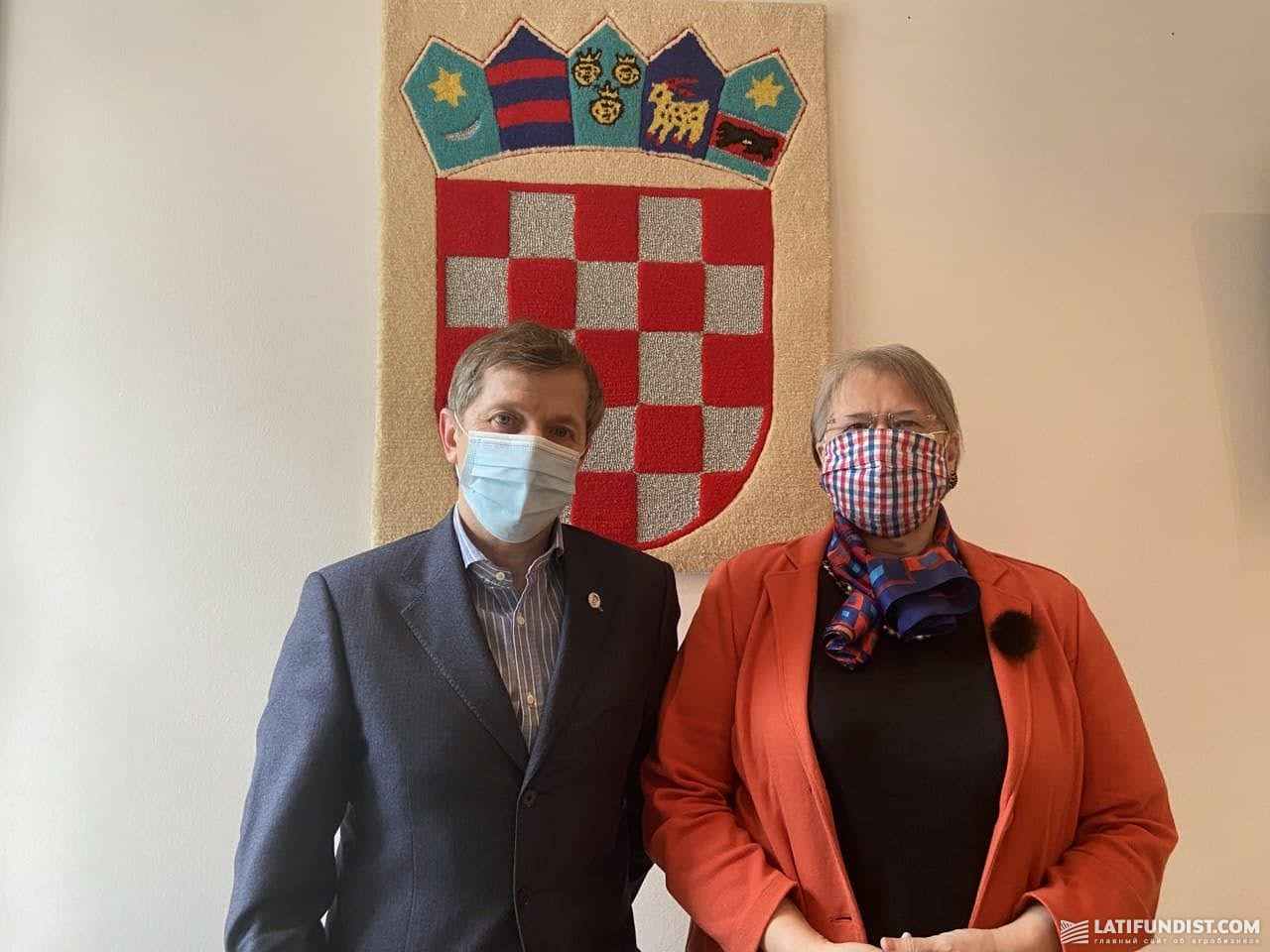 6. Blue oceans
Despite, or perhaps owing to, the fact that the countries' main vectors of agriculture are not the same, we have spotted several 'blue oceans', opportunities for cooperation. After all, the structure of the industry and markets is not defined once and for all, there is a room for new opportunities. The important thing is to find them.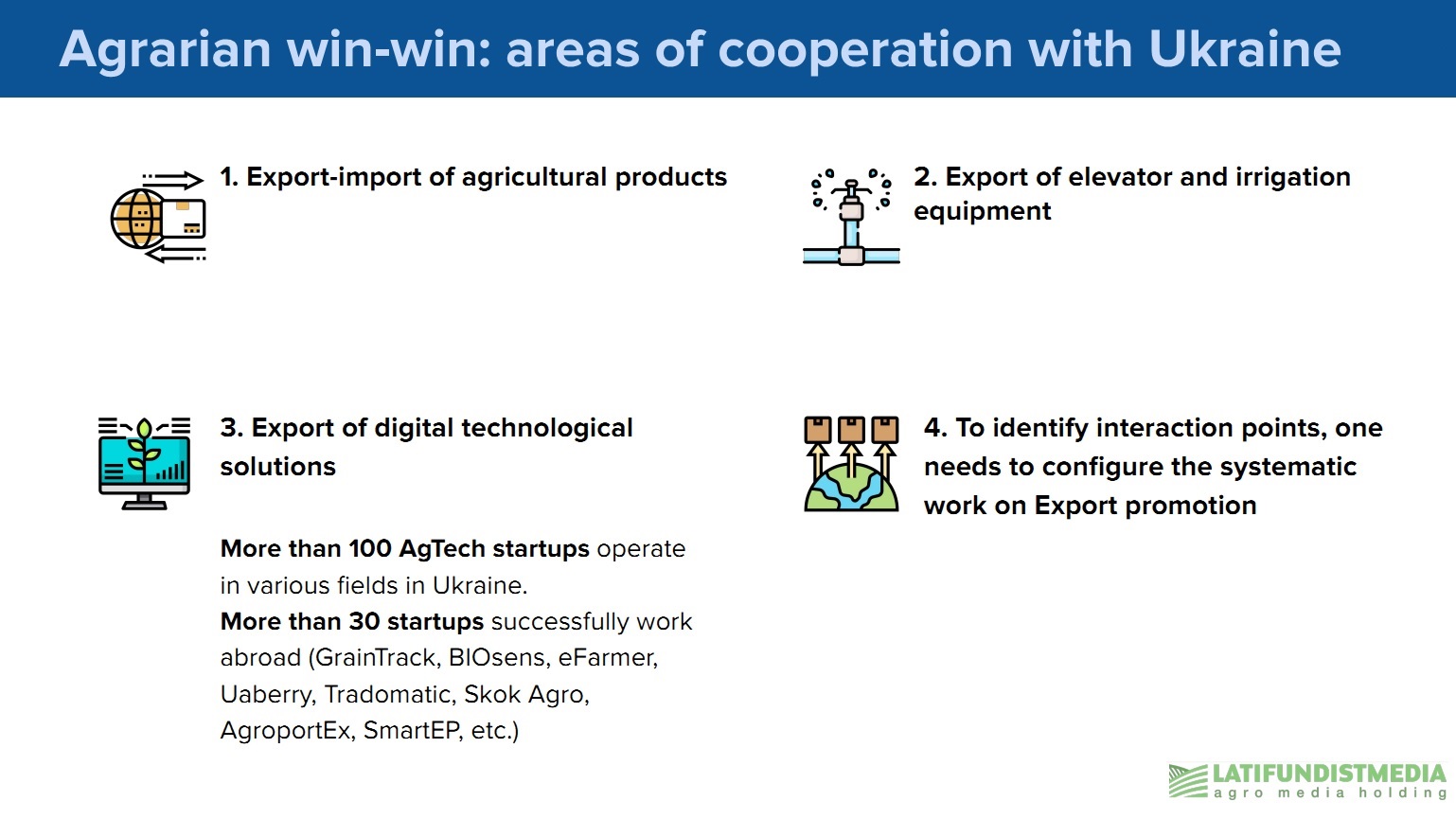 7. Trade turnover. Growth points
According to our estimates, there are at least 8 commodity groups in which Ukraine could increase its exports to Croatia. These are bakery products, chocolate, dairy products, cattle and beef, cigarettes, oilcake and sunflowerseed oil. There are also positions that may be of interest to Ukraine. I'm talking about seafood, berries, and other products from Croatia. I am sure that countries have much more points of cooperation in trade. In order to identify them, we need systematic work to promote exports of both countries.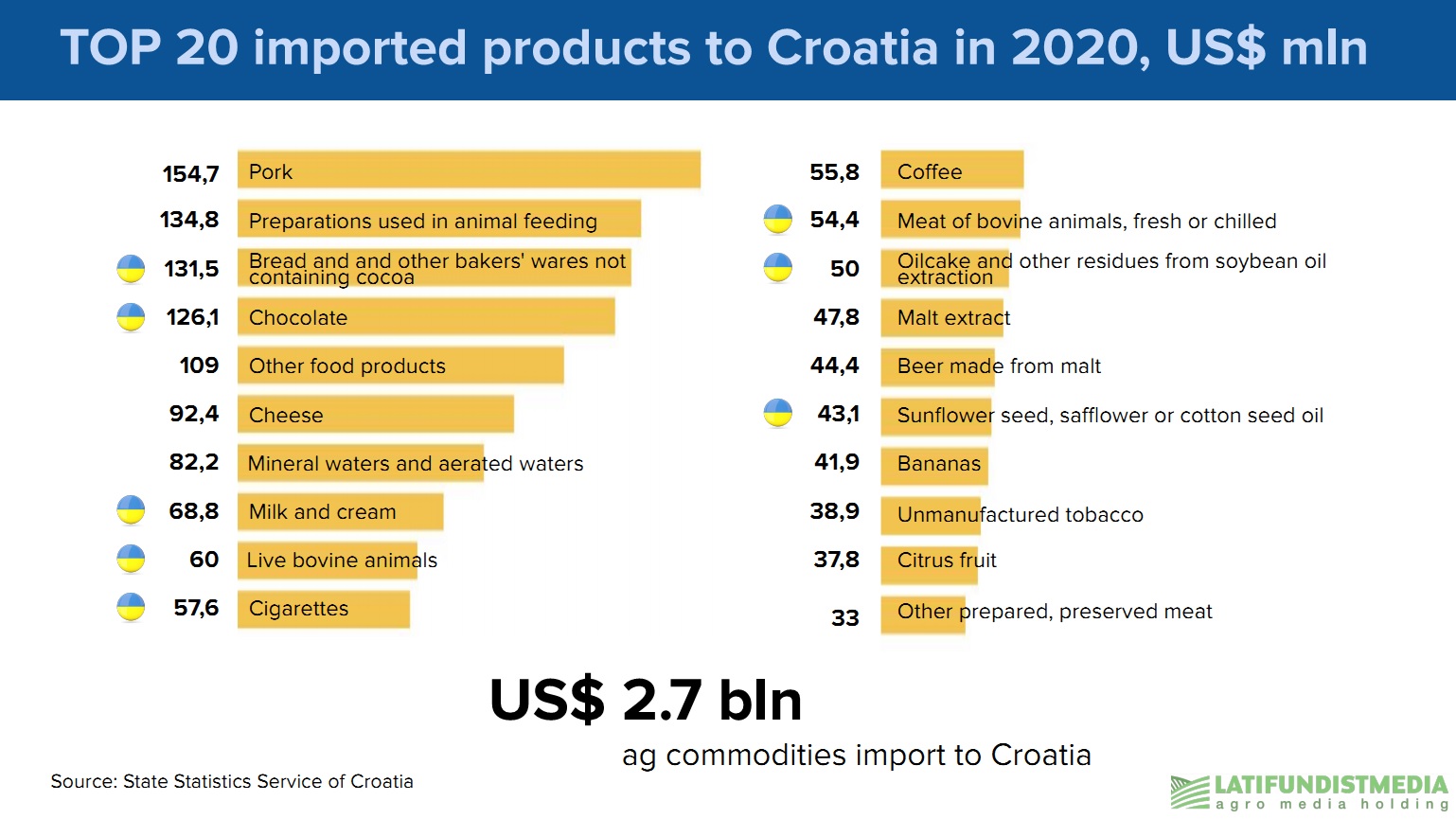 8. Farming equipment
The agricultural machine-building industry is well developed in Ukraine. In this sector, old and new enterprises are being modernized, new ones are established. Today Ukraine can supply modern and competitive irrigation and grain storage equipment to Croatia. For example, the Ukrainian company Variant Agro Build has entered the Croatian market with its equipment and actively participates in tenders.
9. Capacity in AgTech
One of Ukraine's key strengths is that various AgTech projects having potential in the Croatian market are rapidly developing in the country. Of the hundreds of AgTech startups, at least a third are successfully operating abroad. So, we can present projects that have proven themselves in Ukraine to the Croatian market.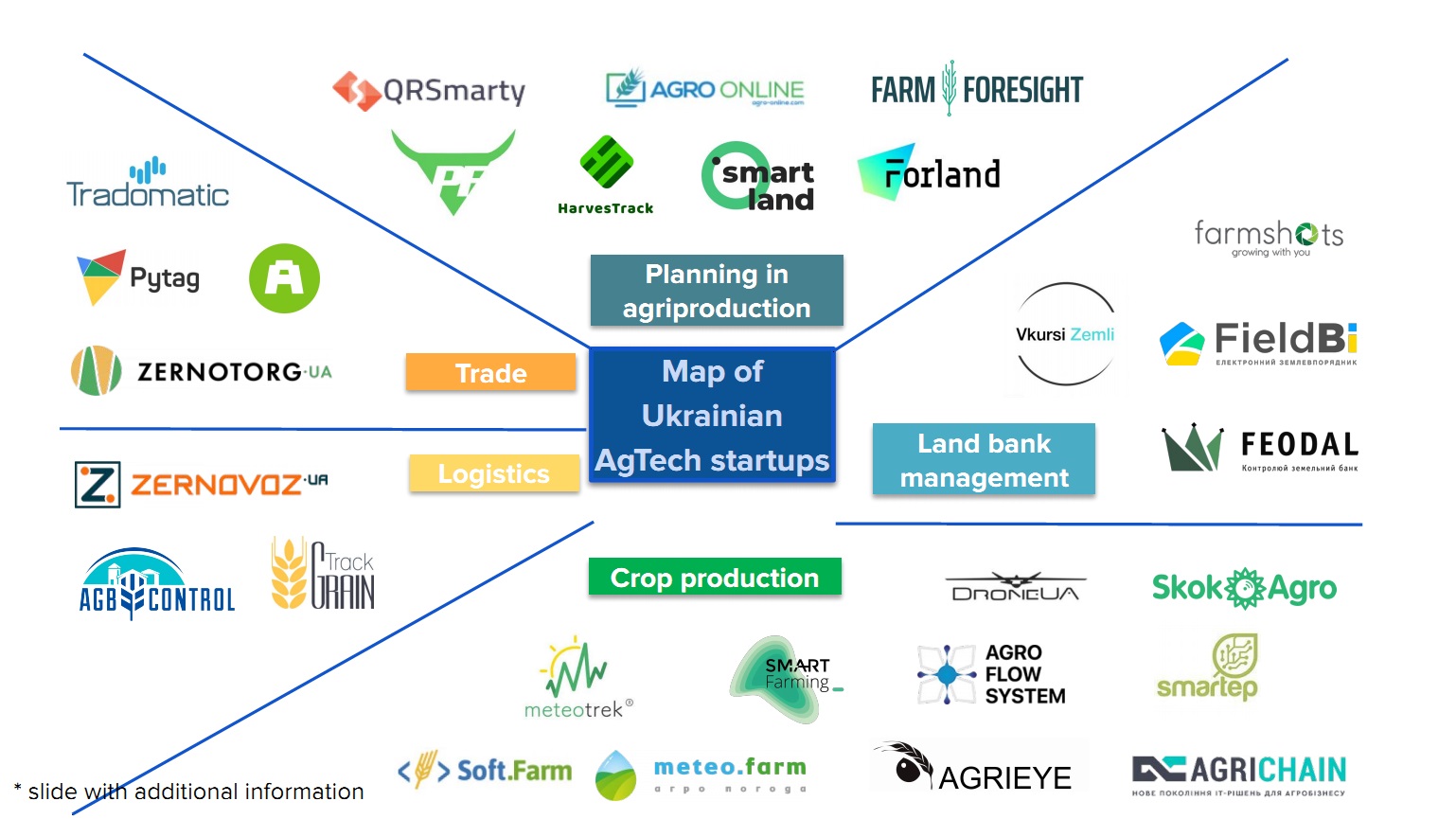 10. Knowledge is power
I am convinced that Croatia and Ukraine have much more common vectors and points of interest. But for that, we need to know more about each other. If we Google Croatia-Ukraine, agriculture, we get only 1,000 results with news coverage.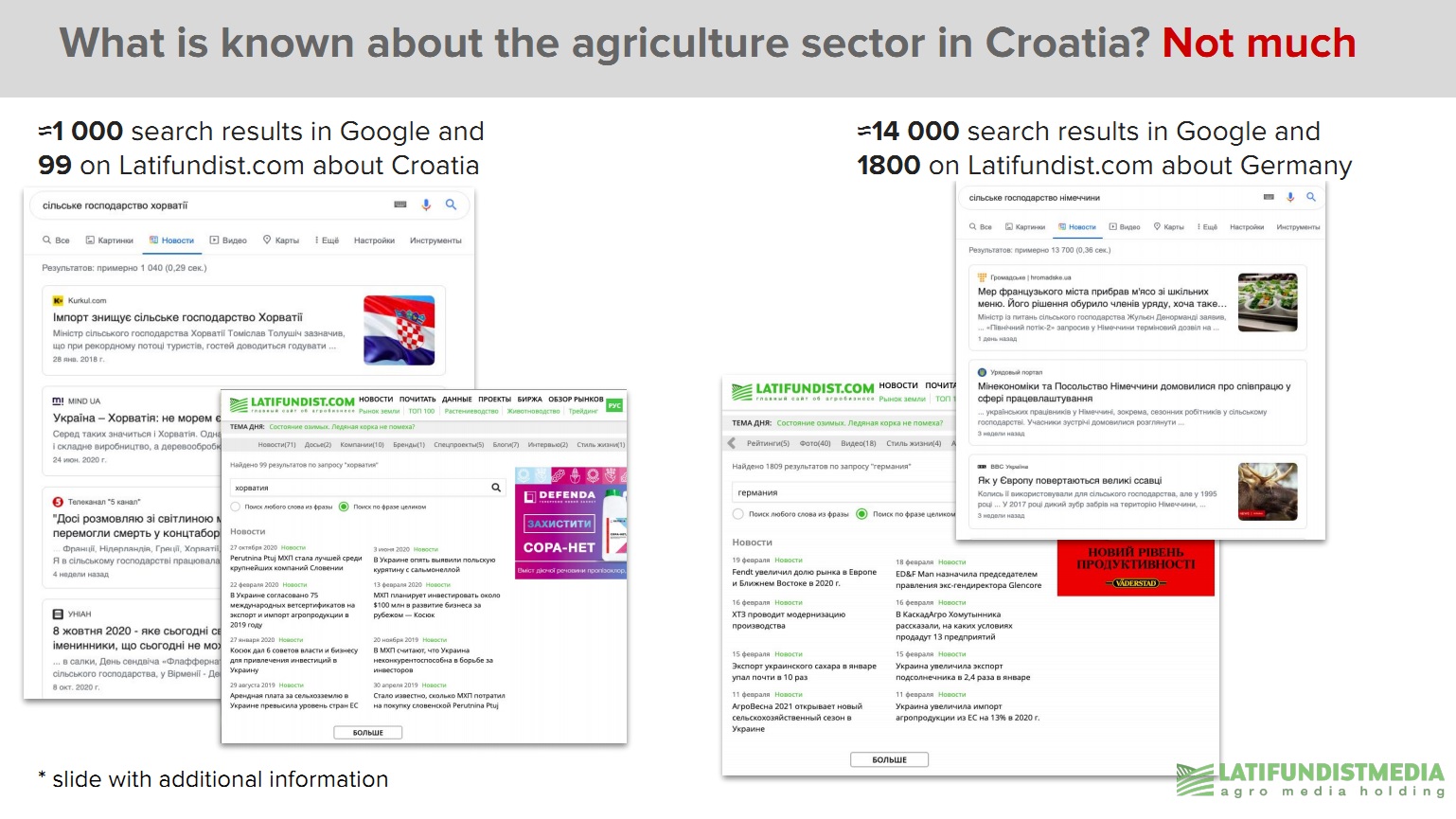 Sergey Fatkullin

Honorary Consul of Croatia in Ukraine

"I am grateful to the Ambassador of Croatia to Ukraine Anica Jamic and Latifundist Media for contributing towards opening up new markets and developing cooperation with existing international partners."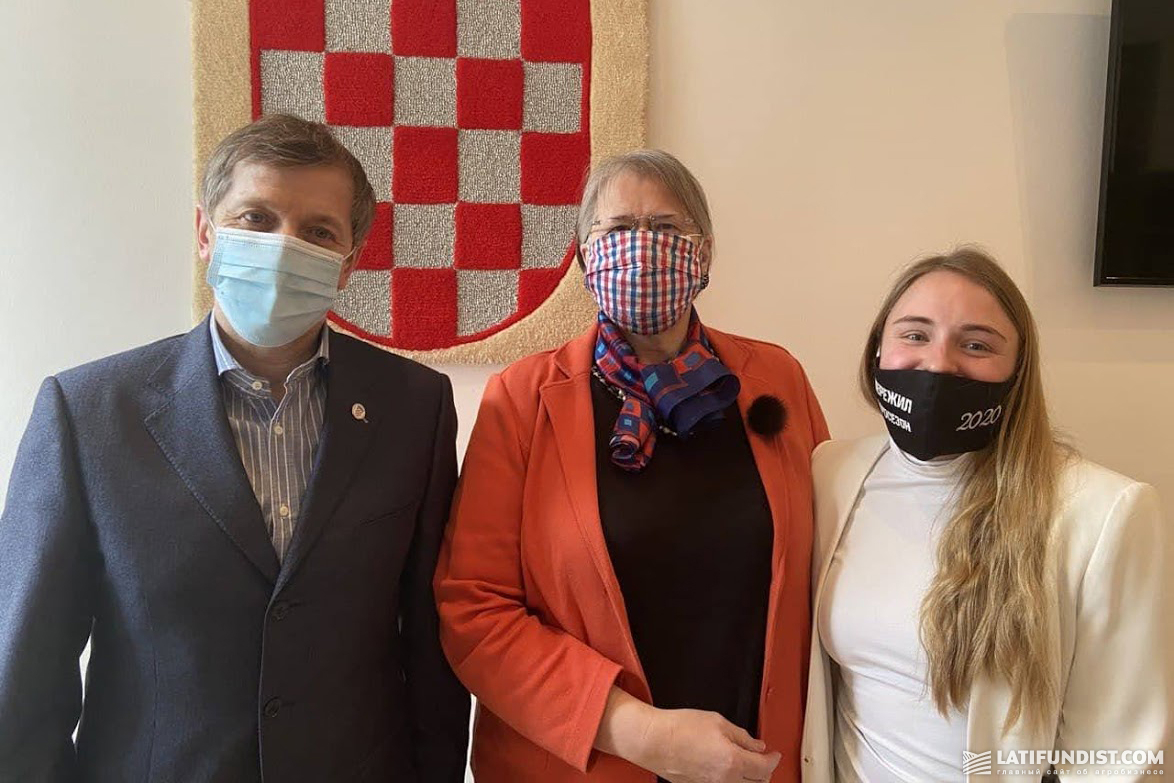 Alla Sylyvonchyk, Latifundist.com