IGC projects a higher world corn and wheat production
The forecast for global corn production in 2019/20 increased by 8 mln t to 1.1 bln t vs. 1.09 bln t a month earlier, International Grains Council (IGC) reports.
This level is 29 mln t lower than the bulk yield in 2018/19, 1.13 mln t.
The IGC remains well below the USDA figure of 353.1 mln t posted on August 12th, Agritel analysts comment.
"In corn, the IGC increased its world production estimate by 8 mln t to 1.1 bln t, mainly because of the upward revision of US forecasts to 341.5 mln t against 333.5 mln t last month," the message says.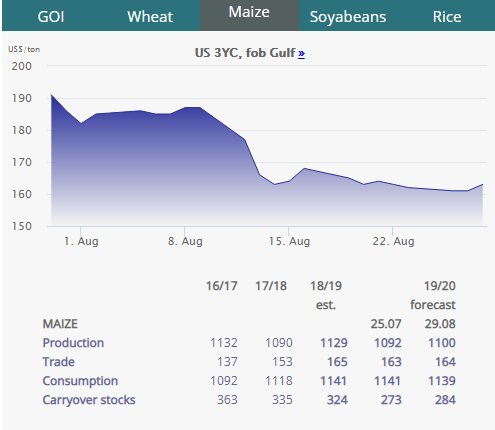 Based on IGC's report, the world wheat production estimates have been revised upward by 1 mln t to 764 mln t from the previous forecast. IGC's crop estimates were increased for the US, Ukraine and France, although decreased for Russia and Kazakhstan.
Previously reported that corn prices rose slightly on Aug. 28 in Chicago bouncing on its support, which was the lowest levels since last May.