Investors downgraded estimate of Ukraine's business climate to 2015 level
The Investment Attractiveness Index in the first half of 2020 amounted to 2.51 points out of 5 possible and continues to be in the negative area, the European Business Association's (EBA) research data show.
It is noted that the sentiment of CEOs has deteriorated significantly. Only 4% of respondents consider the investment climate favourable, while in the previous wave this number was 17%. The majority, namely 62%, consider the current investment climate unfavourable, and another 34% — neutral.
Assessments of the business climate dynamics also demonstrate a negative trend, the EBA writes. Thus, 55% of directors noticed a deterioration in the investment climate compared to the previous 6 months, another 35% are convinced that the business environment has not changed, and only 10% believe there were some improvements.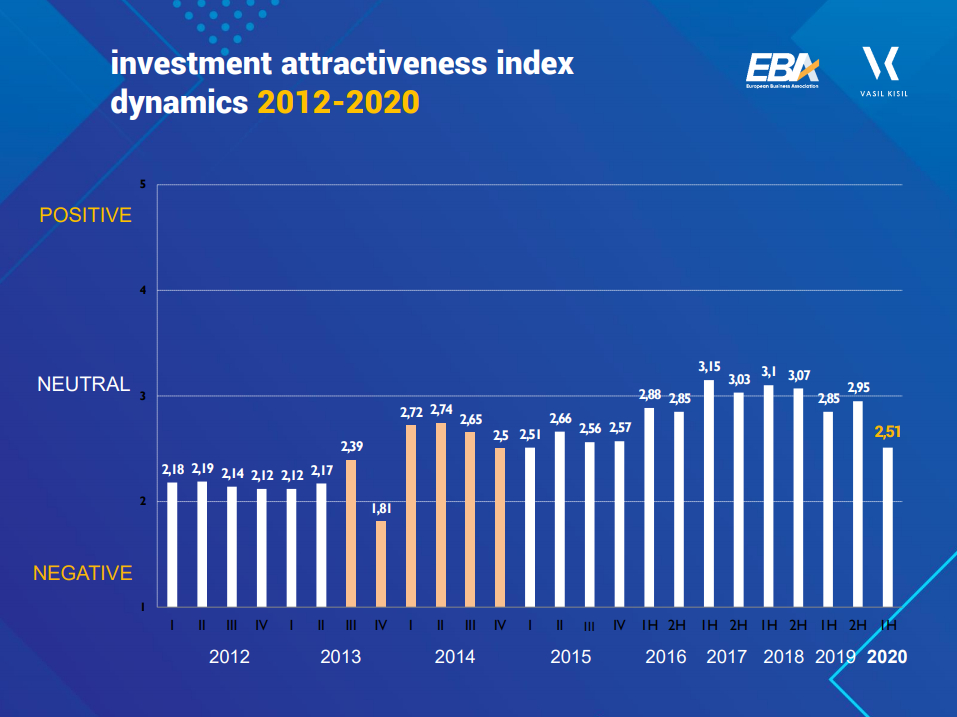 "Among the positive points noted by business leaders over the past six months are the launch of the land market, currency liberalization, continued cooperation with the IMF, lowering the NBU discount rate, a stable national currency," the report reads.
There are new factors that negatively affect the business climate apart from such traditional problems as the weak court system, the lack of progress in fighting corruption, and the significant impact of the shadow economy. Those new factors include the restrictive measures to prevent the spread of COVID-19, constant rotations in the Government which have resulted in political and economic instability, increased tax pressure and changes in tax legislation, and the suspension of reforms.
Note: 105 company leaders of the largest international and Ukrainian companies have taken part in this wave of surveys. For the Index calculations, we use a Likert scale which has 5 gradations. For that scale, 1 is very negative, 5 is very positive, and 3 is neutral.
Previously reported, the World Bank's Board of Executive Directors approved a USD 350 mln First Economic Recovery Development Policy Loan (DPL) for Ukraine in support of reforms that are critical to economic recovery and to help mitigate the impact of the COVID-19 pandemic.