Highest, and lowest, farmland prices mapped out in Ukraine
The State Service of Ukraine for Geodesy, Cartography & Cadastre (StateGeoCadastre) is reported to be actively making provisions for farmland market opening in Ukraine, LegalHub informs with reference to its sources.
"In two weeks, the Ukrainian Ministry of Agrarian Policy and Food will complete the formalization process. It took a long time to prepare all the documents, but the process is in its final stretch," the source says.
The re-established ministry will focus on:
farmers' support;

search for and diversification of markets for agro-products;

market de-shading;

conditions creation for agribusiness crediting;


opening the land market.
It is noted that according to a source in the StateGeoCadastre, the spread of land prices in the regions will be rather big. The price depends on the competition for a plot and the option of changing its designation.
"Fields along the main highways, which could theoretically be converted from agricultural land to another category and potential spots for petrol station, hotel or logistics centre construction, are already sold for USD 10,000 per hectare or more," the message reads.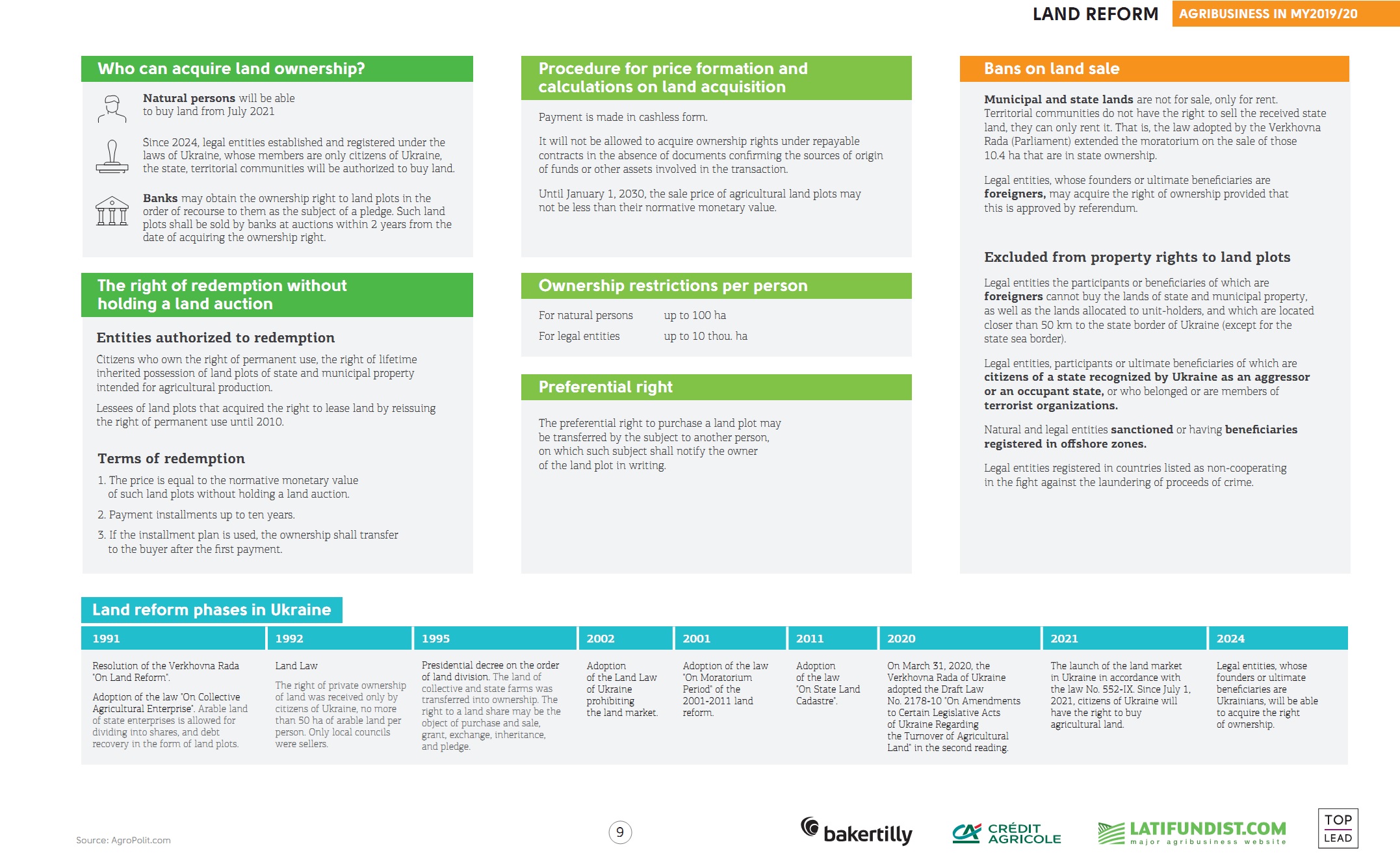 The projected value of agricultural land for crop production is not yet clear. However, the StateGeocadastre revealed what it may be after the land market launch on 1 July 2021.
The highest price for farmland may be in the following regions:
Cherkasy: USD 1870-2500

Chernivtsi: USD 1850-2470

Kharkiv: USD 1850-2460

Kirovohrad: USD 1770-2360

Donetsk: USD 1730-2300
The lowest price for farmland:
Zhytomyr: USD 1100-1590

Lviv: USD 1200-1600

Volyn: USD 1220-1620

Rivne: USD 1220-1630

Chernihiv: USD 1340-1760
Prime Minister of Ukraine Denys Shmyhal stated that the average cost per hectare will grow almost 5x in a decade.