TOP 10 Rapeseed Producing Countries in 2019
Globally, rapeseed is one of the most common oilseed crops. Rapeseed cultivation remains sustainable, and the major producing countries consider it a strategic crop. This is largely conditioned by the importance of rapeseed oil: as a food product, it may well compete with olive oil, reduce blood cholesterol and prevent heart attacks and strokes. It is widely used in industry as a biofuel. Green plant material, hay and flour are feed for cattle. This crop is an excellent green manure and excellent honey plant as bees produce 60-90 kg of honey from one hectare of crops.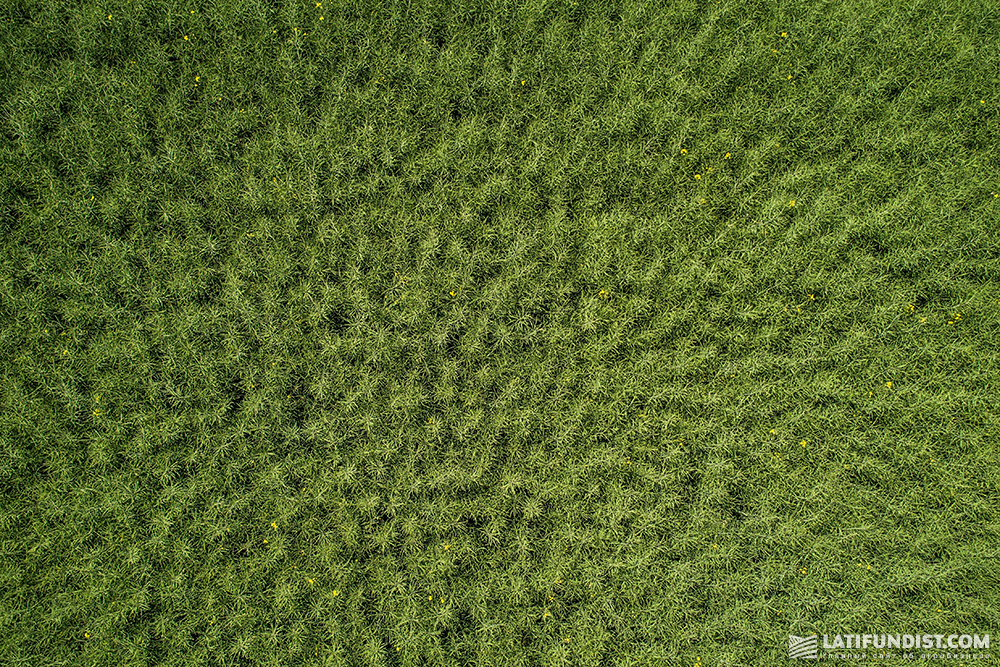 Pursuant to the data of Kleffmann Group, the total rapeseed area worldwide in 2019 was 35 mln ha. Five leaders in terms of acreage covered 29.8 mln ha with rapeseed, accounting for 85% of all sown areas globally:
Canada: 8.4 mln ha
India: 7.3 mln ha
China: 6.6 mln ha
EU: 5.6 mln ha
Australia: 1.9 mln ha
With insignificant areas under this crop, Chile (4.1 t/ha), Turkey (3.5 t/ha) and Switzerland (3.1 t/ha) ranked first, followed by the EU countries with an average yield of 3.0 t/ha.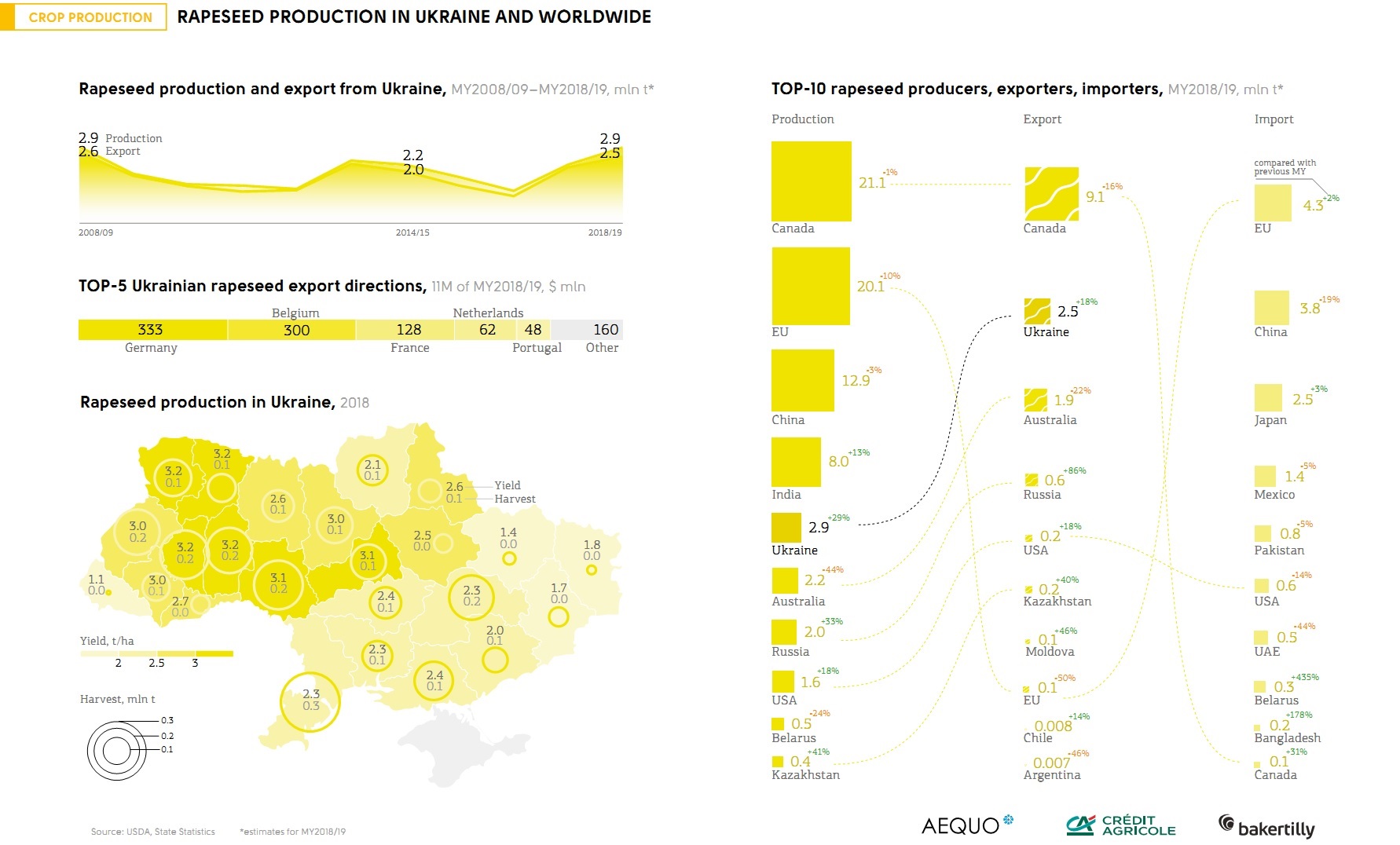 Global production of rapeseed has increased by 7.3 mln t or 12% to 68.2 mln t over ten years. In the last two years, Canada has held the lead in production, growing 28% of world production, the EU countries produce slightly less (25%), China follows ranking third (19%). Ukraine holds the 5th position with 3.3 mln t. Russia (+215%) and the USA (+133%) have shown considerable production growth over ten years.
Key producing countries in 2019 (mln t):
Canada: 19.0
China: 13.1
India: 7.7
France: 3.6
Ukraine: 3.3
Global production of rapeseed oil has risen by 23% in ten years to 27.4 mln t, which accounts for 40% of the total crop production. The EU countries and China dominate rapeseed oil production in 2019/20 with 9.5 mln t and 6.1 mln t of output, respectively.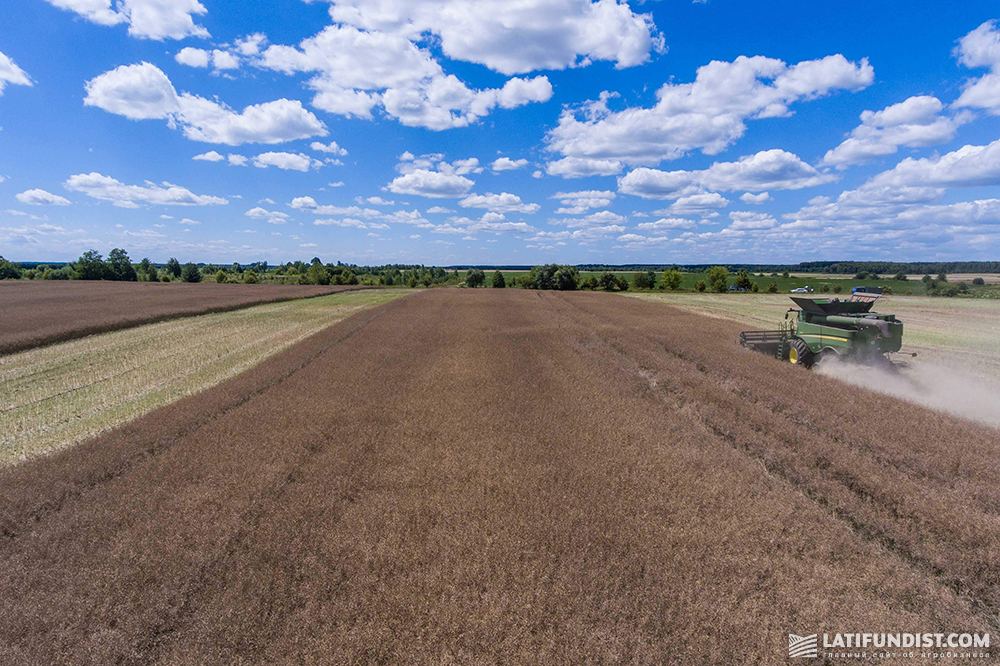 Rapeseed export
The latest USDA data show that over ten years (from 2010/11 to 2019/20) the total rapeseed exports have surged by 41% to 15 mln t. Rapeseed oil exports have also boosted by 87% to 5.1 mln t and meal exports by 90% to 6.9 mln t.
Canada is the world's largest rapeseed exporter: the country supplied to foreign markets 9.5 mln t or 62% of the total in 2019/20. The EU countries imported a total of 6.0 mln t, China 2.5 mln t and Japan 2.4 mln t.
Volodymyr Demchuk, Latifundist.com analyst