Ukrainian Vegetable Oil Market Review 2021: Exports, Production, Prices
It is common knowledge that every second ton of sunflowerseed oil in the world market is of Ukrainian origin. In 2020, the export of sunflowerseed oil from Ukraine demonstrated another increase, both in volume and in value terms, according to the Association Ukroilprom, by 12.3% and 24.4%, respectively. Basically, this underpinned the growth of the Ukrainian oil and fats market.
However, there exist other types of vegetable oils along with sunflower oil. Therefore, in our market review, we focus on the big three of the industry: sunflowerseed, soybean and rapeseed oils.
Overall picture of the market: one record after another
Actually, the growth of production and export of vegetable oils from Ukraine today is not a surprise to anyone. This is one of the main trends in the Ukrainian agricultural market. Especially during the last five years — since 2017. The year 2020 was no exception, when Ukrainian farmers, according to State Statistics data, produced 18.5 mln t of oilseeds, and oil crushers have produced about 7.4 mln t of sunflower, soybean and rapeseed oil, 6.6 mln t of which exporters shipped to foreign markets. And taking into account the export of safflower, cotton and other oils, which are listed at the same position as sunflowerseed oil, the volume of last year's total exports of oilseeds amounted to 7.3 mln t worth USD 5.32 bln. Safflower oil export alone, according to the State Statistics Service, made up 367 thou. t worth USD 327 mln.
Apparently, last year's record is hardly reproducible for exporters in 2021. As per the Association Ukroilprom and USDA, Ukraine exports 6.8-7.1 mln t of vegetable oils in 2021/22. Although this volume is rather impressive too.
So, what forms today's Ukrainian market of vegetable oils in statics and in dynamics? According to the Ukrainian Business & Trade Association (UBTA) data, the dollar value of vegetable oils and edible fats exported from Ukraine in 2020 was USD 5.76 bln, and the share of this segment in the total volume of agricultural exports equaled to 25.9%.
Simply put, today in Ukraine every fourth dollar of agricultural exports and every tenth dollar of exports in general is derived from the proceeds of export sales of vegetable oils.
As per the UBTA data, Ukrainian vegetable oil and prepared vegetable fats are delivered to 155 foreign markets and exported by 760 companies. Four main regions of Ukrainian oils presence are Europe, South-East Asia, Asia and the Middle East. Supplies to these regions account for 93% of total oil export revenues. Another 4% of revenues comes from oil exports to Africa. The presence of Ukrainian vegoils is minimized only in the Eurasian Economic Union (incl. Russian Federation, Kazakhstan), in Australia and the USA.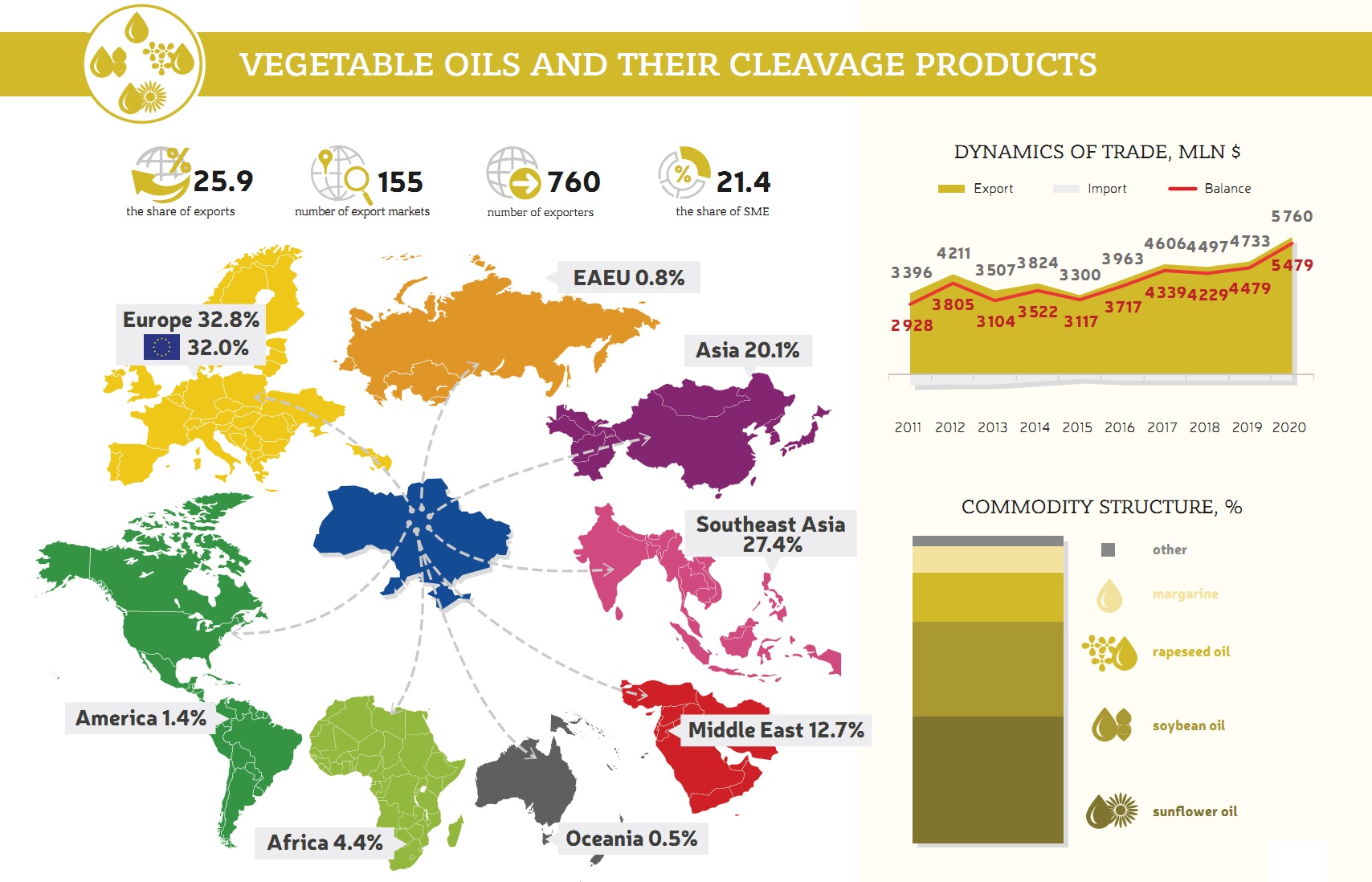 The principal share of Ukrainian vegetable oils is shipped to Europe and Southeast Asia, which is no surprise since the 'big three' importers of Ukrainian sunflower, soybean and rapeseed oils are the EU, China and India.
As regards the dynamics, the overall market situation is perfectly illustrated by the expansion of Ukrainian sunflowerseed oil to foreign markets. According to the Association Ukroilprom, since 1998 the export of sunflowerseed oil has soared 33x from 206.1 thou. t to more than 6.8 mln t.
Today sunflowerseed oil accounts for more than 93-94% of all Ukraine's vegetable oils exports. For example, it formed 94.6% of total exports in January-July 2021, Ukroilprom reported. The State Statistics Service data showed that in 2020 sunflowerseed oil dominated the export structure of vegetable oils with a 93.6% share. Soybean oil supply accounted for 4.6%. And the share of rapeseed oil in total exports amounted to 1.8%.
Sunflowerseed oil: half the world is ours
It may surprise you, but there were times when Ukraine imported sunflowerseed and soybean oils. In 1998, a presidential decree allowed duty-free import into Ukraine of 100,000 t of sunflower oil and 20,000 t of soybean oil from Argentina and Turkey.
Today, even theoretically, it is impossible, and it is Turkey that imports Ukrainian sunflowerseed oil. According to UBTA, Turkey imported 1.2% of Ukrainian sunoil in 2020. Although the country itself is one of the three world leaders in sunflower oil export.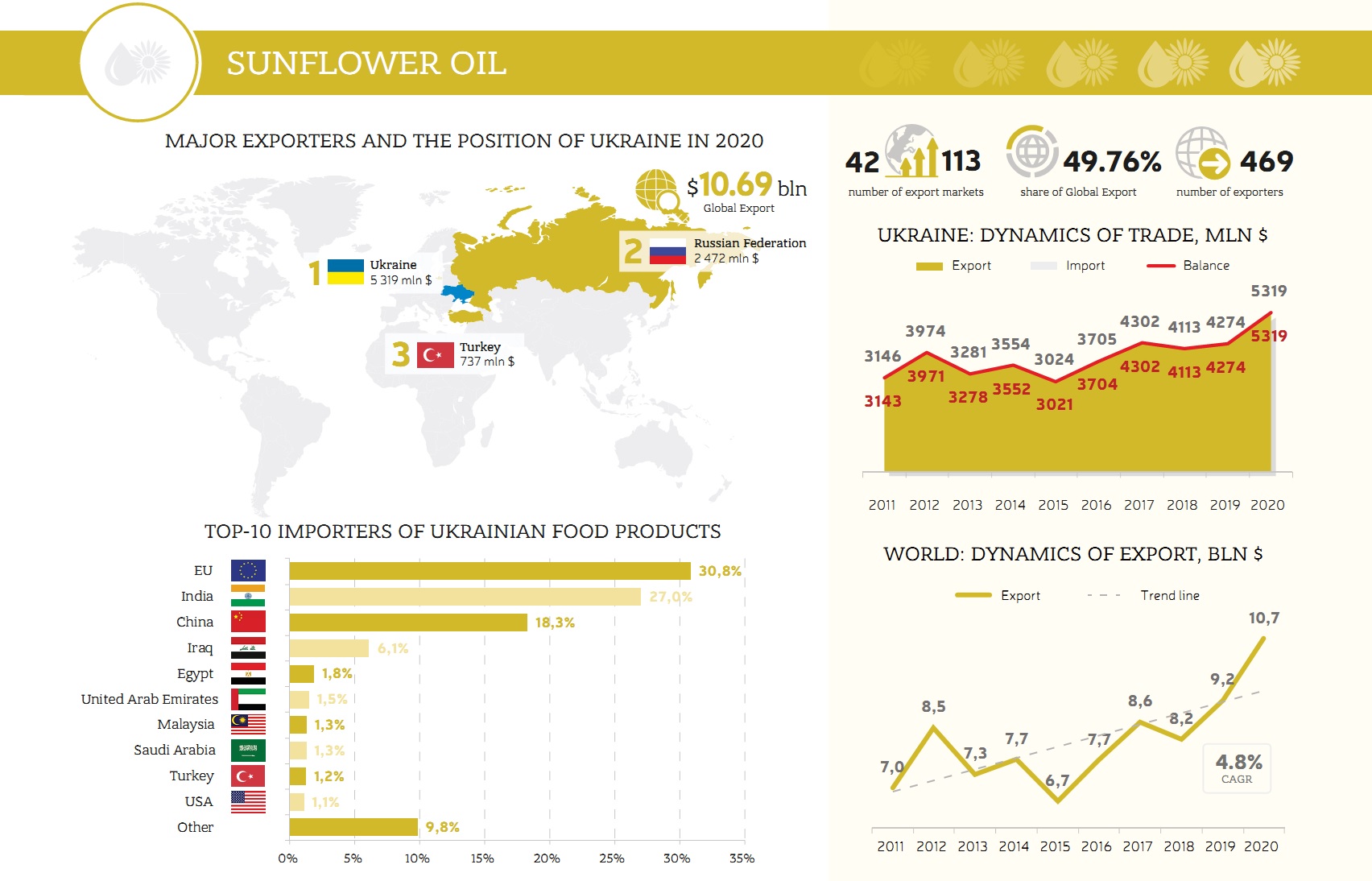 However, the share of Ukrainian vegoil in the world market in 2020 was 49.76%. And this is not the maximum indicator. According to Ukroilprom, there were periods when Ukraine's 'sunflower' share in international markets exceeded 52-55%.
In terms of export volume, Ukraine today is the world's top supplier of sunflowerseed oil. And over the past 4 years, as per Ukrstat, the volume of exports to international markets (including safflower and cottonseed oil) has been continuously growing. For example, 5.1 mln t were shipped in 2017, 5.8 mln t in 2018, 6.1 mln t in 2019, and 6.8 mln t in 2020. This reveals a 1.6 mln t increase over the past four years.
The dynamics is also telling. Since 2011, the number of export markets — countries where the dollar worth of Ukrainian sunflowerseed oil sold was over USD 10 thou. a year — has increased from 42 to 113, or even more if the EU countries regarded separately. 469 companies exported this commodity from Ukraine in 2020.
In January-July 2021, Ukraine exported 2.89 mln t of sunflowerseed oil (including safflower, cottonseed and fractions) worth USD 3.53 bln, Ukrstat informed. In recent years, the top 6 importing countries have been the same. In 7M 2021, sunflowerseed oil was exported from Ukraine to the following markets:
India: 798 thou. t
China: 506 thou. t
Netherlands: 285 thou. t
Iraq: 231 thou. t
Spain: 209 thou. t
Italy: 138 thou. t
Sudan, Turkey, Saudi Arabia, the UK, Poland, France, the UAE, Malaysia and Italy imported from 31 thou. t to 71 thou. t of oil. The rest of the countries imported less than 30 thou. t. In general, the lion's share of sunflower oil exports from Ukraine falls on 4 directions: EU, China, India and Iraq. According to UBTA data, in 2020 their share was 82.2%.
Exotic export directions in 2021 as per Ukrstat: 2.7 kg of sunflower oil was exported to the Virgin Islands for free, 18.5 kg to Liberia also gratis, and 46 kg for USD 300 to Kuwait.
Another important fact is that the situation in the Ukrainian market is not as facile as it may seem. Price volatility on the world sunflowerseed oil market, price rallies and a record increase in vegetable oil prices in Ukrainian retail forced the Ministry of Economy in April to sign a memorandum with the Association Ukroilprom to curb the export of sunflowerseed oil in 2020/21 to 5.38 mln t. As of early August, that is in 11 months of the marketing year, exporters delivered 5.28 mln t to foreign markets. Although now it is no longer a matter of principle, since a new marketing year 2021/22 began in September, and the restrictions are no longer in force.
The Ukrainian Sea Ports Authority (USPA) informed that in 1H 2021 the volume of transshipment of vegetable oils in Ukrainian seaports decreased by 25.1% YoY to 2.54 ml t.
Even though the market prospect remains optimistic. Ukroilprom and the USDA forecast that Ukraine will export 6.4-6.6 mln t of sunflower oil in 2021/22, one million tons more than it was stipulated by the April 2021 memorandum.
Soybean oil: all roads lead to Poland
Soybean oil is the second-largest commodity group in vegetable oil exports from Ukraine. According to UN Comtrade and TradeMap, Ukraine's share of the global soybean oil market was 2.5% in 2020. This, of course, is much more modest than the position on the sunflower oil market, nevertheless, Ukraine is one of the top 10 world exporters of soybean oil. In 2020, Ukraine was the 8th largest supplier of this product by the volume of proceeds, 301.5 thou. t for the amount of USD 226.7 mln. The year 2019 was record-breaking for Ukraine when exports of soybean oil hit 374.8 thou. t worth USD 240.8 mln.
By the way, in 2018/19 Ukrainian soybean oil exporters achieved a 77% gain in terms of deliveries to international markets. According to Ukrstat, 138.8 thou. t of soybean oil was exported from Ukraine for the amount of USD 164.6 mln in January-July 2021. The chief importers of Ukrainian soybean oil in the current season have not changed, these are the EU countries and China. Poland is the record-breaker with 87.2 thou. t (USD 104.4 mln) of import from Ukraine in 7M 2021, which is, in fact, two-thirds of all the exported oil. China imported 30 thou. t (USD 34.7 mln), Germany 6.7 thou. t (USD 8.2 mln). At the same time, only 1.2 thou. t of soybean oil were exported to India, while last year it was 10 times more — 12 thou. t.
Variables are regular in the ranking of countries importing less than 3 thou. t of soybean oil from Ukraine. Last year, Mauritius imported 3 thou. t of soyoil, Lebanon and the UAE 2 thou. t each. And this season 2-2.3 thou. t of soybean oil were imported by Israel, Slovakia and Nepal.
In 2021, about 200 companies export soybean oil from Ukraine to foreign markets. At the same time the geography of exports over the past 10 years has changed dramatically. According to UBTA, the number of countries importing soybean oil for more than USD 10 thou. per year has more than doubled from 7 in 2011 to 17 in 2021.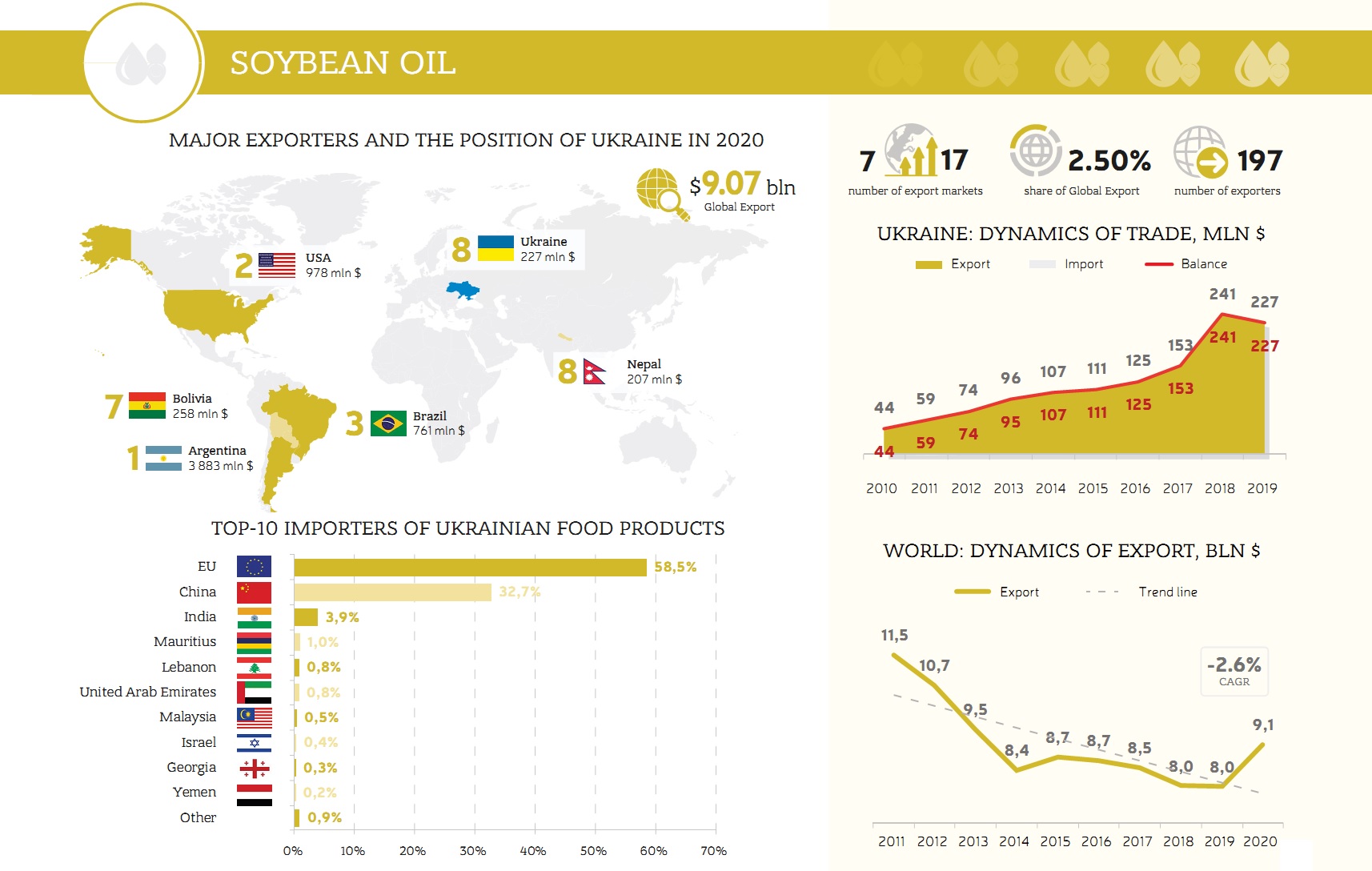 And remarkably, the positive dynamics of soybean oil exports from Ukraine runs counter to the global trend of reducing the volume of supply: from USD 11.5 bln in 2011 to USD 8-9 bln in 2019-20.
Rapeseed oil: is there still time?
The export of Ukrainian rapeseed oil similarly has its specifics. Only 50 companies supply it to foreign markets. And there are only three export markets, where Ukrainian rapeseed oil is present today (if we consider the EU as a single market).
But otherwise, rapeseed and soybean oil exports from Ukraine share much in common. Ukraine is one of the ten largest exporters of rapeseed oil. In 2020, by the volume of exports of this product to the global market, Ukraine ranked 8th, according to Ukrstat, having exported 121 thou. t of oil worth USD 115 mln, as per UBTA estimates. Like in soybean oil, 2019 was a record year for Ukraine: 151 thou. t worth USD 119 mln.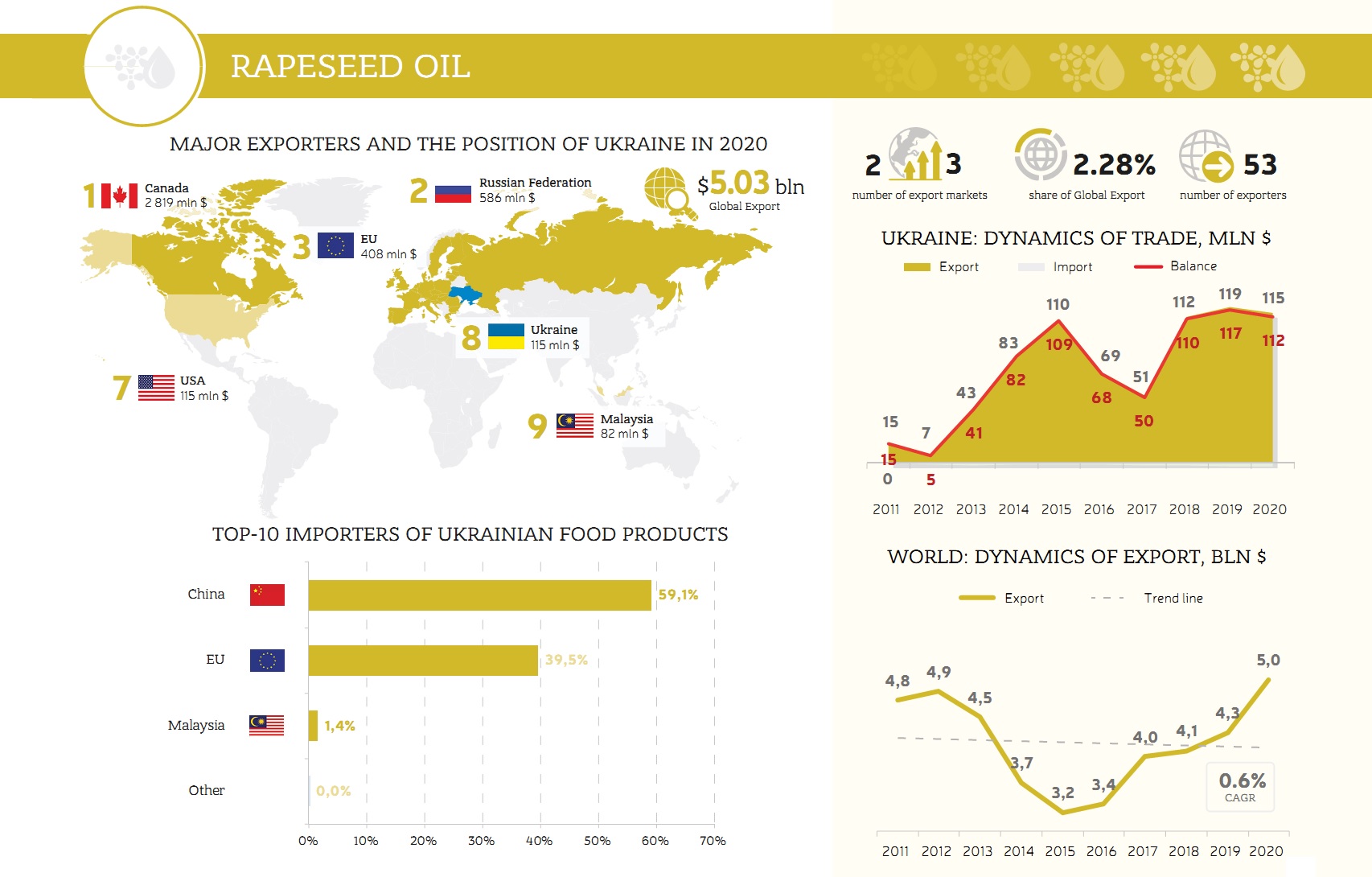 In January-July 2021, Ukrstat data reveals that Ukrainian exporters supplied 4.8 thou. t of rapeseed oil to international markets for USD 6.2 mln. Basically, only the two EU countries — Poland and Lithuania — imported oil. The market of the former purchased 2.7 thou. t, and the market of the latter 2.1 thou. t. The rest of the countries imported oil in tiny volumes. For example, 25 t were exported to Latvia and 22 t to India.
Despite that, it is of course too early to draw firm conclusions about rapeseed oil exports in 2021. The principal deliveries are probably ahead. In 2H 2020, for example, 101 thou. t of the produced 121 thou. t of rapeseed oil was supplied to the foreign markets. The market situation is no better in 2021 — the volume of exports declined by more than 4x (1H 2020: 20.2 thou. t).
China stands as the main importer of Ukrainian rapeseed oil in recent years. In 2020, the export of rapeseed oil to this country made up 59.1% of total supplies. Exporters delivered to China 66.8 thou. t of rapeseed oil worth USD 55 mln. In 2019, of the produced in Ukraine 151 thou. t rapeseed oil, 95 thou. t was supplied to China.
Besides China and the EU countries, Malaysia also imported rapeseed oil from Ukraine in 2020 — 1.9 thou. t. But it is not a regular import. In 2019, Malaysia did not purchase Ukrainian rapeseed oil at all.
So the prospects of Ukrainian rapeseed and products exports, in fact, are today determined by two markets — Chinese and European.
Production and prices: plenty, yet costly
It is obvious that to preserve high exports of Ukrainian vegetable oils, these very volumes of vegoils have to be produced in Ukraine and, most importantly, there must be enough oilseeds produced to crush.
Statistically speaking, these segments have shown positive dynamics in recent years. According to Ukrstat, in 2020 oilseeds processing plants in Ukraine produced 6.08 mln t of unrefined sunflower oil and 921 thou. t of refined; 114.7 thou. t of rapeseed oil and 263.7 thou. t of unrefined soybean oil.
In 2019, made in Ukraine sunflowerseed oil turned slightly less: 5.8 mln t of unrefined and 781 thou. t of refined. Soybean and rapeseed oil production intensified, 344.7 thou. t and 146.9 thou. t, respectively.
Although, in fact, the situation in the market of oilseeds processing is complicated. In 2020, processors of vegetable oils in Ukraine were on the horns of a dilemma: exceptionally high prices for sunflower and tight raw materials supply since many forward contracts were cancelled. Nevertheless, the industry is very much alive, and experts are optimistic in their forecasts.
Valentyn Khoroshun, Latifundist.com