Grain Ukraine 2016: Impressions (Part 2)
We are continuing to analyze the main themes of the international "Grain Ukraine" conference. How can local exporters outperform their Russian competitors? How much corn does China store as surplus? Which agriholdings are financed by the EBRD? Are foreign businesses ready to invest in Ukrainian agriculture? Find the answers to these questions and much more in our second edition of impressions from Grain Ukraine 2016…
Battleground — Egypt
When it comes to importers of Ukrainian agricultural products, Egypt is ranked third. According to the ministry of Agriculture, in 2015 the total volume of trade in goods between both countries totaled $1 billion. Ukrainian exports of grains, sunflower oil and tobacco formed a large part of this. This is why Egypt has a strategic significance for Ukrainian producers.
Mr. Heman Suleiman, the CEO of Egyptian company "Mediterranean Star For Trading" held a presentation in which he mentioned that Egypt is interested in increasing grain imports from Ukraine. According to Mr. Suleiman, the Egyptian government purchases more than 8 million tons of grain per year. He stated that Egypt is capable of producing much of its own agriculture, but this quantity is not sufficient to meet the demand of its population of 92 million. The average consumption of grain per person in Egypt is 193kg per year. 42% of the grain that Egypt imports is processed (mainly to produce flower).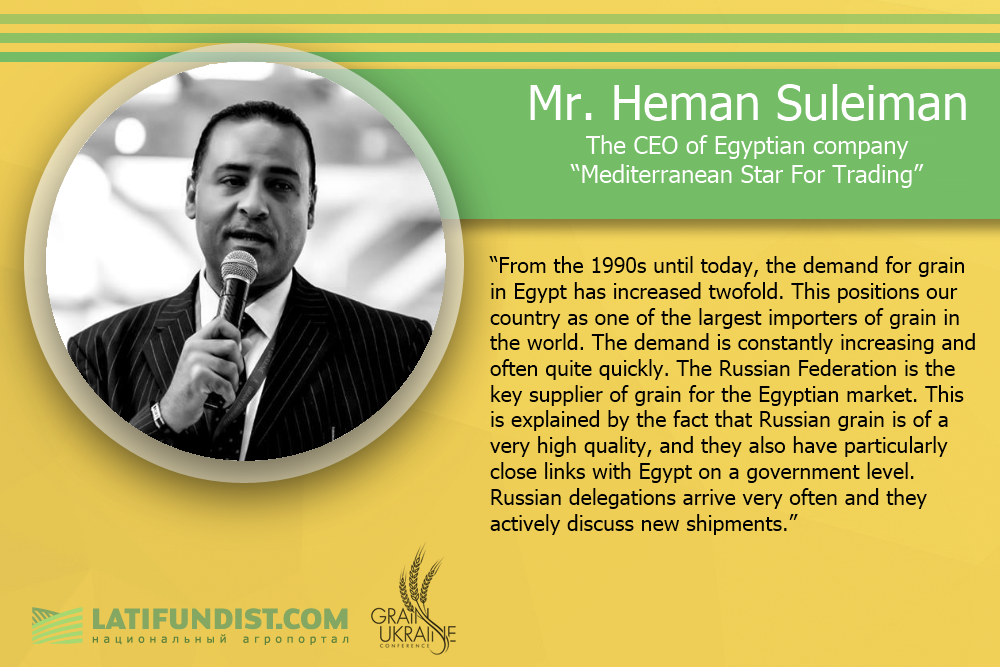 According to Mr. Suleiman, Egypt is very much satisfied with the high quality of Ukrainian grain. Despite the fact that between 2012-2013 deliveries to Egypt were low, they have since increased by 234%.
"At the moment, there is a huge potential for increasing our import quantities from Ukraine. But, seeing that Russia is still actively involved in the supplying the Egyptian market, Ukrainian exporters will have a challenge ahead. To overcome this, they must work very effectively", — he said.
Un-depleted Reserves
The next presentation was an emotive summary of the Chinese agricultural market by Mr. KuachKeoHoa, the director of Guangzhou Donlinks International Investment Co. It is important to note, that according to last year's statistics, Ukraine'sagricultural trade with China totaled $1.3 billion – making it a serious player in the market.The speaker mentioned that nowadays it is very difficult to determine the exact volumes of corn reserves in Chinese storage facilities, and to access their condition. These reserves were built up over many years and the conditions in which they were kept were not always adequate. Because of this, the quality of stored corn seriously deteriorated. According to Mr. Hoa, some of the corn reserves effectively rotted, rendering them useless. At the same time, Mr, KuachKeoHoa was not able to name the exact quantity of corn that was in this state. This information is kept secret and there is no telling how the Chinese government will react to the problem.
The presenter also told the audience that since the past couple of years, Chinese agricultural policy was increasingly aimed towards stimulating production of soybeans and corn. For these purposes, the Chinese government developed a special program for subsidizing agricultural producers. The government constantly monitors these subsidies, and is able to increase them to further boost production. Farming taxes have also been decreased to complement this policy, and aid in the increase of output and creation of jobs in the agricultural sector.
According to KuachKeoHoa, the policies which the Chinese government implemented proved to be successful. Farmers have become more interested in producing corn. The government has been buying up this crop intensively, which is what ultimately led to the creation of a corn surplus and the subsequent storage of corn in reserves. Last year these reserves reached an estimated total of 200 million tons, which was equivalent to the total production of Chinese corn in that year.
The expert also told listeners that Ukraine will be able to export more of its sunflower oil to the Chinese market. There is a clear lack of sunflower oil in China, and in the coming years Ukrainian producers will be able to exploit this opportunity.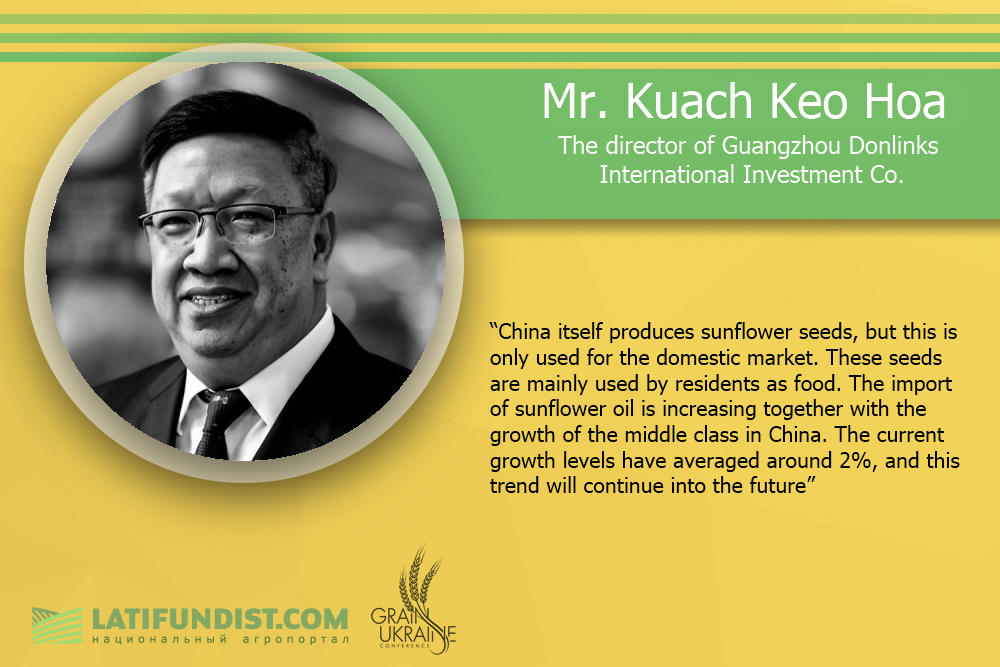 Besides this, the Chinese government is aiming to expand its existing soy production capacity. Together with this, they are implementing methods to control the growth of GM-type soybeans on the market. The current volumes of imported soy average between 3 to 5 million tons per year. But a significant part of this is made up of GM soy, which manages to show up despite an existing ban on this crop. For this reason, Beijing has ramped up its efforts to monitor imports more diligently.
Financial Support
Commercial banks are not able to fully finance Ukrainian agribusiness, therefore international financial organizations such as the EBRD play a big part in the process. Mark Magaletskiy, the manager of EBRD's infrastructure and energy portfolio in Ukraine talked about some of the projects this large institution finances.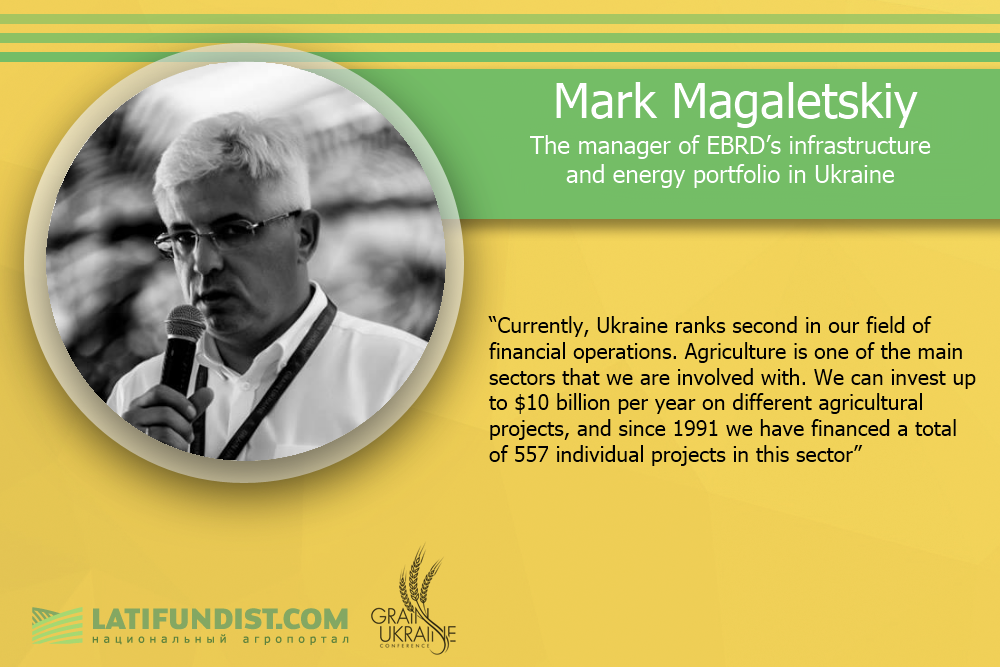 According to Mr. Magaletskiy, EBRD's portfolio includes 226 projects with a total value of €3.4 billion. Direct investments by the EBRD into Ukraine's agriculture totaled more than €1.7 billion in the past decade. This year, the EBRD has already invested €54 million, with another €200 million planned to be disbursed by the end of 2016.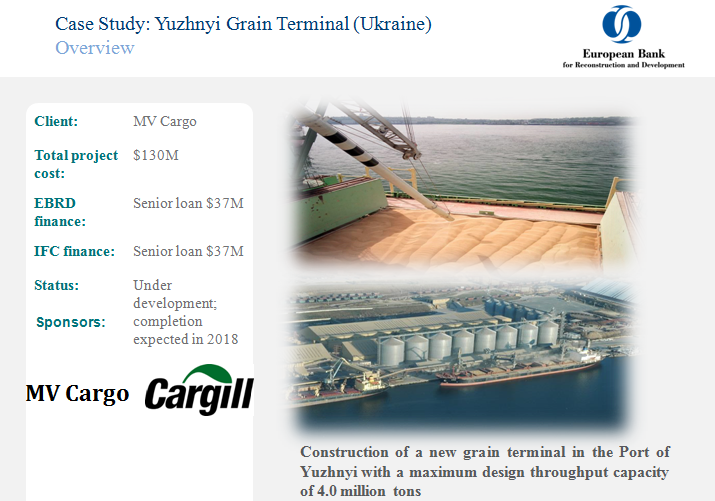 Free Market and Transparency
The vice-President of "Cargill", Mr. Roger Jansen talked about his company's partnership with local Ukrainian businesses, who have proven to be a part of the success formula that defines Cargill's successful growth.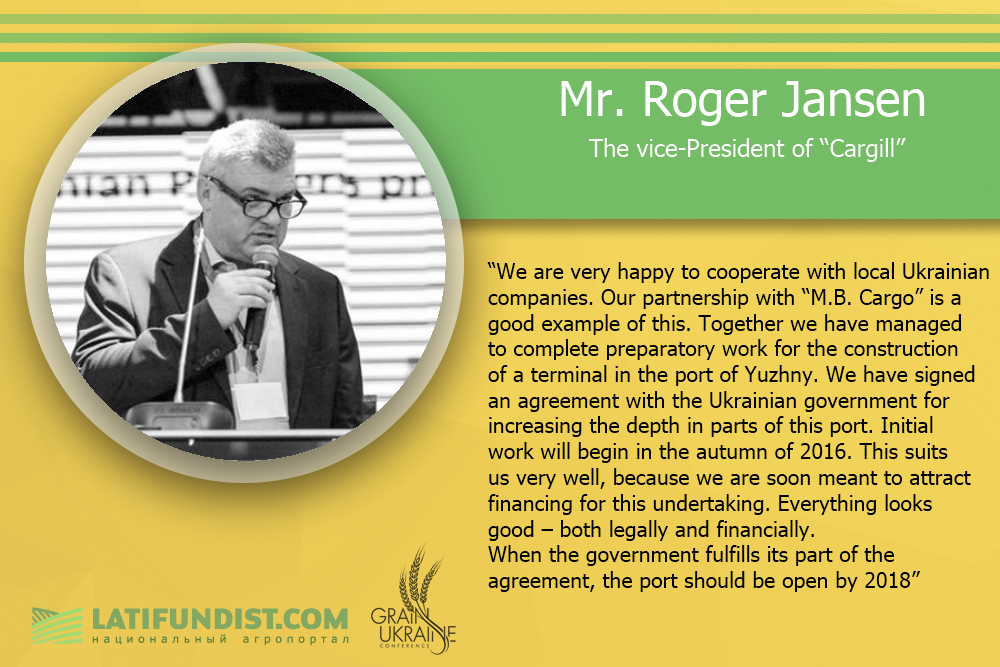 According to the Cargill's vice president, Ukraine plays a very significant role in the feed market. As a global company, Cargill believes in Ukraine's potential and is ready to commit further resources to the development of Ukraine's potential.
"Ukraine is becoming a major player in the corn market. In 2016, Ukrainian companies exported 20 million tons of grain — this madeup 15% of global exports. According to our data, Ukraine has the potential to increase itsexports by 3 million tons per year. As a large scale processor of sunflower seeds in Europe, Cargill would like to increase its market share in Ukraine. Such plans go hand-in hand with the country's commitment to reform and develop its infrastructure", — said Jansen.
The vice-president of Cargill Ukraine thinks that in order to further its development, the country must open-up its land market
"We firmly believe that the coutry should continue its reform process; particularly in the sphere of land reform. Changing legislation to allow for private ownership of land can helpboost the effectiveness and the output of the Ukrainian economy", — he noted.
According to Jansen, this reform process should be supplemented by the optimization of infrastructure and the tax code. Legislation is crucial in fostering a positive business climate that can attract investments and support.
Stay tuned for more in our next edition…
Jovan Djordjevic, Latifundist.com