Digitalization in Agriculture 2.0: Producers Go Online
Every eighth Internet user in Ukraine is engaged in agribusiness. This is the first conclusion made by us in the course of the study of the audience of the agricultural market Agro Digitalization 2.0. The study was conducted by agricultural brands agency Mukovoz.Design.
Since 2014, our team has been focusing on the agricultural market, constantly developing and improving its agricultural expertise. We elaborate on communication tools and create brands for agricultural companies. Our employees go on field trips, visit elevators and farms to see with their own eyes what the agricultural business is actually about.
These days, virtually every agrarian actively uses the Internet, and we realized that we and our clients need a deeper understanding of the audience and the trends in its behaviour. Every marketing specialist in the agricultural business wants to efficiently manage the budget and to do so, we need to better understand our target audience. That's why we initiated this research.
Let's get to the point: based on the latest data by the State Statistics Service, there are about 3 mln people in Ukraine involved in agribusiness. And according to our research, 92% of agricultural producers use the Internet to search for work-related information.
Therefore, about 2.8 mln agrarians use the Internet for professional purposes: they read specialized media, monitor expert posts on social networks, analyze trends and share their experience with their colleagues.
Internet penetration in the country stands at 71% which is equivalent to 23 mln regular users (i.e. use the Internet once a month or more). Such results were given by the Internet Association of Ukraine (InAU) in September 2019. Experts note that such growth has been recorded for the first time in the last three years. One of the primary reasons is the regular use of smartphones by the population, as 22% of users go online only via mobile devices.
Having made simple calculus, we get the following result: every eighth Internet user in Ukraine is an agrarian.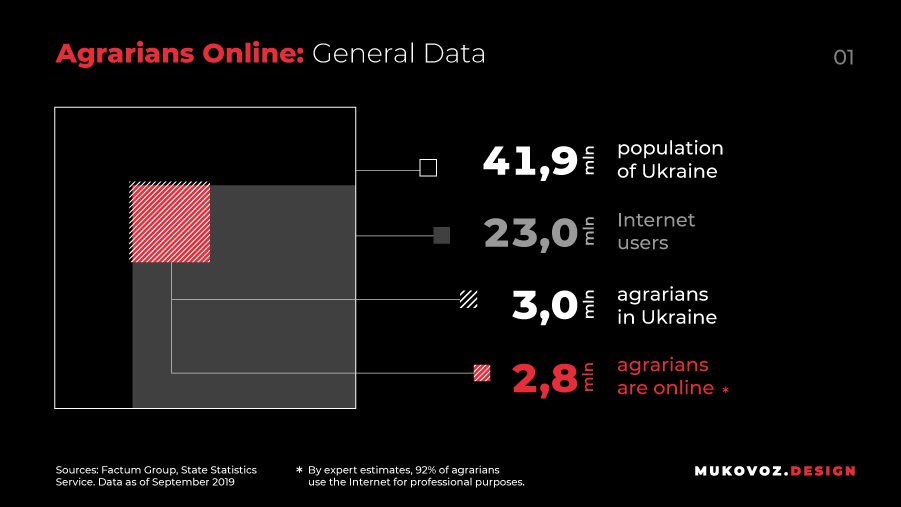 Besides, the agency was provided with access to all the analytics of Latifundist Media websites to analyze statistics and confirm research hypotheses. Since the company's resources cover all representatives of the agricultural sector — from agronomist to business owner, based on the data obtained, we have key indicators for testing the working hypotheses.
Over nine months of 2019, the number of unique visitors to all resources (Latifundist.com, Elevatorist.com, Kurkul.com, AgroPolit.com, SuperAgronom.com, Traktorist.ua) from Ukraine totalled 5.5 mln users. Under the survey results, the websites are used by both representatives of agricultural companies (managers, agronomists, mechanics and different areas specialists) and by other market participants. These are inputs suppliers, public servants, politicians, scientists and students, along with users interested in agriculture.
It should be kept in mind that it is not quite correct to unify unique visitors. This is connected with certain drawbacks in their calculation by Google Analytics. This is the basis for further calculations.
A relevant audience of visitors to websites of all resources is 2.75 mln users. Let's assume that one and the same user today read the news on Latifundist.com via a mobile phone, tomorrow this user will be looking for pesticides on SuperAgronom.com via a laptop, and in a month he will be studying the situation on the land market on AgroPolit.com. These visits are considered by Analytics as three unique users, so we do not take into account this percentage. We assume that such discrepancies in Google Analytics calculations are about 50%. By removing the service error, we have obtained a figure for a more relevant audience.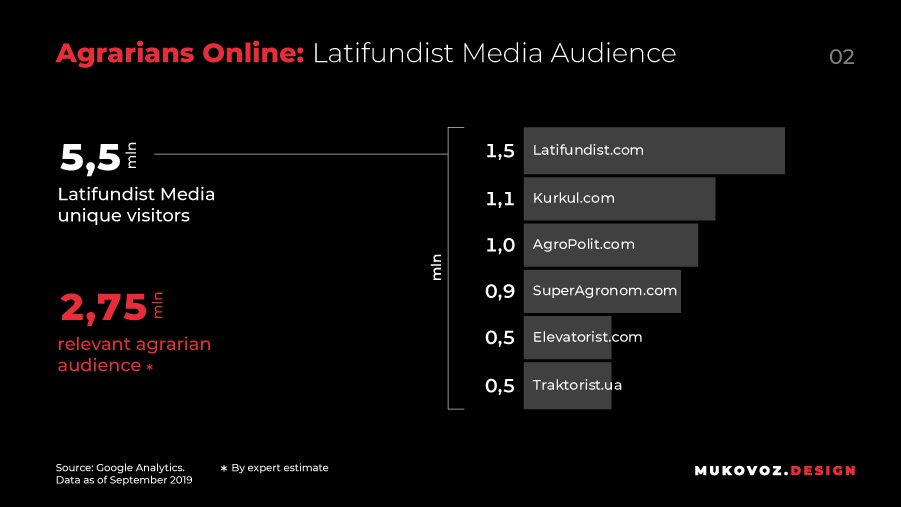 Thus, we have got two indicators. One is based on State Statistics and publicly available studies of the online audience — 2.8 mln. Another is based on the Google Analytics data on the largest agrarian media holding company — 2.75 mln.
The conclusion we can draw lies in the fact that such a conservative audience as farmers is becoming more open and loyal to new and diverse sources of information. They understood the value of websites, social networks, messengers and other online tools, as well as the convenience of using smartphones. And now they have included all these digital channels in their daily set of tools to solve professional tasks. This trend is preserved and will only grow. In other words, we see a change in the way we act and the emergence of new behavioural habits among farmers.
These are the first results of an analytical study of agrarians behaviour online Agro Digitalization 2.0. New results will be published weekly. Stay tuned!