Geography of MHP Processed Product Exports
The company MHP is no longer considering poultry by-products (feathers, intestinal contents, skin, feet, heads, etc.) as waste. It is a valuable raw material for the production of high-protein products: meat and bone meal, blood meal, feather meal and fat. All three types of meal are used in the production of pet food. Fat is used in the biodiesel and soap industries, and feed fat, respectively, is used in feed production. The company not only improves the quality of its products but also annually increases external sales of these products, thus expanding the export geography.
Between 2017 and 2019, exports of animal fat and meal (blood, meat and hydrolyzed feather) increased almost threefold. In three quarters of 2020, MHP exported 14,700 t of these products.
The major export products include:
meat and bone meal (exports increased from 3,370 t in 2017 to 9,189 t in 2019, with 7,606 t in Q1 through Q3 2020);

animal fat (5,817 t in Q1 through Q3 2020).
In 2018, the agro-industrial holding launched exports of the blood meal. While in 2018 only 55 t were exported, 1797 t were delivered to foreign markets in 2019, and in 3Q 2020 — 338 t. In 2019, another item was added — hydrolyzed feather meal. Within 12M 2019, 1,553 t were exported (Q1-Q3 2020: 946 t).
Over the past three years, the list of countries importing MHP processing products has expanded significantly — from 5 countries in 2017 to 12 countries in 2020, including Asia, Europe and Latin America.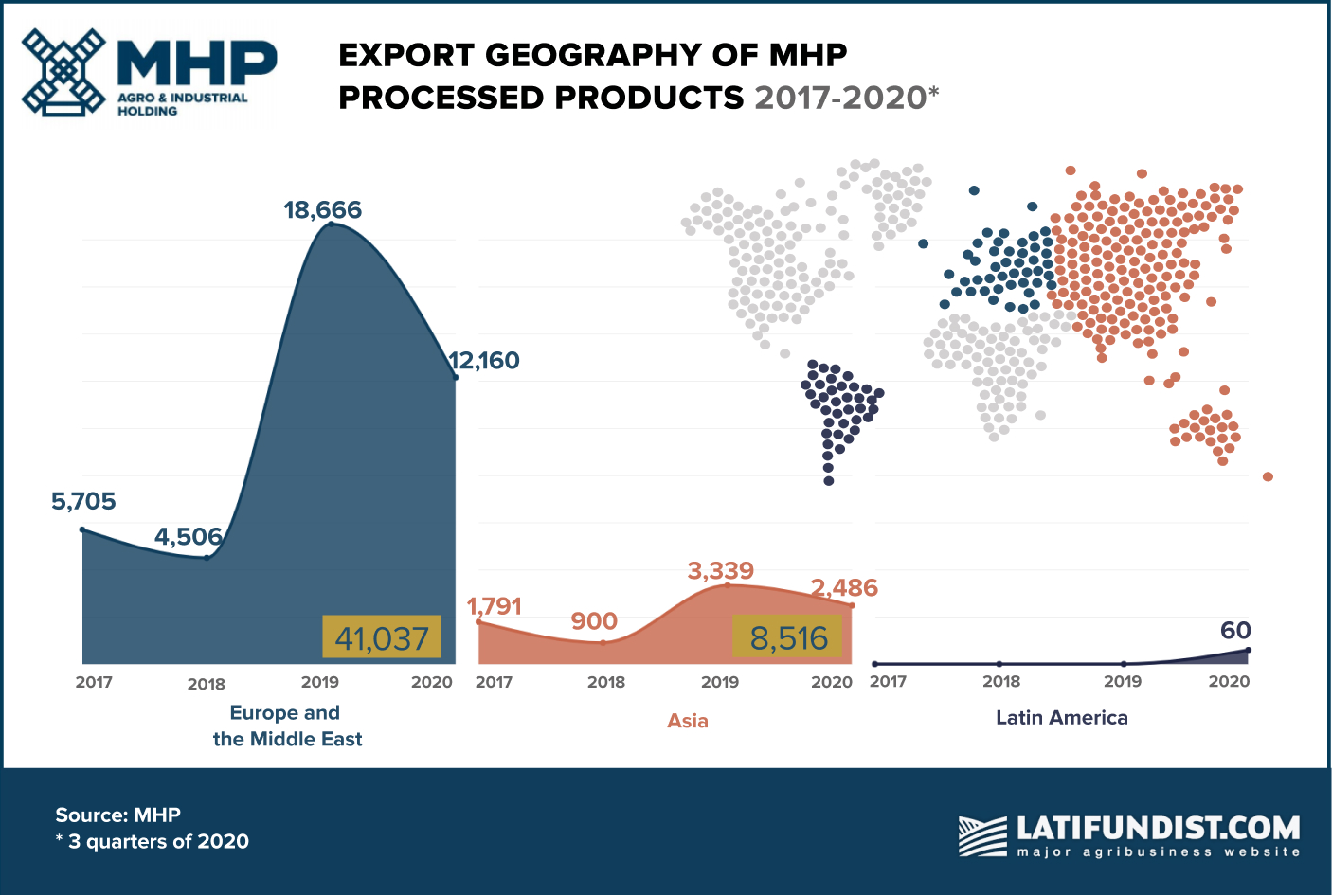 Turkey holds the lead: this country has increased imports of processed products by almost 6.5x since 2017, and in 3 quarters of 2020 imported 6176 t of different types of flour of animal origin. Poland is also among the large importers with 5,662 t or 38% of the total supply, and Vietnam with 1,748 t or 12%.