Andrey Stavnitser: If the Business Does Not Defend Itself Today, It Will Die Tomorrow
Andrey Stavnitser belongs to the generation of young Ukrainian businessmen who were grown up in the entrepreneurial field without Soviet restrictions, so he has plenty of new and challenging business ideas. He is quite democratic in management, is restrained in his statements and likes to implement everything new. One of these novelties has successfully taken root and the second year gives results: the Grain Ukraine 2017 conference once again gathered a large number of international and Ukrainian experts, businessmen, and government officials on the basis of an interactive platform in Odessa. Forecasts for the main grain crops, the development of seaports, transshipments, freight flows are only a small part out of many interesting topics discussed for two days. But there was another interesting point: the entrepreneurs supported the initiative of Ivan Miroshnichenko, MP, and together announced their appeal to the Ukrainian authorities to stop raiding in Ukraine.
It was obvious that it was not a prepared action; it was the position of people who have established successful companies and want to live in a civilized country. Latifundist.com discussed the main conclusions of the second international conference Grain Ukraine 2017 with Andrey Stavnitser, CEO of TIS group of companies.
Latifundist.com: What new goals did you set for this year for the Grain Ukraine 2017? Did it all work out?
Andrey Stavnitser: Everything turned out better than I thought. In 2016, there was some dissonance between the speakers and the audience: people were not interested in everything that sounded from the stage. This year we have thoroughly worked on this topic, and by the reaction of the auditory, I understood that we have found a golden mean. The progressive audience attended the event, whereas authoritative speakers presented on the stage. We have been talking about many important things and, most importantly, the key players of the industry took part in this.
Latifundist.com: At the conference, you said that last year many law enforcement officers of many businessmen were invited to speak together against the illegal actions, but only one person supported you. It was Shota Khadzhishvili, the director Risoil S. A. in Ukraine. He stood next to you on stage and told about pressure on his company. Do you think it is possible to create a powerful platform today to protect businesses from raiding?
Andrey Stavnitser: If the business does not defend itself today, it will die tomorrow. Unfortunately, this is already a matter of survival nowadays. And it concerns absolutely everyone: grain growers, traders, and agrarians. The security officers today literally went mad. They take a list of large taxpayers and move on it from top to bottom, acting with the most inadequate methods: breaking into enterprises with weapons, breaking doors, arranging black PR for people instead of requesting the documents.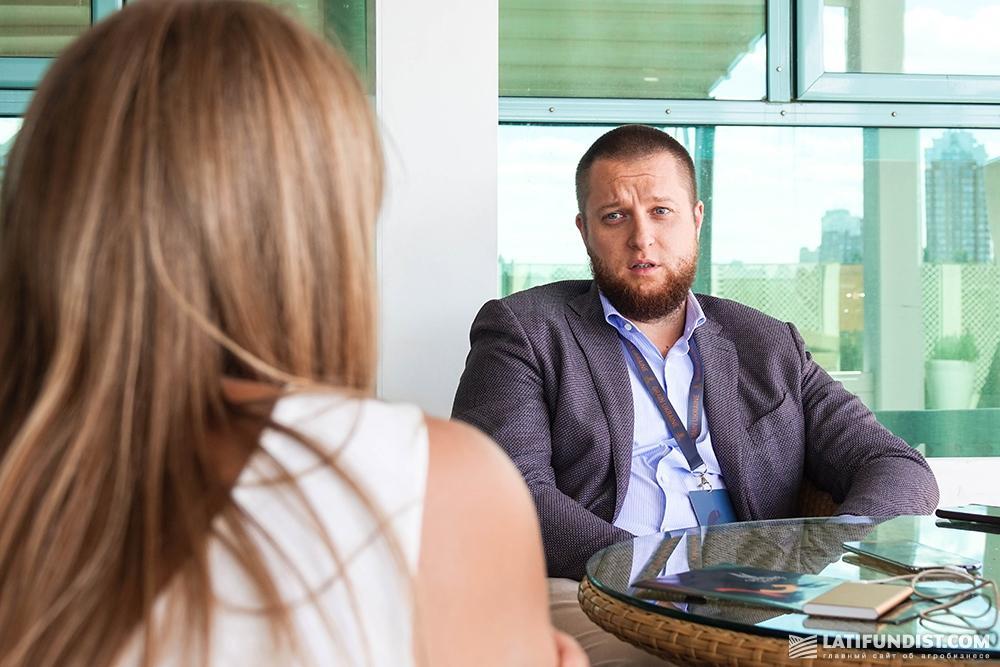 Latifundist.com: Do you feel pressure on your company?
Andrey Stavnitser: Of course. We are constantly confronted with very unexpected requests and claims from different bodies. There is pressure on business, and it intensifies.
Latifundist.com: And how much does an average subscription from law enforcement agencies cost so they do not touch the company?
Andrey Stavnitser: I do not know.
Latifundist.com: But you are in close contact with other market participants and, probably, you have heard the prices and understand how many businessmen buy such a "subscription"?
Andrey Stavnitser: I have heard that many businesses buy it, I estimate more than half of them. There is an opinion that if these are the game rules in the country, then you need to follow them. I categorically disagree. The last autumn, when the armed searches were held at my company facilities, I gathered a press conference and invited at least 5 companies to come out with us. Only Risoil S.A. agreed. Probably, the rest of companies believe that it is easier and faster to negotiate.
Latifundist.com: Tell us please about the company's investment plans. You have a project to dredge the port South. What is the current situation for it?
Andrey Stavnitser: It is being successfully implemented. The Chinese fleet is partially mobilized and sailed to us, has already begun to work. We plan to meet the deadlines and finish the project by mid-2018.
Latifundist.com: Does the government help you in implementing this project?
Andrey Stavnitser: Someone helps, somebody does not interfere - and we are very grateful for that. For example, SSU claims that the Ukrainian Sea Ports Authority can not carry out dredging for the private terminal. If you follow their logic, Ukravtodor can not build roads for private cars. They say "these are different matters." But we are building a sea road, along which all the ships will go. And 70% of the sea transshipment market is handled by private companies. This is the true picture of the economy, but the Security Service of Ukraine does not notice it. Thanks to the dredging, everyone will pay port charges. In 3-5 years, all the costs of the USPA will pay off. This is by far a profitable investment in the strategic development of the shipping industry in the country.
Latifundist.com: How much funds does the state provide to build a sea road?
Andrey Stavnitser: Thanks to a transparent tender that was arranged on the Prozorro platform, and after auditing the conditions and several consultations with the world's largest dredging companies, the cost of dredging is UAH 1,064 billion. According to the USPA plan, UAH 1,196 billion were pledged.
These investments will bring an additional export of 5 million tons of grain a year, a minimum of UAH 600 million of taxes annually, and about $8 million of port charges a year. And what is the most important — new jobs will be created in the Odessa region.
Latifundist.com: How much will the share of TIS in the total transshipment volume increase due to the project implementation?
Andrey Stavnitser: Today we are the No. 1 transshipment company in the country according to the results of the half-year operation. I think that by the end of the year we will transship 26-27 million tons of goods, whereas the grain transshipment will constitute about 7 million tons.
Latifundist.com: Do you agree with the opinion announced by the conference participants that in the future the transshipment companies will enter into closer cooperation and individual partnership with agricultural holdings, preparing their terminals for a specific profile of individual agro-companies in exchange for long-term cooperation?
Andrey Stavnitser: I observe the inverse dynamics. Every large trader who had built a terminal does not load it at full capacity with its cargo in the short term. Therefore, such ports will have to work additionally to service other market participants. Previously, every large trader wanted to have his own terminal, now those who already have it will upload it not only with their cargoes.
Latifundist.com: Will the transshipment rates decrease?
Andrey Stavnitser: I would not want it to happen, but such a possibility exists. And some decreases are already noticeable. For example, in Illichevsk port the transshipment rates went down from $18 to $12 in two years.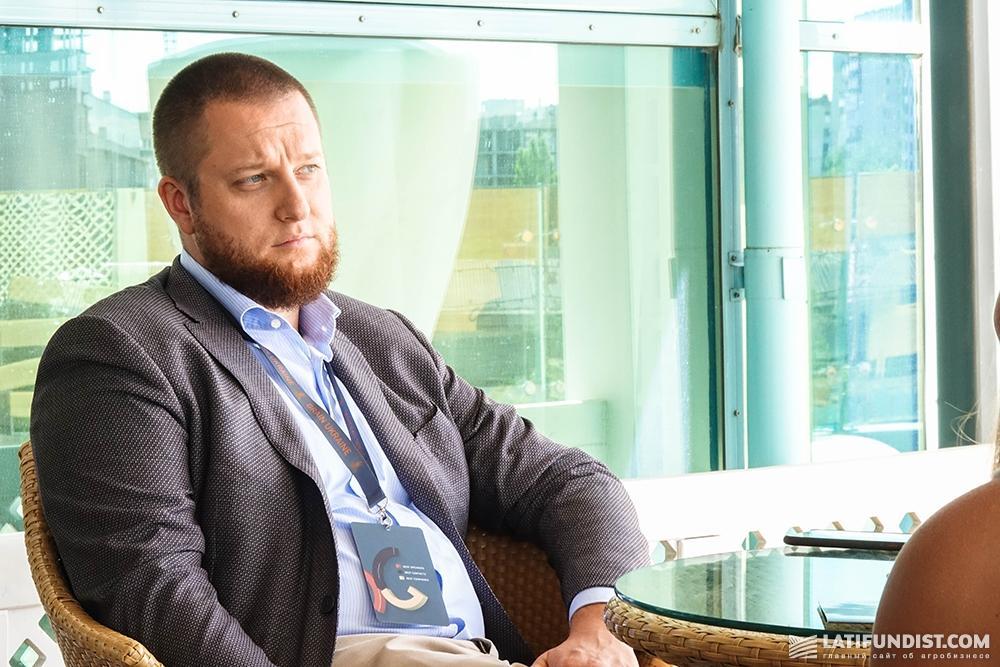 Latifundist.com: The topic of the land market was discussed at Grain Ukraine. Is there any plan for stevedoring companies, if suddenly the land market is opened, panic among farmers will set in and as the result, there will be a shortage of transshipment tonnage?
Andrey Stavnitser: I do not expect a loss of harvest, but price speculation with the land and the emergence of new players in the agro-industrial complex might happen. I do not think that the total transshipment turnover will diminish. Any owner will focus on the profitability and success of his business. The land market will only strengthen it. In addition, the country will receive a huge, almost inexhaustible reserve of international investment. The main thing is to properly write the rules of the game so that they are clear, transparent, and create equal working conditions for everyone.
Latifundist.com: What are your plans for investing in the company?
Andrey Stavnitser: In the near future I will continue everything that has been started. I want to complete the construction of Cargill terminal in Yuzhnoye, complete the expansion of the railway infrastructure in TIS, and fill and load the newly built metal warehouse. The key customer for this warehouse is already found — this is ArcellorMittal, the largest metallurgical company in the world. We are looking for others.
SD Capital (an investment company that Andrey Stavnitser and Philipp Grushko opened last year — editor's note) is currently working on several projects in various spheres, including agriculture.
Latifundist.com: Why is your company called SD Capital? What does SD stand for?
Andrey Stavnitser: The company name is associated with the name of the famous American diplomat Henry Kissinger whose favorite term "shuttle diplomacy". It is a way to unite people, warring countries or partners. This is exactly what SD Capital does — "marries" everything that, at first glance, can not exist together.
Latifundist.com: As an example the Vizirka village, where, on your initiative, a cooperative village was established and all the taxes paid by TIS companies increased the rural budget to UAH 17.8 million. The Village Inspector examined the village and concluded that the village and business are successfully "married" on a social theme. Do you plan to increase investments in the social sphere?
Andrey Stavnitser: We really pay a lot of taxes in this village. But these are not investments, they do not return. It is rather a "subsidy" on social projects, which we are obligated to provide along with running the business. The more similar examples are in Ukraine, the stronger are the regions and happier are people. You need to change your country with making the order in your house. Everyone should do their best and then we will see the result. We will continue supporting social initiatives. In August, we will present a new charitable and very interesting project.
Latifundist.com: Are you ready for the new season?
Andrey Stavnitser: Yes, we are. TIS operates in the normal mode. We are ready to receive a new harvest and implement interesting projects.
Latifundist.com: Last year there was a problem with grain trucks. Can the situation recur?
Andrey Stavnitser: I believe that the Ministry of Agrarian Policy and Food together with the Ministry of Infrastructure must oblige terminal owners to build intercepting parking lots for trucks on their territory. The size of the parking should correlate with the terminal's capacity: for the total capacity of 100,000 tons, the parking should accommodate 30% of trucks. Vehicles should not stand along public roads.
TIS has such a parking, we can "locate" 1,500 trucks. Other companies do not invest in it. Grain trucks stand along the roadside, there are regular accidents, people are dying. Heavy cars destroy roads — this is barbarism. The profitability of any grain terminal allows you to build such a parking lot. This is compared to screwing a light bulb in the entrance at your home. Many people talk about it, but only we did.
Latifundist.com: Thank you for the frank talk and we wish you good luck in implementing all plans!
Natalia Bilousova for Latifundist.com