Larysa Bondarieva: Banks Will Never Become Landlords
"Agricole" is a French word that means agricultural. Financial group Credit Agricole (France) perfectly matches its name. It was initially established to support farmers and it has been following its mission for more than 130 years now. Credit Agricole Bank representing the group in Ukraine has fully inherited the DNA of its parent structure. It was one the first bank with foreign capital that entered Ukrainian agrarian market, and today it is a trendsetter in both innovative solutions for agribusiness and financial and agrarian expertise.
To make a long story short, we did not need GPS to find a partner to discuss how banks are getting ready for the forthcoming land market opening in Ukraine. We met Larysa Bondarieva, Credit Agricole Bank Deputy CEO in charge of Corporate Business and SME and discussed trends and prospects of the banking segment of agromarket.
Latifundist.com: What is the share of agrisector in the loan portfolio of Credit Agricole Bank today?
Larysa Bondarieva: Dominant. For example, the share of agrisector in our corporate portfolio is more than 50%, and a quarter of agrarian customers have been served by the bank for more than 10 years. The land bank of all our clients represents about 10% of the overall land bank in Ukraine.
Latifundist.com: What is the structure of your customer base?
Larysa Bondarieva: We have internal client segmentation. It includes small and medium business, large corporate and international business. In terms of a number of clients, small and medium business segment is our largest segment. We have the biggest number of such clients.
In terms of portfolio indicators, in other words, exposure amount, large business is the core, which is logical as well. It means a larger land bank, diversified activity. Therefore, the amount of loan tickets is much higher in this segment.
About 10% of our borrowers' portfolio is represented by companies with the land bank up to 500 ha. These are farming, agri enterprises. We distinguish two sectors of our clients: agro producers, which is agrisector, and processing and trading companies, which is agrosector.
In agrisector, it has been two years that we work with customers whose land bank is 200 hectares +, while when we started in 2009, the starting point was the land bank of 400 hectares and more. But Ukrainian agrisector develops, small enterprises become better known to the bankers, their performance indicators and management improve. As a result, we adopted our approach. But no revolution happened. Indeed, the number of customers with small land bank has not increased significantly, although there are in fact many of them on the market.
Latifundist.com: Why, in your opinion, is it the case?
Larysa Bondarieva: According to the agrarians, they are reluctant to go to banks because it is too complicated and difficult. In a village, for example, it is not easy to find an accountant who could keep reporting and prepare financial documents in the format acceptable for banks.
On the other hand, agrisector representatives raise funding anyway, in particular, in the non-banking sphere. The cost of such funds can reach 2-3 % per month. Ukrainian banks could be blamed for high rates but, in any case, their rates are much lower than 2-3% per month. Moreover, over the past year, bank rates dropped significantly, which is good both for customers as their percentage load reduces, and for banks as the client's financial condition improves, as well as for the economy in general. In other words, the market becomes more balanced despite some delays.
And now we see that we can make another step forward and analyze how to support small farms. We already have a loan for households — Agro Svoboda.
Latifundist.com: Has not the reduction of a minimal land bank to 200 ha resulted in the increase of impaired loans?
Larysa Bondarieva: Same as before, agrarians proved to be among the most reliable borrowers. Small entities usually can rely only upon themselves. And on local territories where they run their business, in the village, their reputation costs a lot, so business keeps it.
In any case, we assess business models, potential sources of loan repayment, we consider crop turnover, production program, ways of enterprise management, however, for small companies we set simplified requirements. For this purpose, we did some work on our side: adapted internal processes, accelerated the consideration of requests, and simplified the entire system. In fact, for small loan amounts, the information is mainly processed in the region and decision is made at the regional level. Clearly, the bank controls the situation and monitors the portfolio quality.
In this case, we do not aim to reach 200% security. Actually, I believe that in the agrisector, we should keep learning to hear each other better, to be more understandable to both sides. We're on the right track.
In terms of impaired loans, their number did not grow. On our part, we try to be flexible with our customers. For example, in Bessarabia, there was a difficult situation this year for obvious reasons. We could see that some customers delayed loan repayments. There were objective reasons: they lost sources of income due to crop failure. Of course, we took those circumstances into consideration and adjusted repayment schedules, deferred payments, and reached the compromise.
We do not spend all our time in the office. We regularly meet with our clients, we understand what's going on. We have a dedicated agro-team that spends a lot of time in the field.
Latifundist.com: Please tell us about your scorecard model for agrarians. Have you amended it in view of climate anomalies of the current year?
Larysa Bondarieva: Actually, what we have is not a scorecard model. We analyze each particular case, carry out comprehensive analysis based not only on numbers but also on agroefficiency, taking into account management appraisal, etc. When it comes to direct communication, it involves not only the CFO and the accountant, but also the agrotechnician, the vet, and owner. We visit them, we talk. And our talks are not only about yields or revenue per hectare. It is always interesting to go to the field and talk to people. Thus, we can understand whether the owner is an on-the-field coach and whether their family and children are involved in the agribusiness. It is always very good evidence when, for example, a father is in charge of strategic issues of development and a son is rather in charge of finances due to his education and experience in dealing with banks. And this is interesting because you can see that this family is for the long haul in agro.
From our Kyiv office, it is not always easy to understand why a company is requesting a loan. It seems that it does not need it at all. But then you go to the field, meet people, enter a machinery barn: latest models, new acquisitions. And they tell you: look, without this credit limit we would wait for this sowing machine for a year because these days it is difficult to bring machinery to Ukraine, manufacturers produce less due to lockdown restrictions, the entire logistics chain is troubled. But if we received the new sowing machine a year later, our current performance would be worse. You see? This is why I always tell the bankers dealing with the agrarian sector that it is a big mistake to spend most of their time in the office. We must be in the field, we must be at the farms, we must be with clients.
Latifundist.com: Who are your perfect and stable customers, or do you like all of them?
Larysa Bondarieva: Simple math does not always work here. A customer with the largest land bank is not necessarily the best performing one. Therefore, the question about a perfect customer can have more than one answer. Details are important.
If considered who's favourite, you are right — all clients are favourite. When the team works on-site, the relations are established at the level of regional outlets, bankers and clients, they are connected by many years of working together, knowing each other, different situations they managed together. It always unites people and makes them closer to one another.
In the small and medium-sized segment, our average customer is, probably, a company with a land bank of 2 thousand hectares. It is easier for the bank to deal with such a company. It is easier to make an assessment: industrial and financial.
However, this is not a rule set in stone. I visit regions, talk to managers of enterprises working on 1,000 ha, 500 ha and even less, and these are excellent companies. The owners are deeply involved, they understand the experience of the past, challenges of the present and how to adapt to the future. They understand that they need to be transparent, understandable, to invest in the business, and to keep developing.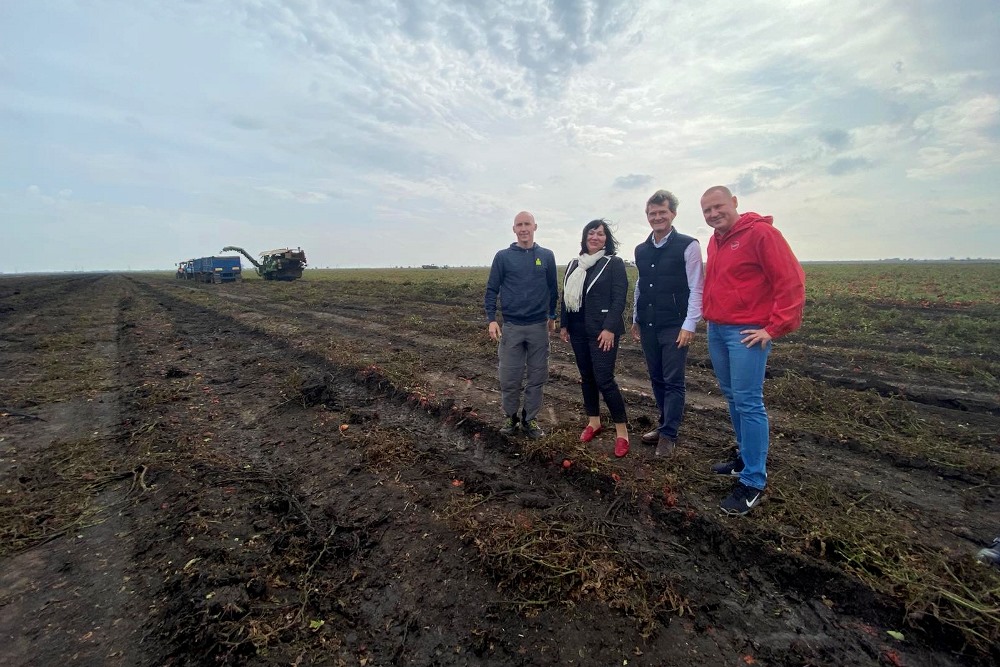 There are excellent companies with the land bank of 10-20 thousand hectares and more. They invest more in infrastructure, build grain storage facilities. We also have a full mutual understanding with them. Many large holdings have some advantages: large plots of land, efficient cluster management, well-established mechanisms.
This is why it is important not to focus on one client category but to understand special aspects of each segment and how those segments interact among themselves.
Agriexpertise: office does not bring happiness
Latifundist.com: It is clear that everyone needs loans and other banking products, especially in agro. However, there are some specific features in agriculture. How do you solve this dilemma?
Larysa Bondarieva: When some time ago we decided that it would make sense to support the agrarian business in Ukraine, we understood that financial and economic background was not enough. We quickly realized that we needed specialized experts, and financiers had to learn many things: vegetation index, feedstock conversion, etc.
We applied a comprehensive approach: we taught front office staff, analysts and risk managers what they should have taken into account. This is how we introduced an agroexpert team in the bank.
Today, we have agroexperts not only in Kyiv but also in regions. The training program is continuously expanded and deepened as the agro market is very dynamic and there is always something new.
We have a very good project — Agro School — that is well-known in the market. This month, we received another award by HR Brand Ukraine 2020. The project was recognized as "The Best Leader Development Program". I am delighted because this idea appeared 3 years ago when we asked ourselves: what else can be done?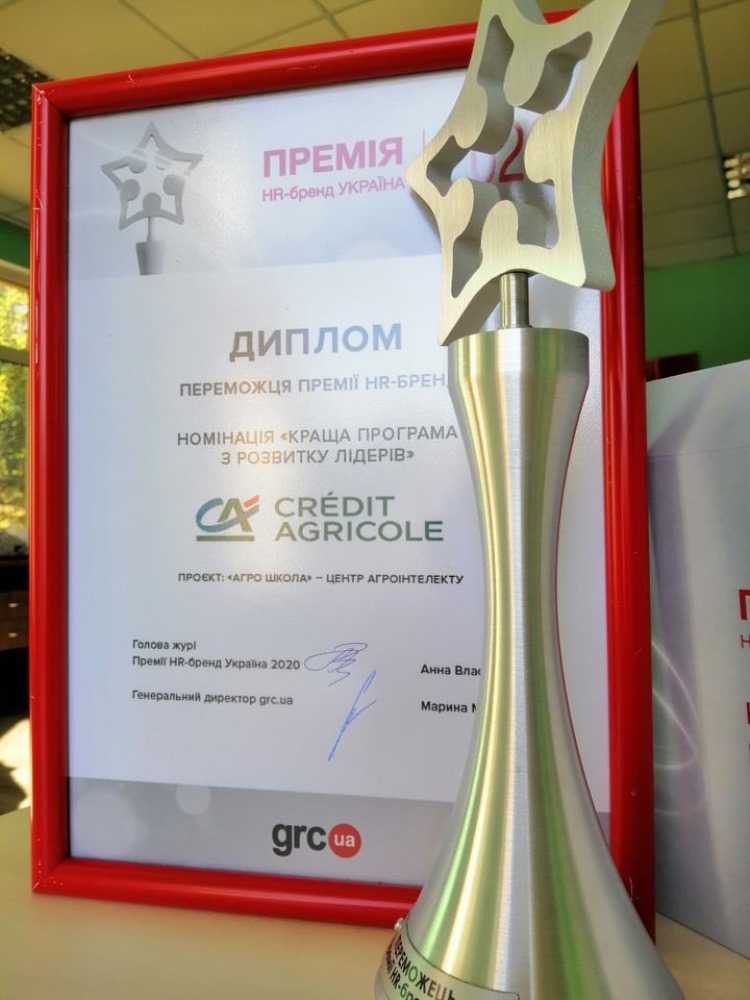 The program of Agro School is prepared by our team members, it includes 6 modules: theory and onsite practice. Site visits are mandatory, and we also invite customers as speakers. This is extremely interesting, and what pleases me the most is that our guys are still excited. Quarantine restrictions slightly changed our approach but we keep going. It is important to continuously invest into yourself, to develop, to enhance your knowledge.
Land market: all roads lead to Credit Agricole
Latifundist.com: Forthcoming opening of the land market assumes the active participation of banks. How is Credit Agricole Bank getting ready?
Larysa Bondarieva: In fact, everyone — both agrarians and banks — should get ready to land market opening. But the market sets one type of challenges for agrarians and another type — for banks.
For us, it is a purely new product, which raises a whole block of issues.
If we talk about financial aspects, then an important feature of the future product is longer finance compared to loans provided today to businesses and individuals. The issues of long liquidity and its cost need to be resolved.
The market has started a dialogue... There is an issue about the role of the government, about the mechanisms of guarantee and compensation. And there are preconditions for such statement: the agrisector has a practice of receiving government support.
Latifundist.com: How would you describe general sentiment in the banking market before the opening of the land market?
Larysa Bondarieva: The situation is the same as before the launch of any new project. There are expectations, concerns: will it fly or not?
But in any case, when the land market will open, banks will not stay on the sidelines: our bank and other banks that have been working with agrocustomers since long ago and the clients will come to us to get land loans.
For sure, in the beginning, lending models will be different: terms, their own contribution to land purchase, etc. But everything will be settled with time: banks' offers will be structured and the market will become balanced.
We analyzed the experience of other countries where the Group is represented: LTV, lending tenors, etc. But, no doubts, there are some peculiarities in Ukraine.
Latifundist.com: And what was your conclusion?
Larysa Bondarieva: There are two key issues: lending tenor and deposit. Usually, it is within 10-20%. In some countries, lending tenor reaches more than 20 years. It is hardly possible in Ukraine at the start. However, we should take into account that in some European markets — in France and Italy — land markets are open since long ago, and more than one generation of bankers worked with the respective products for agrarians.
For the local environment, we believe that 10, maybe, a bit more — 15 years is a more realistic tenor.
Latifundist.com: Can you already offer anything to your clients, any model of cooperation in the land market?
Larysa Bondarieva: We are working on it. This process — serious and profound — started a year ago. The bank established a working group that includes our marketers, agro team, front-office, risk team, analysts.
Latifundist.com: What, in your opinion, is the biggest obstacle for the normal land market opening in Ukraine?
Larysa Bondarieva: The worst that can happen to the financial market in general and to the banks that decided to enter the land market is instability in the information realm that we observed recently. We open the land market or not, cancel the decisions taken or do not cancel… This misleads both bank customers and bankers.
Latifundist.com: These days, we hear that the major beneficiaries of the land reform are banks with foreign capital. What is it? The demonization of banks?
Larysa Bondarieva: Yes, this is a pure manipulation because there are clear limitations set by law. It is forbidden for banks to become landlords, to hold the land in their books longer than it is prescribed. And all this, in any case, only happens in case of problem situations with loans repayment. After the expiry of the statutory period, the bank will be obliged to sell the land.
We have never aimed to manage non-profile assets. We do work with collateral but this is a part of the banking business: there are requirements of the National Bank, the need for an alternative source of loan repayment. But for us, the first question is not a collateral, but the company's business model and the cash flows available to the company to repay the loan.
Latifundist.com: And the last question about the land. What is your forecast about the market launch?
Larysa Bondarieva: Expectations are different. Some experts talk about 5% of land owners ready to sell it. Others estimate it as 10% or 20%. I think that 20% is definitely overestimated. There is an opinion that at the initial stage the land will be sold by people in difficult life circumstances and by those who do not live in the rural area, while people living in villages will wait for better prices. The land is their source of income. It is small but it is regular.
This is why I expect no sharp start of lending, the situation in the land market will develop gradually.
Partnership programs: Progress made!
Latifundist.com: We have not mentioned the topic of partnership programs. Has their number increased or reduced recently? What are the trends?
Larysa Bondarieva: The dynamic is positive.
Today, our portfolio includes more than 30 partnership programs with suppliers of seeds, crop protection agents, agricultural machinery, etc. And the result is much better this year than in the past year.
For example, last year there was no significant growth in agrotechnics. This year there is obvious progress. Partially this is due to changes in the market. Last year, the companies prepared themselves to land market opening and accumulated funds. This year, after the legal restrictions for land purchase by legal entities, being tired to wait, they decided to buy the machinery.
From our part, we maintain ongoing communication with our partners, we develop new programs, adjust the conditions.
The market is very dynamic, and market conditions are dynamic, and customers have new needs every now and then. We try to monitor them, we carry out market reviews. We examine what works and what does not, which adjustments are required.
Latifundist.com: Which policy do you follow with respect to large customers? Does a large player automatically mean high risk, or it is not necessarily so?
Larysa Bondarieva: We have no intention to change anything in the policy of relations with large companies. Performance is the key criterion. If large holdings operate efficiently and we believe in their models, the bank is happy to cooperate with them.
On the other hand, we represent an added value for large holdings. The Group operates in many countries, we actively cooperate with our colleagues in London, France and Geneva, we support our clients at the international level. And large companies are particularly interested in such support.
Future forecasts
Latifundist.com: And the last question. What is your forecast for 2021?
Larysa Bondarieva: I want to be an optimist. But in my opinion, it will not be easy. In any case, there has been no trouble-free year within my memory. There are always enough challenges for the country, the economy, the banking sector as a whole... And farmers have their own risks, the weather.
In the agrarian sphere, the land market opening is a potential breakthrough and challenge of the year at the same time. For Ukraine, after the long-term moratorium, it may become a revolutionary shift.
As for the rest, it will be as usual: the issues of weather, prices, yield, other factors, "black swans" — various force-majeure situations, like it was with Covid-19. However, I hope that in 2021 the pandemic will calm down. I think that many agrarians miss more active communication.
But so far, we keep working and adapting. All other tasks will be solved as they occur.
Konstantin Tkachenko, Valentyn Khoroshun, Latifundist.com