Court arrested Astarta's corn due defaulted forward contract with Agrostudio
The Kyiv Court of Appeal has seized USD 434,700 in funds of Eco Energy Ukraine, a subsidiary of the agro-industrial holding Astarta-Kyiv, according to a lawsuit filed by Agrostudio Group, the relevant court ruling reviewed by Latifundist.com reads.
The court also arrested 13.34 thou. t of corn of class 3 of the 2020 crop, owned by Eco Energy Ukraine.
As reported, Agrostudio Group and Eco Energy Ukraine entered into a forward contract on 21 February 2020 to supply 10,000 t of 3rd class corn at 162 USD/t. However, as of April 21, 2021, Eco Energy Ukraine has not delivered the corn under the contract. Thus, the court upheld the claim of Agrostudio Group and seized USD 338.4 thou. and 10 thou. t of corn.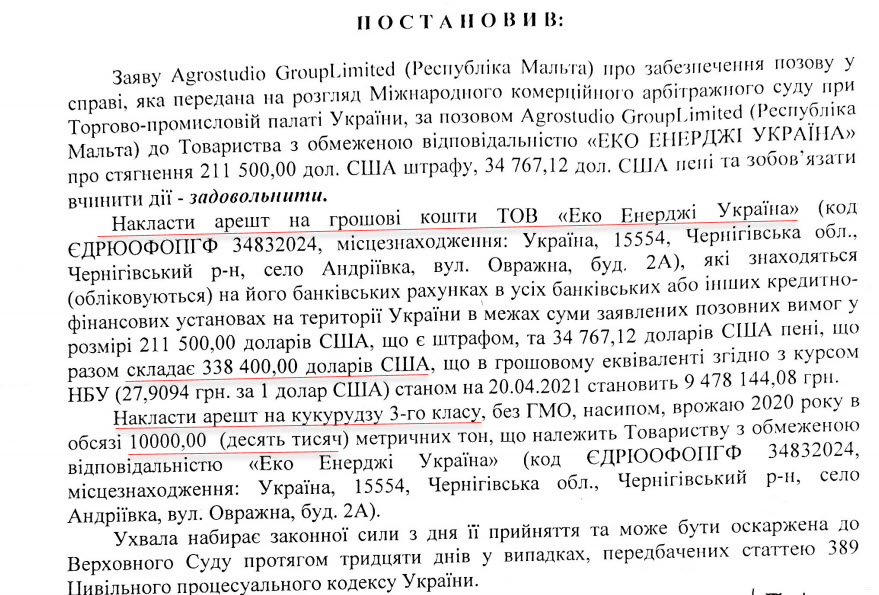 Agrostudio Group Limited and Eco Energy Ukraine signed an additional agreement dated November 17, 2020, for the supply of 5,000 t of 3rd class corn. The delivery period agreed was between November 19 and December 20, 2020.
"Eco Energy Ukraine has not duly fulfilled its obligation to deliver the grain. Out of the total volume of commodities to be delivered under the contract, Eco Energy Ukraine delivered only 1,656 t worth USD 268.27 thou.," the court ruled.
Thus, the subsidiary of Astarta-Kyiv was to supply Agrostudio Group with 3,344 t of corn of the 2020 crop under an additional forward contract.
Agrostudio Group Limited fulfilled its payment obligations and between November 30 and December 9, 2020, USD 249.05 thou. has been paid, and USD 19.22 thou. on December 21, 2020.
The court ruled to seize Eco Energy Ukraine's funds in the amount of USD 96.25 thou. and 3,344 t of corn.

According to the extract from the Unified State Register of Legal Entities, Individual Entrepreneurs and Public Organisations of Ukraine, the registered capital of Eco Energy Ukraine is significantly lower than the claimed amount of penalties and amounts to UAH 64.1 thou., which is clearly insufficient to settle the contract with Agrostudio Group.
Astarta-Kyiv reported that in 2020 the company's farms produced 418 thou. t of corn (2019: 581 thou. t).
Related: