TOP 10 Soybean Producing Countries in 2019
On a global scale, soybeans are equally important as wheat, rice and corn. This oilseed crop belongs to the relatively drought-tolerant group. South-East Asia with its long frost-free period, humid and hot summers is its natural habitat. Each year soybean products are becoming more common worldwide. For example, the production of soybean oil alone has boosted by 63% in the last five years.
Depending on the demand, the dynamics of soybean production and sown areas have their own trends. According to Kleffmann Group, the total global sown area in 2019 reached 122 mln ha. Five countries-leaders by production areas cover 106 mln ha, accounting for more than 85% of all sown areas in the world. The list includes:
Brazil: 34 mln ha
USA: 31 mln ha
Argentina: 18 mln ha
India: 11 mln ha
China: 9 mln ha
Ukraine ranks 9th with 1.550 mln ha under crop representing 1% of the world areas. The same market share is held by Bolivia, Nigeria, Uruguay, the EU and the Republic of South Africa (RSA).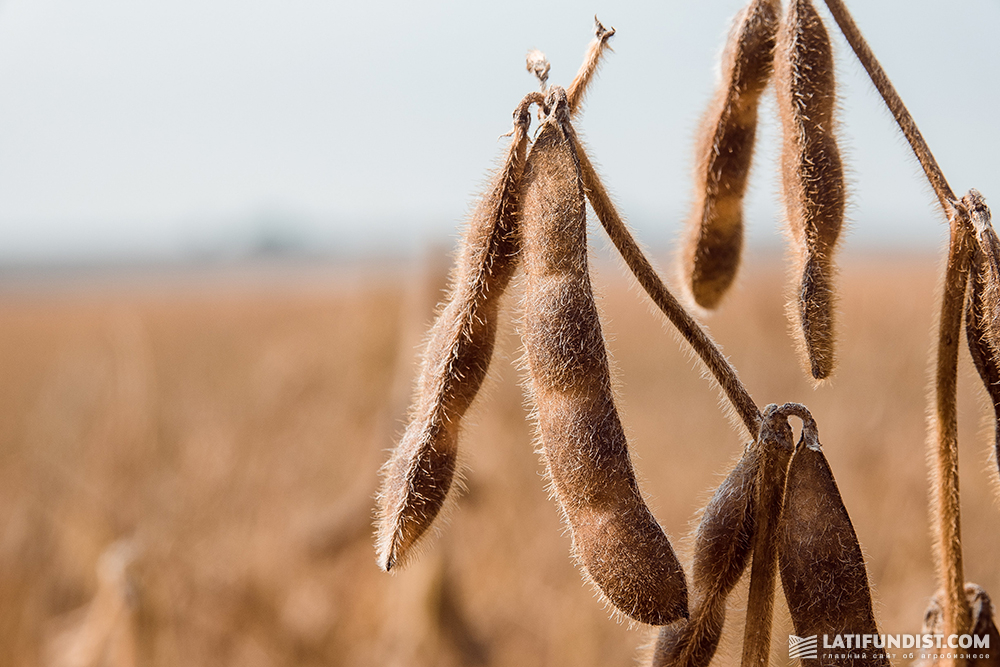 Brazil demonstrated the highest yield in 2019 — 3.3 t/ha, the USA and Argentina have practically the same level of 3.2 and 3 t/ha, respectively. Fourth and fifth places are held by the EU member states (2.9 t/ha) and Paraguay (2.8 t/ha). Italy is the absolute European leader in terms of production volume. In Ukraine, soybean yielded 2.4 t/ha in 2019.
According to the March 2020 data of Kleffmann Group, soybean production reached 336 mln t in 2019, having increased by 26 mln t or 8% within five years. Soybean production is domineered by Brazil, the US and Argentina, which account for 81% of global output. As projected by the USDA analysts, in the 2020/21 season soybean production will reach 362.8 mln t. This growth will be driven by two factors: the projected yield growth in the US and acreage expansion in Brazil.
Brazil tops the list due to its sizable areas: 124 mln t of soybean were harvested on 36.9 mln ha. In Argentina, 17.5 mln ha were sown and 51 mln t of the crop was harvested. In 2019, the US previously leading the world ranking in the past decade moved to 2nd place having ceded the Brazilian championship. China holds the fourth position chiefly owing to large areas under crops: last year 18 mln t of soybean were harvested on 9 mln ha.
Until 2014, Ukraine ranked 10th. Since 2014, having overtaken Bolivia, our country has been holding the 9th position in the world ranking of soybean producers. Over the past 10 years, the production volume has increased by 31% to 3.7 mln t. However, since 2018 there has been a decline in production. In 2019, Ukraine's soybean production totalled 3 mln t. In India and Paraguay, there is also a marked decline in production since 2018: from 10 to 30%.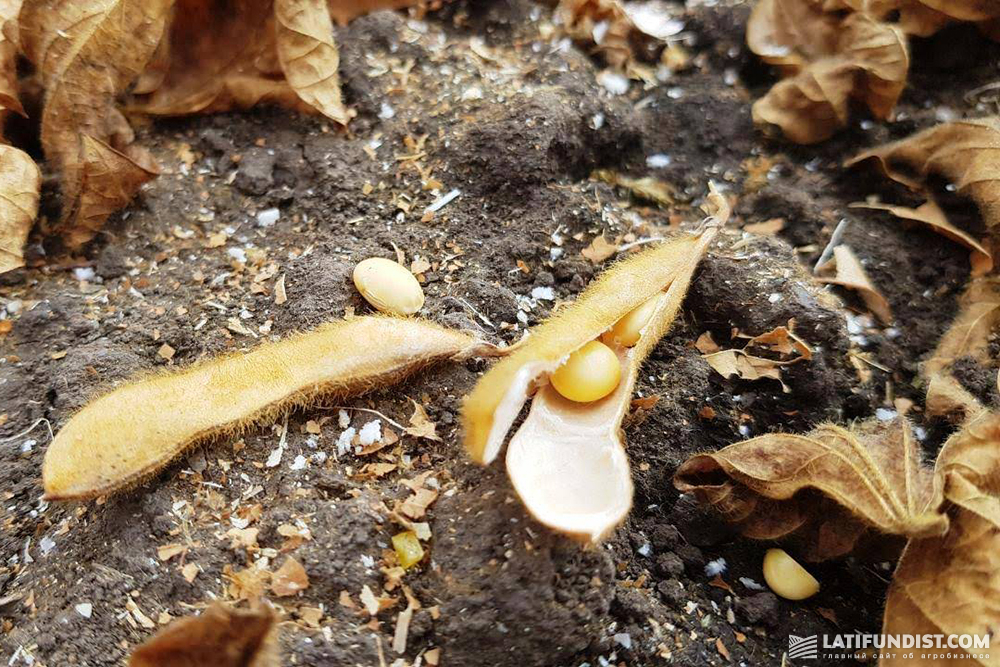 Over the same period, global soybean trade volume progressed from 132 to 152 mln t. Brazil's exports grew the most with 84 mln t in 2018/19 (+10% during the last 5 years), while Argentina's exports dropped by 52% during the same period with imports adding 20%.
Top five soybean exporting countries in 2019/20 (mln t):
Brazil: 84
US: 45.6
Argentina: 8
Paraguay: 5.9
Canada: 4.25
The countries with the highest average import growth from 2015/16 to 2019/20 are Argentina (+20%), Mexico (+9%) and Indonesia (+6%).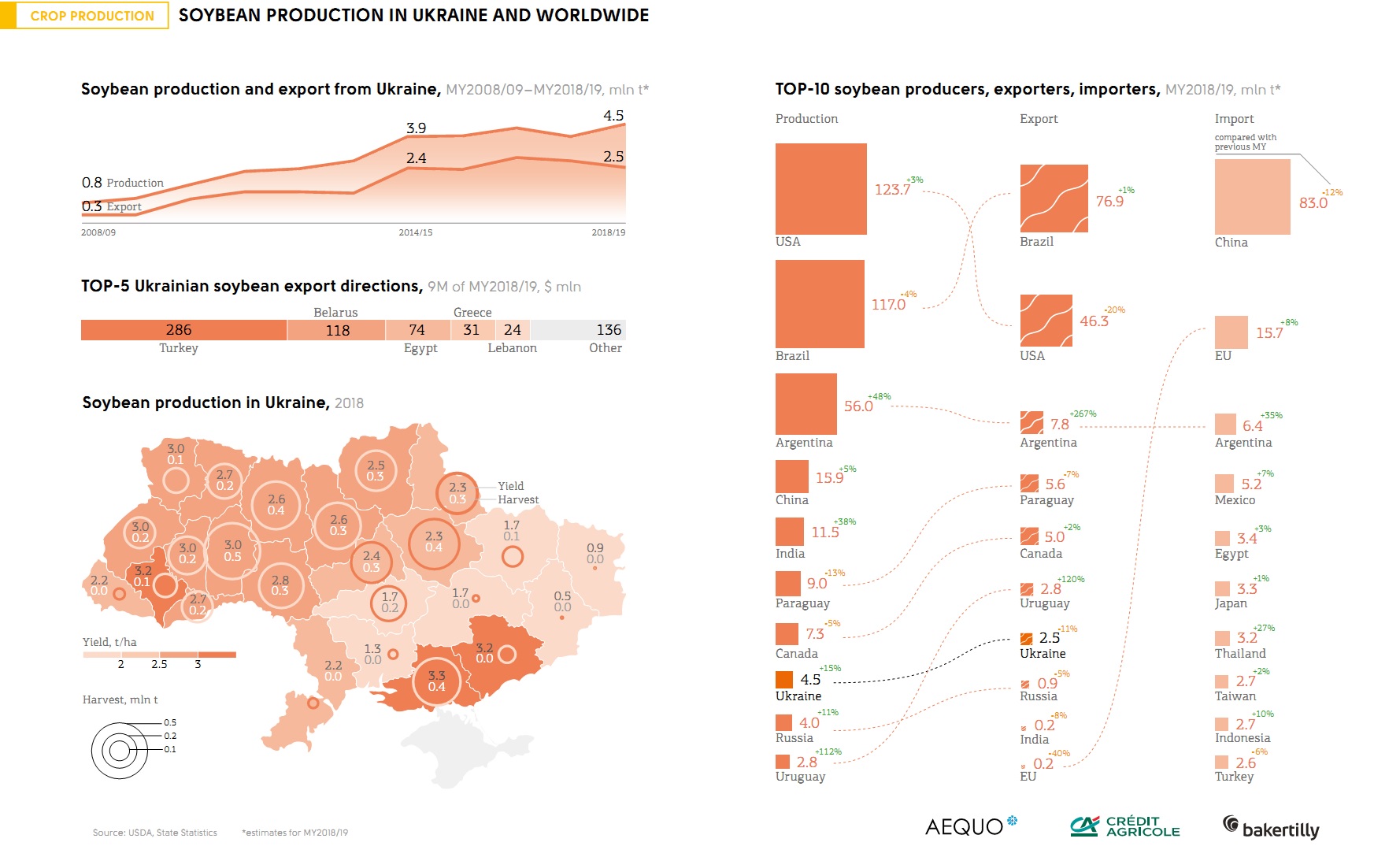 Top five soybean importing countries in 2019/20 (mln t):
China: 92
EU: 15.1
Mexico: 6
Argentina: 3.8
Egypt: 3.7
Yulia Lysenko, Latifundist.com analyst