TOP 10 Corn Producing Countries in 2019
Corn holds leading positions in modern agriculture, which is explained by its extensive use and high yields. It is a higher energy feed than wheat, barley and oats. Corn kernel is well suited for feeding all kinds of animals and poultry. In addition, with rising energy prices, there is increased interest in using corn kernels as the cheapest raw material for bio-ethanol production. Therefore, it is not surprising that in 2019 the world producers allocated 192 mln ha of sown area for this crop, 3 mln more than in 2018.
According to the US Department of Agriculture (USDA), the leaders in corn production are the US, China and Brazil, which account for 48% of the world's corn area. The US takes this position due to its high yield of 10.5 t/ha last year. In total, American farmers harvested 347 mln t of grain on an area of 33.1 mln ha, accounting for about 33% of global production.
China ranks second owing to its significant areas. In 2019, Chinese agrarians harvested 254 mln t of grain on an area of 41 mln ha. In Brazil, 18.1 mln ha were allocated for corn and 101 mln t of grain were harvested.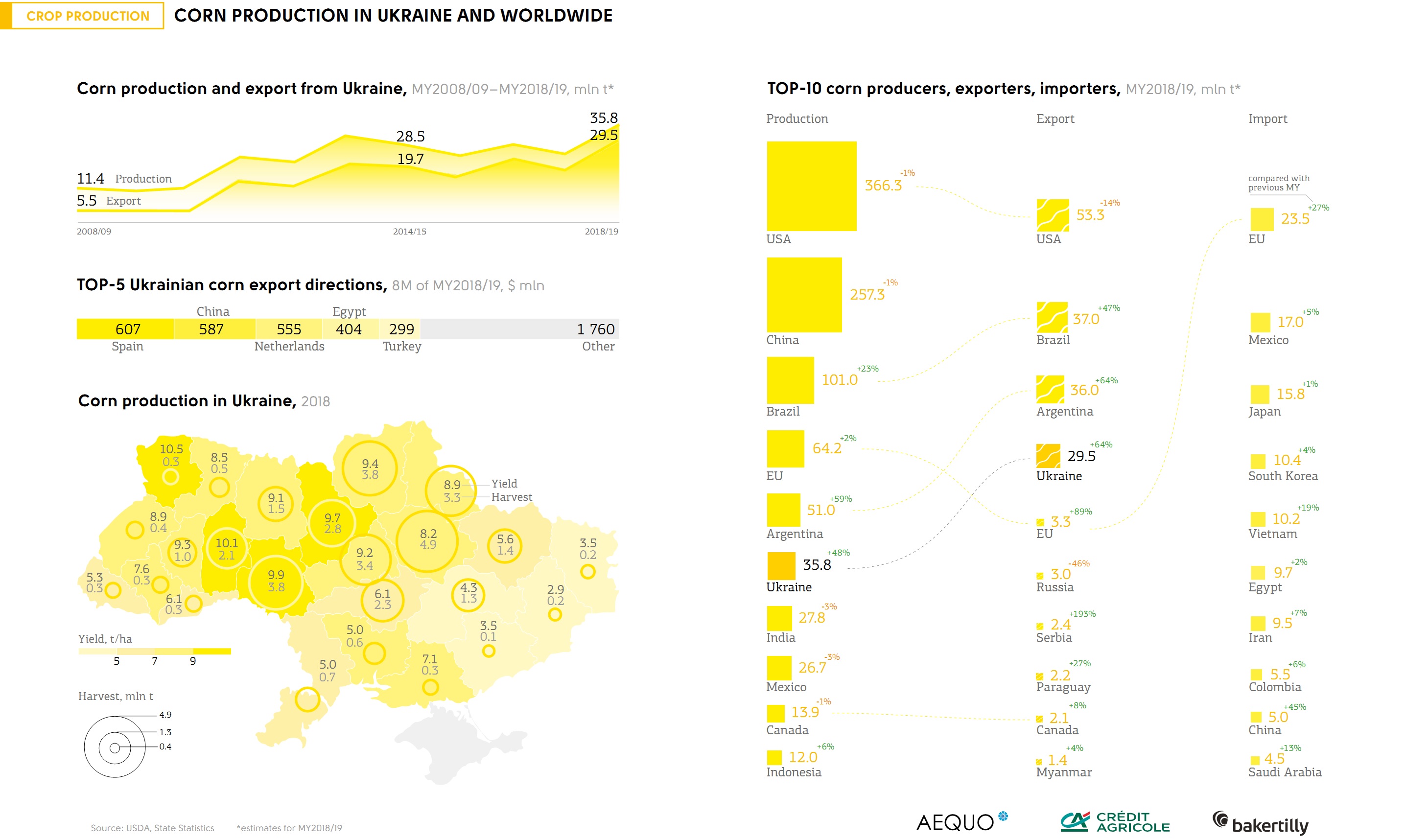 Ukraine comes on 6th place in this ranking. Although it is hard to believe today, in the early 2000s the volume of corn production in the country was only 3.8 mln t. And already in 2019, 35.5 mln t of the crop were harvested.
According to the January IGC report, global corn production is expected to reach 1.111 bln t in 2019/20.
Natalia Rodak, Latifundist.com
1. The U.S.A.
Corn production, mln t: 347
Corn is a traditional grain crop for the United States. The lion's share of this crop — about 70% — is produced in states that are part of the so-called corn-soybean belt. They are located in the North Central Region of the country, where the climate is favourable for growing these crops and there is fertile soil rich in nitrogen and organic matter. Corn crops here rotate with soybeans. In 2018, 36.3 mln ha of soybean were sown in the US. The area of corn sown was only 202.3 thou. ha less. In 2019, 33.1 mln ha were allocated for corn.
92% of the corn area is sown with GM seeds. They are more resilient than traditional ones, thus fertilizers and crop protection products application is simplified. By comparison, in 2009, 85% of the US corn area was sown with GM seeds, while in 2000 — only 25%.
The USA is also an absolute leader in terms of grain export. In 2018/2019, corn export shipment totalled about 53.3 mln t.
2. China
Corn production, mln t: 254
Agriculture is of great importance for the development of the modern Chinese economy: it employs more than 60% of the population, and farmland accounts for about half of the country's total area.
According to the cropping plan, about 77% of the land belongs to grain crops: wheat, corn, millet and kaoliang (sorghum). Several years ago, the Chinese authorities decided to reduce corn production, as the country had excessive corn stocks. But as much as they tried to reorient farmers to other crops, they were interested in growing more profitable corn.
In 2019, 41 mln ha of agricultural land were allocated for it. Corn is grown here in so-called yellow China, on the territory of the North China Plain, where the climate and relief contribute to it.
According to the USDA report, last year the country harvested 254 mln t of corn with using the average yield of 6.2 t/ha.
Despite these indicators, China is among the TOP 10 corn importing countries. Thus, in 2018/19 the country imported 5 mln t of corn. Ukraine here plays not the least part. For example, China is the main importer of Ukrainian corn in November-December 2019, having procured 918.8 thou. t of grain, 64% more from the relevant period in 2018/19 (560.4 thou. t).
3. Brazil
Corn production, mln t: 101
Brazil is a recognized producer and exporter of a number of agricultural products: coffee, sugar cane, soybean, corn, cocoa, bananas, cotton and cattle meat. As in most countries of the Americas, a favourable climate contributes to the successful cultivation of corn on Brazilian soil. In some areas, producers manage to harvest two crops in a season: traditional and safrinha (sown in between rows with soybeans). The corn of the first crop is concentrated in the southern part of the country, while safrinha is grown in the provinces of the Central and Western region.
In 2019, 18.1 mln ha of sown areas were allocated for this crop. The total production volume stood at 101 mln t. The average corn yield in the country is 5.6 t/ha. At the end of 2018/19, Brazil ranked third among exporting countries, having shipped about 37.0 mln t of grain to international markets. Imports amounted to 1 mln t. The country imports corn from neighbouring Argentina and Paraguay. Its main consumers are livestock and poultry producers, who live in central and western regions with poor infrastructure.
Brazil is also the world's second-largest producer of GM corn seeds. According to the International Service for the Acquisition of Agri-biotech Applications (ISAAA), Brazil sowed 51.3 mln hectares of transgenic crops in 2018, a 2% increase on 2017. This is equivalent to an increase of 1.1 mln ha. In addition to corn, GM soybeans, cotton and cane have been grown here since 2018. The current rate of GM seed adaptation in the total area of corn crops is 89%.
4. The European Union (EU)
Corn production, mln t: 64.56
Every year the 27 member states of the European Union grow grain corn and corn for silage on an area of about 8.5 mln ha. Romania is in the lead. In 2018, this country ranked first in terms of corn area cultivated and second in terms of production (after France).
A total of 64.56 mln t of corn was produced by the EU members in 2019. The yield averaged 7.5 t/ha.
The European Union adheres to the most stringent rules in the world concerning GM-crops production and import. Permitted GM-crops in products and feeds include cotton, rapeseed, two types of soybeans and four types of corn.
The EU is the major importer of corn. In 2018/19, about 23.5 mln t of corn were imported, 27% more YoY.
The largest importers of Ukrainian corn in the EU are the Netherlands and Spain, which accounted on average for 28% and 24% of the total supply over the past three seasons. Italy is also an active buyer. In 2018/19, the top 5 importers also included Germany and the UK.
5. Argentina
Corn production, mln t: 50
Among the States of Latin America, Argentina stands out for its relatively small share of agriculture in GDP (13%) and the diversity of its production. It covers almost all of its domestic food needs and leads in exports to the world market.
In terms of corn exports in 2018/19, the country ranked third, having delivered 36.0 mln t of grain to foreign markets.
In total, Argentinean agrarians produced 50 mln t of corn in 2019. The average yield equalled 8.2 t/ha.
6. Ukraine
Corn production, mln t: 35.5
In the world corn production in 2019 Ukraine takes the sixth place, and in terms of corn areas — the ninth place with 4.9 mln ha. Corn as an export-oriented crop is strategically important for the development of agricultural production in Ukraine. In 2019, Ukrainian agrarians harvested 35.5 mln t of the crop. By comparison, in 2017 the harvest totalled 24.7 mln t. Such indicators were achieved through an increase in corn yield from 5.4 t/ha in 2018 to 7.2 t/ha in 2019.
Corn exports in 2018/19 amounted to 29.822 mln t. According to the State Statistics Service, exports in 2017 stood at 19.4 mln t, whereas in 2008 — only at 2.8 mln t. That is, corn exporters have increased their turnover almost 8x over the past decade. Corn imports to Ukraine are performed in minuscule volumes. In 2018, this indicator was 37 thou. t.
7. India
Corn production, mln t: 29
India's agricultural sector employs 60% of the population. Over 50% of the country's land resources are cultivated. Food crops account for 85% of the cultivated area. More than half of the agricultural output is produced by farms. Most farms are represented by lessees of small land plots, who apply traditional farming methods having no opportunity to purchase modern agricultural machinery and technologies to increase the volume of marketable products.
India's main grain crops are rice, wheat and corn. In 2019, 9.5 mln ha of agricultural land was allocated for corn. In total, 29 mln t of grain were harvested using the average yield of 3.1 t/ha.
8. Mexico
Corn production, mln t: 25
Despite the fact that Mexican agriproducers were the first to bring corn cultivation to the mass level, in such ratings the country is not rated even in the top five. This is attributed to the natural conditions and the lack of areas, which would allow for efficient agriculture (40% of the country's territory is deserts and semi-deserts, and another 40% — mountains and forests). Nevertheless, in 2019 the country harvested 25 mln t of corn. The average yield made up 3.7 t/ha. This grain crop is a priority for Mexicans (beans come next), and annually significant areas are allocated to its planting. Thus, in 2019, 6.8 mln ha were covered.
9. The Republic of South Africa (RSA)
Corn production, mln t: 14
RSA is one of the countries with poor agricultural conditions. This includes low rainfall, limited surface water resources, erosion, soil oversaturation with salts, acids and alkalis. But the country not only provides itself with almost all major agricultural products but is perhaps the only net exporter of food in the world with the share of agricultural exports in total exports (excl. gold) reaching 30-40%. The main export crops are corn, sorghum, wheat, fruits and vegetables. Large areas are under sugar cane plantations: sugar is also one of the most important export commodities.
In 2019, corn production covered 2.9 mln ha. The crop reached 14 mln t using the average yield of 4.8 t/ha.
10. Russia
Corn production, mln t: 14
In Russia, corn is grown almost everywhere (except for the coldest areas, of course), but the North Caucasian, Volga and Central Black soil regions are considered the main corn regions. The sown area in 2019 totalled 2.45 mln ha, 566.9 thou. ha (18.8%) less from 2017. In total, 14 mln t of grain were harvested using the average yield of 5.7 t/ha.