TOP 5 Broiler Producers in Europe
Did you know that 46% of the meat consumed by Ukrainians during the year is chicken? One-third of the consumers worldwide prefer poultry meat. And it is not surprising, since the price-quality ratio and consumer properties of this type of meat distinguish it from others. Traditionally, the top three poultry producers are the USA, Brazil and China.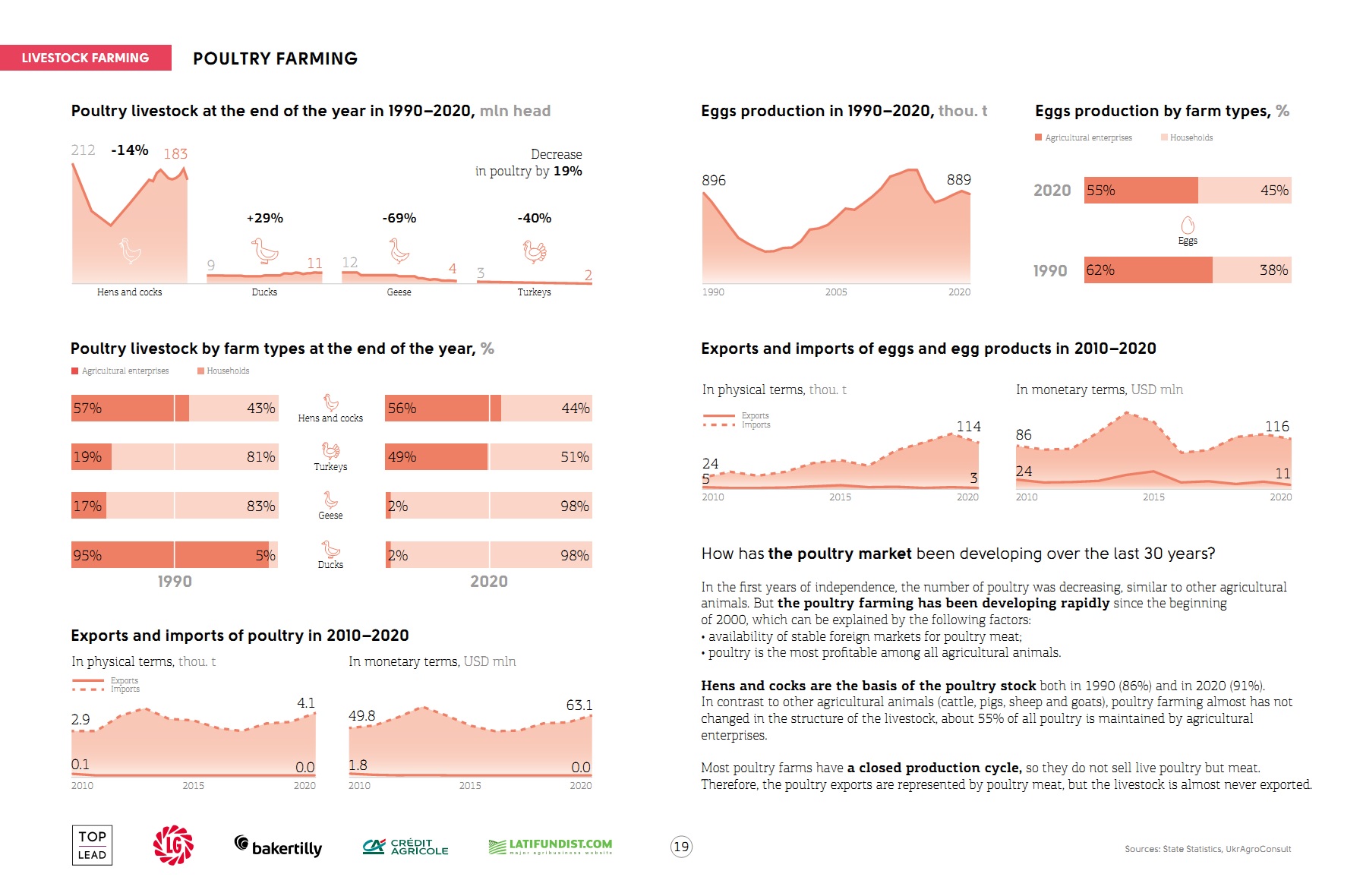 The ranking of the largest broiler producers in Europe was compiled by WATTPountry International. The ranking features a Ukrainian company.
No.
Company
Head slaughtered p.a., mln

LDC (Lambert Dodard Chancereul)
Read more ...
Head slaughtered annually, mln:
578,5
Country:
Франція
French LDC Groupe is the largest broiler producer in Europe. The company was founded in 1968. LDC slaughters 578.5 mln head of broilers annually and also produces pork, beef, rabbit and grain crops. The group employs 22,000 people, runs 86 production sites in France, Spain and Poland.
LDC's domestic poultry sales account for about 60% of its turnover, while foreign operations represent over 8%. Exports account for more than 10% of LDC turnover.

Head slaughtered annually, mln:
478
Country:
Україна
MHP captures about 35% of the Ukrainian chicken market and over 55% of the Ukrainian industrial chicken production. TM Nasha Ryaba is one of the best known and strongest food brands in Ukraine. 100% of poultry is produced and processed at MHP facilities. The agro and industrial holding reported a net profit of USD 377 mln for 9M 2021.
For the second straight year, the company ranked second in European broiler production. MHP and LDC are competing not only in terms of production volumes but also for companies. For example, in 2018, French group LDC and Ukrainian agricultural holding MHP were both negotiating the purchase of French processing company Doux.
The company plans to switch from producing feedstock to manufacturing foodstuffs in 10-15 years. Besides, there is a prospect of developing areas regarded as alternative: vegan, lactose-free and gluten-free.
"Ready-to-cook will be not enough. Ready-to-eat — plenty of. The task for the next 10-15 years is to make a comprehensive transition from a raw materials producer to food producer," MHP founder and chairman Yuri Kosyuk told Forbes.ua.

Plukon Food Group
Read more ...
Head slaughtered annually, mln:
468
Country:
Нідерланди
Plukon Food Group is one of the major players in the European poultry market. The group operates 11 poultry processing plants and 7 processing and packaging units in the Netherlands, Germany, Belgium, France and Poland, where 9 mln head of the broiler are slaughtered and processed a week. The company supplies the retail and catering markets with a wide range of chicken products, including fresh products such as chicken fillets, chicken bone-in, pre-cooked chicken, etc.

Gruppo Veronesi
Read more ...
Head slaughtered annually, mln:
350
Country:
Італія
The Italian Veronesi Group, the owner of Agricola Italiana Alimentare, slaughters 350 mln broilers a year.
Alongside chicken production, the company is engaged in the production of eggs, rabbit meat, pork and beef, as well as mixed fodder and cooked meat. The company employs around 8.4 thou. people. All production is concentrated in the domestic market.

Head slaughtered annually, mln:
350
Country:
Німеччина
PHW is the largest producer of poultry meat in Germany and the owner of the Weisenhof brand known for its production of chicken, turkey and duck meat. The company slaughters 350 mln broilers annually. The company holds the fourth position among the European producers.
PHW Group employs around 7,000 people, also operates in the animal feed, human nutrition and health sectors with a total of 35 independent firms.