Irrigation in Hors-AGRO Fields: Idea Evolution Into 19 Machines a Year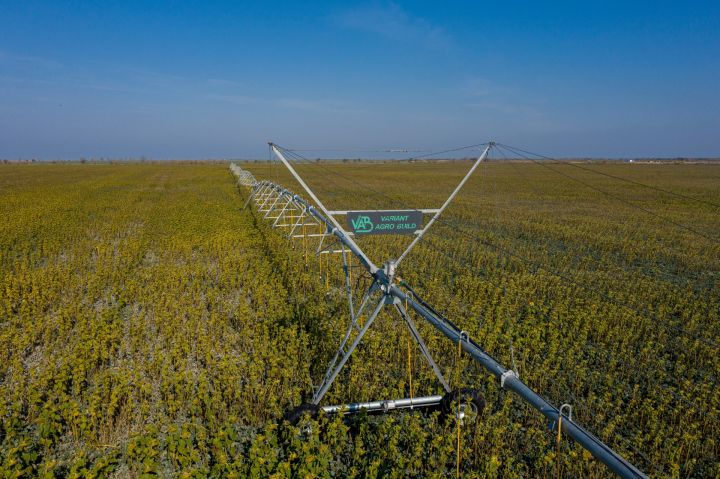 Variant Irrigation machinery in a field of Hors-AGRO in Zaporizhzhya region
Photo by: Latifundist.com
Over its five-year activity, Hors-AGRO in Zaporizhzhya region expanded its land bank to 7.5 thou. ha, attempted cultivating 12 crops, changed its technology entirely by switching to Strip-till and Mini-till technologies in most of its lands, and installed 19 TM Variant Irrigation sprinkling machines. Now 2.2 thou. ha are irrigated. The Latifundist.com team takes a trip to find out what motivated the Hors-AGRO owners to undergo such a transformation.
About the enterprise
It's early morning, and we're already on the road. A quick stop, refuelling, coffee. And then we head to meet the brothers Roman and Sergey Chekhov. Roman is the director and mastermind of Hors-AGRO.
The company was established in 2016. Within five years, it managed to increase the land bank from zero to 7.5 thou. ha by leasing farmland in Zaporizhzhya and Kherson regions.
Roman Chehov

Director of Hors-AGRO

"Financial assistance to low-income families and retirees, the reconstruction of a water tower and the supply of clean water in a village in Kherson region, creating more jobs and other social projects earned us the trust and helped arrange a long-term mutually beneficial cooperation between the company and land share owners."
Legumes and winter cereals are the company's basic crops, says Deputy Director for Production Sergey Chekhov, who joins our conversation. A total of 12 crops, including winter wheat, winter and spring barley, winter rye, winter and spring peas, corn, sunflower, beans, soybeans, spring white and winter yellow mustard, postharvest sunflower and soybeans. And last year Hors-AGRO started sowing cover crops and green manure crops in small areas.
Sergey Chekhov

Hors-AGRO Deputy Director for Production

"Why legumes and winter grains? It's simple. We did a soil analysis, analyzed the precipitation pattern and its frequency. Based on this data and our experience, it was decided that 60-70% of the total crop rotation system would be made up of winter crops. And legumes are a natural factory for enriching the soil with nitrogen during the growing season, as well as subsequent crops in the crop rotation."
Speaking about the company's crop rotation system, Sergey Chekhov adds that for them agricultural production is a rapidly developing business and is one of the driving forces in the economy of Ukraine. Therefore, he and his brother, first of all, consider the economics of agricultural production, the payback period of investments, the profitability of each of the grown crops, analyze the markets, the possibility of diversifying the risks, etc. Besides, it is hard to overestimate the influence of the correct production technology (plant nutrition, resource- and moisture-saving elements of tillage, conservation and improvement of soil fertility), qualified workers and their motivation, stability and predictability of the market of raw materials, material and technical resources and other things.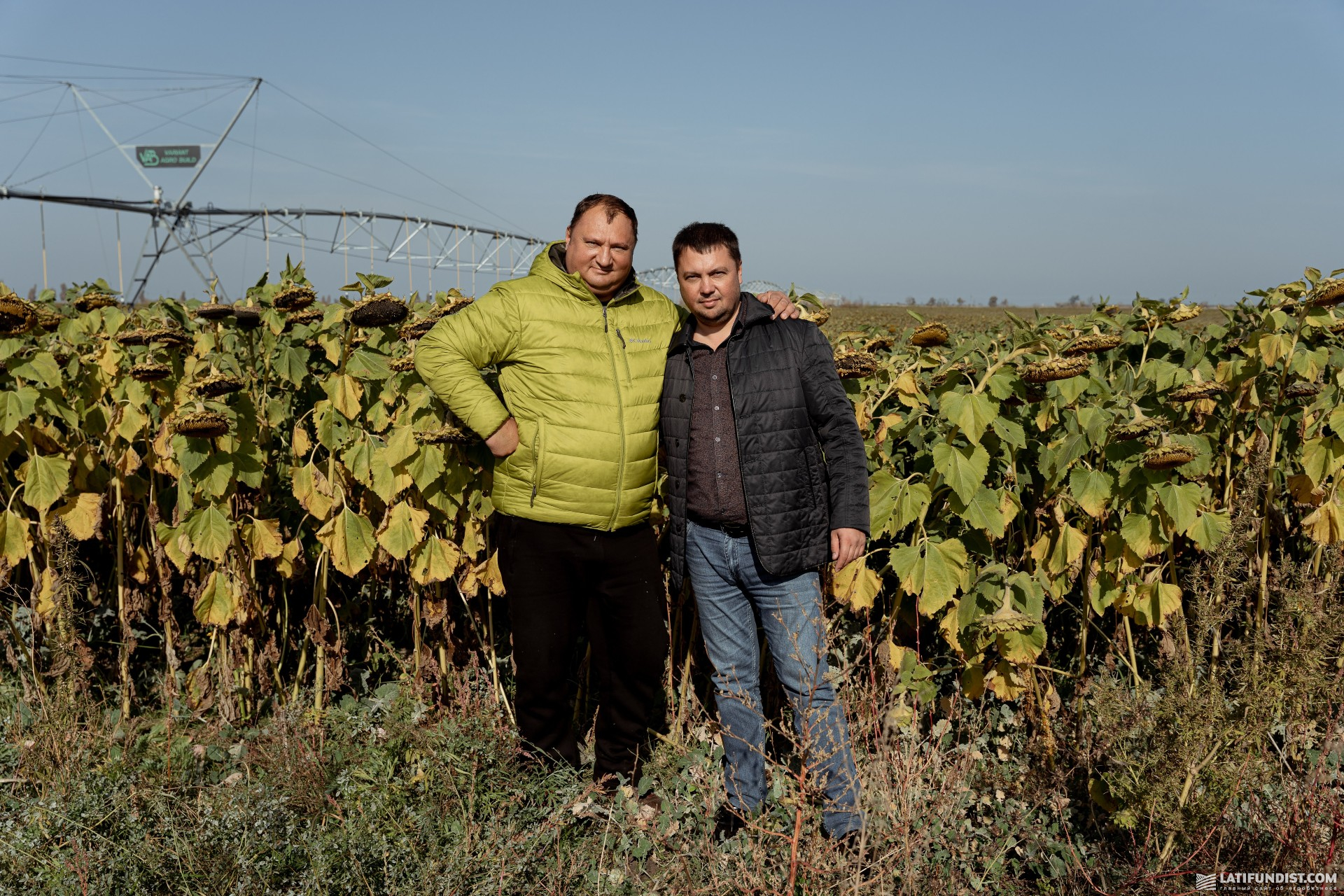 Sergey Chekhov marks that today everyone seeks to reduce costs, looking for the optimal balance between costs and profits. Moreover, in agriculture, the risks associated with natural factors are higher than anywhere else. So, irrigation is the company's trump card in minimizing environmental risks and profitability improvement. This year the company Horse-AGRO bought 19 long-range sprinkling machines of TM Variant Irrigation.
And it is not merely and not so much about profitability, although the profitability of the business is a core part, but also about climate change, admits his brother Roman Chekhov. Vagaries of the weather become increasingly frequent every year. One must be prepared for climate change, drought above all. Some 2-3 months without productive rainfall can destroy not only the harvest but the business itself.
"We watch the climate change every year. This season was the first in our memory when we finished harvesting grain in August and almost immediately started sowing winter rapeseed. The land and the workers of the enterprise had no time to rest. It's crazy," complains Roman Chekhov.
For example, about 1,000 cubic meters of water per hectare were spent this fall to get winter wheat and rapeseed to develop. But it is late October. In the neighbouring farms, which do not use irrigation, work by traditional technology, often not observing crop rotation, no one even mentions the uniform and timely emergence.
"To develop irrigation, especially in the south of Ukraine, a comprehensive approach is essential. This particularly concerns pumping stations and canals for water supply. Irrigation networks require investments to modernize the existing ones and build new. It is both difficult and expensive to solve the existing problems by yourself," says Sergey Chekhov.
To demonstrate everything they have accomplished, Sergey and Roman Chekhov suggest that we go to the fields.
On field roads
We get into the SUV and head out into the fields, as we continue to talk about technology, engineering, and more.
The head of the farm says that two years ago they decided to fundamentally change the technology of cultivation and switch to Strip-till. For that, a complete replacement of the machinery fleet had to be done: a part of the equipment was sold and new seeders and implements for soil preparation were purchased, the equipment set for the application of liquid fertilizers was completed. Now the company has four modern seeders: Mzuri, STS Magia, Horsch ATD 18 seed drill, Agro-Soyuz Turbosem 2 and a 16-row MaterMacc. Three 500 hp and two 300 hp tractors and two self-propelled sprayers were also added to the machinery fleet.
Roman Chekhov mentions that special attention is paid to the selection, cultivation and preparation of seeds. A modern seed cleaning line was installed, and for spring crops — a modern seed dresser which allows for a simultaneous treatment of seeds with preparations to protect against diseases and pests with micro- and macro-elements, as well as treatment with bacteria, i.e. inoculation.
Hors-AGRO stores its grain both at floor storage and at a 25 thou. t elevator. It was built on the abandoned feed mill, which had to be reconstructed from scratch.
"Previously there was a feed mill. Some time later, only the walls remained of it. All the metal was cut out, and there was no roof at all. We reconstructed, restored it and now we store grain there. There's the fish farm, greenhouse complex, orchard, vineyard, some auxiliary facilities — agriculture in all its glory," Roman Chekhov looks back on the assets formation process.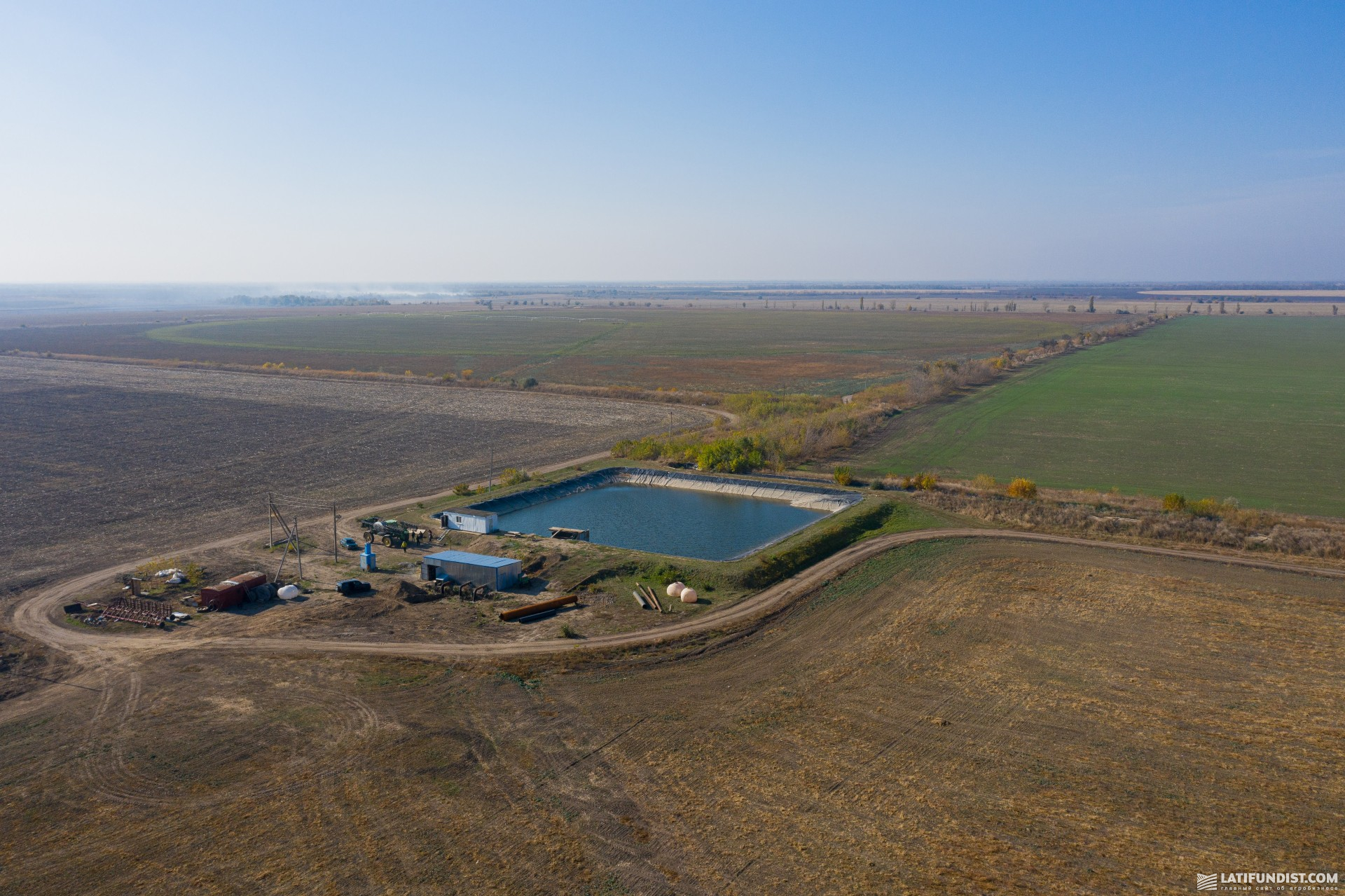 The passion to create can be noticed in many ways. Driving along the newly created and partially restored irrigation canals, one understands the scale and vital need for irrigation for the southern regions. That being said, to breathe life into the vast southern steppes. Our interlocutors also came to this conclusion three years ago. They began to study the market and look for THE irrigation machine.
First, the farm ordered three center-pivot and one front type sprinklers of the US brand Zimmatic. Together with this, two Atlantis (Turkey) circular sprinklers were picked. Hors-AGRO were on the verge of signing a contract for the delivery of the French machines Otech S.A.S. Offers from manufacturers of irrigation machines of all American and European brands, Ukrainian Fregat were considered. In the end, the choice fell, and not by chance, on the domestic Kharkiv-based manufacturer Variant Irrigation.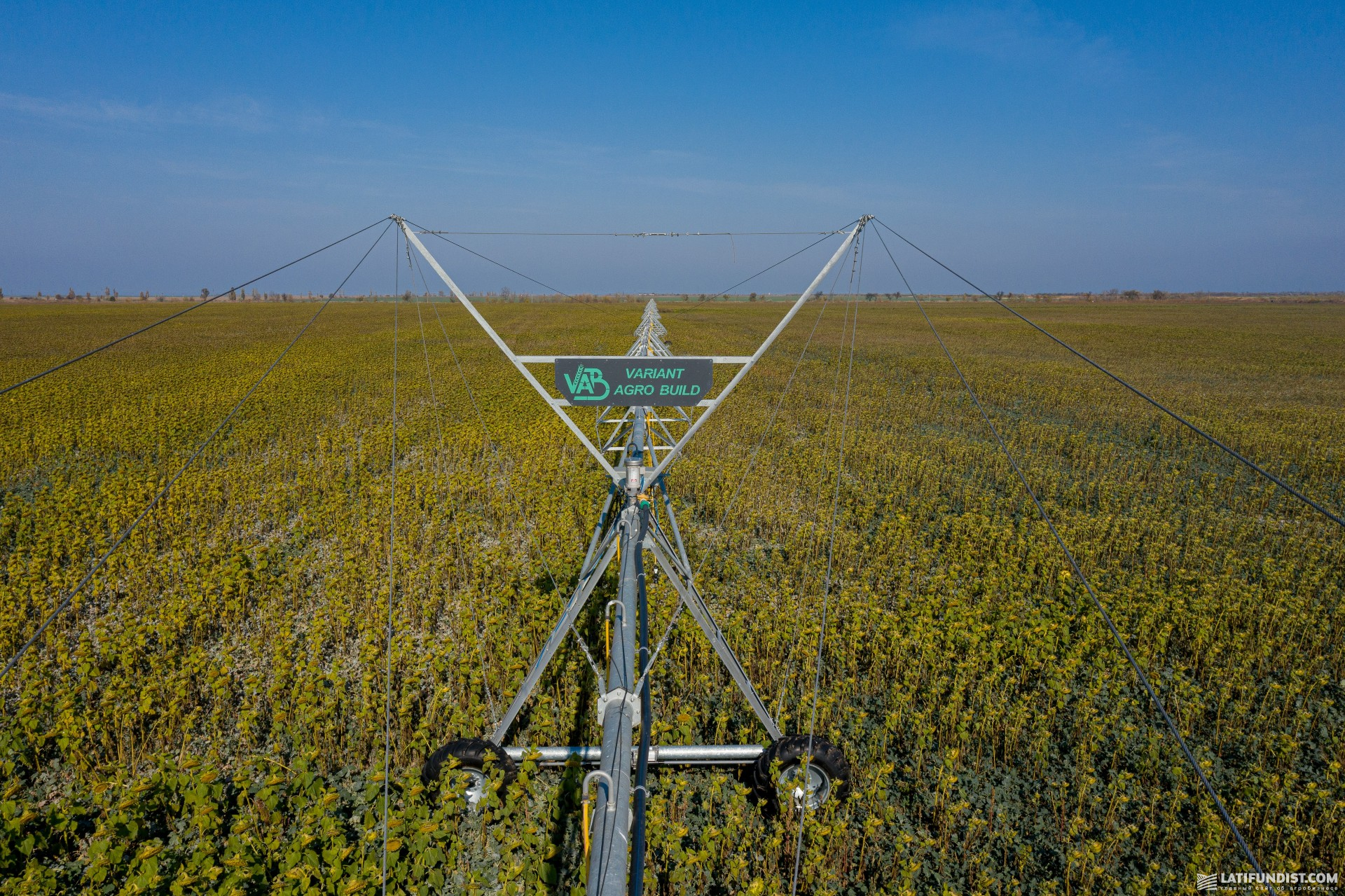 Horse-AGRO specialists had to delve into the subject of hydromelioration, research it and visit irrigation equipment manufacturers in Turkey. Then compare it with the production in Kharkiv, study the experience of US and domestic farmers in growing irrigated corn and soybeans. Having practical experience in the operation of sprinkler machines of different manufacturers in their farm and in neighbouring fields, having analyzed offers from various suppliers and their own calculations, Hors-AGRO quickly came to the conclusion that the irrigation systems of different manufacturers have little difference. Besides, communication with the farmers who effectively use Variant Irrigation machines and a visit to the Variant Agro Build plant affirmed the choice in favour of TM Variant Irrigation.
"The Variant Irrigation machines have an extra power reserve that guarantees stable and multi-year operation. They combine efficient design solutions, good software and durable zinc-coated metal. I am pleased with the quality selection of components (i-Wob sprinklers, silent gear reducer and silent motors), the availability of service, warranty obligations, timely and prompt supply of spare parts and more. That is why we decided to buy 19 long-range sprinklers (1 universal and 18 center-pivot) of this manufacturer," says Sergey Chekhov.
To make such a big purchase, the company attracted credit funds secured by new irrigation machines. It is important to note that Variant Agro Build (TM Variant Irrigation) is a participant in the state program of 25% compensation of the cost of irrigation equipment, so UAH 6.5 mln were reimbursed to Hors-AGRO from the state budget. This is another factor motivating agriproducers to buy Ukrainian equipment.
The issue of machinery assembly, service and availability of components from the domestic manufacturer, as Hors-AGRO has proven, is solved much faster for easier logistics and other factors, adds Sergey Chekhov.
In the fields
Time flies while we're talking. And now we are in the company's fields. There is 2.2 thou. hectares of irrigated farmland in Hors-AGRO. The pumping stations which provide water for the farm are located in the Kakhovka Reservoir and Bilozersky Lyman Lake. Water intake from the latter had to be stopped due to its poor quality, basically unsuitable for irrigation.
Sergey Chekhov is convinced that it is not difficult to choose and buy an irrigation machine. It is difficult, and sometimes time-consuming, to make the connections and link it to the electricity and water supply. And when everything is built and running, it may turn out that the water is no good for irrigation, the voltage is very low, the water pressure in the system does not meet the required parameters. And there is the theft of sprayers, cables, wheels and rural vandalism. Perhaps, each and every owner of irrigation machines has dealt with it.
The turnkey installation of irrigation equipment cost the farm an average of USD 4-4,5 thou. per hectare. If we take the ratio of costs for the purchase of machine and water supply, according to Sergey Chekhov's calculations, it is 1:3. Each hryvnia spent on the purchase of sprinkling machine requires at least UAH 3 more for its connection.
But despite the permission troubles, bureaucratic procedures and other obstacles, Hors-AGRO does not plan to stop, since irrigation enables a significant increase in crop yields:
| | | |
| --- | --- | --- |
| Crop | Rain-fed area | Irrigated area |
| Corn | 3-5 t/ha | 10-14 t/ha |
| Rapeseed | 1.5-2 t/ha | 3.5-4 t/ha |
| Winter barley | 4,5 t/ha | 9-10 t/ha |
And with water, the farm plans to develop other areas: vegetable growing, feed production, seed production, including hybridization of sunflower and corn, and cultivation of niche crops.
An automated system at the farm controls the use of water efficiently and gives the plant only the moisture it needs, and most importantly, in a timely manner. According to Sergey Chekhov, at first, they tried watering at random, but this method turned out to be ineffective. It was decided to introduce advanced technologies.
"We have installed sensors in different parts of irrigated fields at various depths. We monitor effective moisture, the amount of evaporation from the leaf, residual moisture in the soil, and so on. All collected results are sent to the weather station and processed by a special program. Then they are transmitted to us online. Plus we do a soil analysis," comments Sergey Chekhov.
A detailed report such as this ensures that producers use irrigation machines efficiently and without wasting natural resources.
Since Horse-AGRO opts for Strip-till technology, irrigation allows for optimal plant nutrition based on the data from soil analysis and planned yields, as well as to achieve maximum uniform emergence in a given period of time.
Sergey Chekhov assures that irrigation allows to increase seeding rate, change the seeding pattern, partially abandon the traditional cultivation technology, densify the crops and still get the maximum yield. It also allows the farm to switch to a resource-saving technology in order to leave and accumulate nutrients as much as possible, to properly observe crop rotation and even get a second crop in irrigated fields.
The head of the farm, Roman Chekhov, gives an example of the yield of two crops per season on irrigated land. According to him, on one hectare first covered with winter barley or winter rapeseed, then sown with sunflower or soybeans, one can get up to UAH 85-90 thou. of gross profit.
"Suppose the first crop is winter barley. We have to water it at least 3 times. From one hectare we can get an income of UAH 60 thou. Later, in the same area, we sow sunflower, then we get the second crop with an income of UAH 60 thou. A total makes up UAH 120 thou. on one hectare of irrigated cropland. The cultivation cost us approximately UAH 27 thou. and 5 thou. m³ of water per hectare. We use our own water and pay only for electricity. Irrigation can bring in our region UAH 85-90 thou. of gross profit per hectare," Roman Chekhov shares his calculations.
Looking to the future
The Chekhov brothers have plans to purchase four more Variant Irrigation machines in 2022. They say it gives stability and consistency in crop production.
"It is clear to us that the farm can't plan for one year only. Thus, our crop rotation is mapped out for 5 years in advance. There are, of course, adjustments, but they are often associated with weather conditions. And the fact that we can't predict the weather on rain-fed land becomes a reality with irrigation," states Roman Chekhov.
In recent years, it is difficult to get emergence not only of winter crops but also spring crops, says Sergey Chekhov. If earlier this problem was mostly related to small-seeded crops, it is difficult these days to get emergence even of cereals.
According to him, moisture reserves in the soil in certain periods of sowing and growing season are very low. The moisture that should accumulate during the winter period is barely enough till May. And there are two ways of doing business here. The first is to hope for the mercy of nature and reseed the fields or harvest less, as some agrarians do. And the second one is to develop and implement irrigation. The choice, as they say, is obvious.
"We should keep that in mind that irrigation is the basis for livestock development in our steppe zone. Water is a basic component of human, animal and plant life and, as a consequence, an important resource for the economic development of separate business areas and the state as a whole," concludes Sergey Chekhov.
Our team wishes Sergey and Roman Chekhov to bring all their plans to life.
Sergey Gerasymenko, Latifundist.com