Corn 2021: Season Features, Grain Production, Drying Prices in Ukraine
— Hi, how much does drying a ton of corn cost?
— How big is your company? How much corn do you have?
— I'm a farmer's son, looking for contractors for my father.
— A discount is given if there's more than 1,000 t. We can email you the price list, there you will see all the figures. You can bring less, but in that case, the price is not lower anyway.
This is more or less the way the 'farmer's son,' who is also a journalist for Latifundist.com, talked to one Ukrainian company. We decided to do a little market research. After all, the current season has its own peculiarities, like a sharp and substantial price rise for natural gas and the cost of services. And the rains slow down the harvesting campaign, increasing the moisture content of grain. Corn moisture is in the range of 20-35% (with a basis of 14%). Another challenge of the current corn season is the delayed harvest, matching the soybean and sunflower campaigns. This puts pressure on the market and especially grain logistics. On top of that, the surge in Covid-19 cases in Ukraine restrains economic activity.
Agent Provocateur or Current gas prices
It is an endless talk of the rise in gas prices and its causes, but we will not dwell on this today. Let's just look at the chart for the last six months.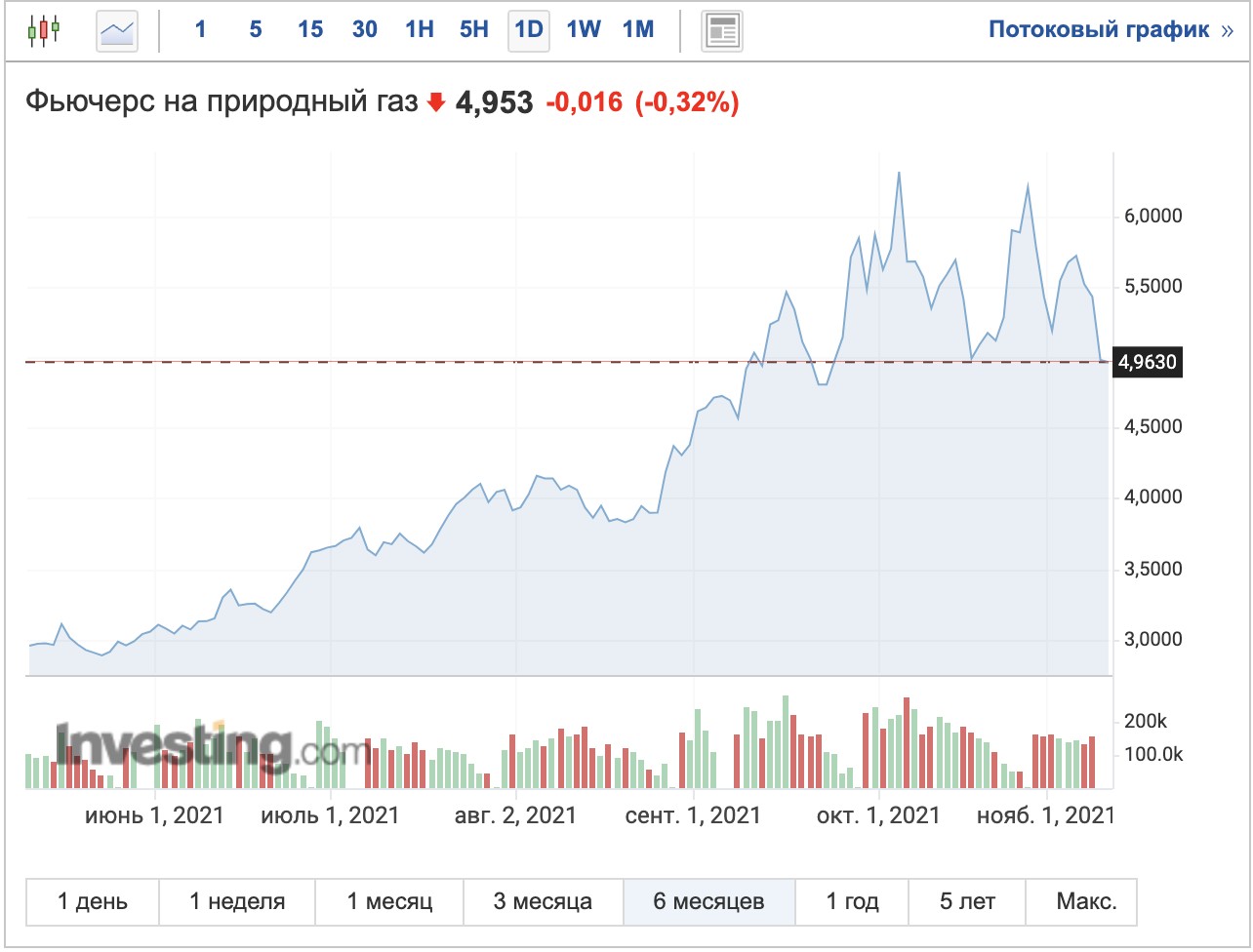 According to ExPro Consulting, Ukraine in January-October 2021 imported 2.5 bln m³ of natural gas, which is 6x less than last year. Such a dramatic decrease in imports is linked to high prices.
It goes without saying that the cost of gas has pushed up the price of grain drying services, too.
Corn drying rates
The market sources tell us that if more than 2-3 thou. t of corn is dried, the majority of elevators are ready to give a discount of UAH 10 per 1 ton percent. For example, if we contract for 5 thou. t of corn, a significant discount is negotiable. A grain elevator is interested in fixing the volume of raw corn supply to utilize its capacity.
Kirill Bondarenko

Commercial Director
Bila Tserkva Elevator of OLAM International

"The discount is always negotiated personally. Pursuant to the competition law, if an elevator gives a discount to someone, it must notify all of its customers. Besides, an additional agreement to the contract for the provision of services must include a discount for large suppliers starting from 3 thou. t."
It is pretty much the same with discounts on shipment rates. But all discounts are calculated on delivery, not on the phone. Only after the client has brought in the announced grain volume, the elevator counts the cost of services including discount.
It should be noted that the prices for grain reception at elevators are also different: it is free at some elevators, and it is UAH 20-25 per ton at others. The range of prices for gas drying of corn is impressive: from 80 UAH/t% to 180 UAH/t%. You must already know it, but you can look at the elevators' prices given below. According to Kirill Bondarenko, it is all about the free market of gas. There are companies that had time to sign contracts for Liquefied Natural Gas (LNG) supply at a price lower than today's, others contracted in May at a good price, and there are those who had no such opportunity and are now forced to raise the cost of services.
Grain Elevator
Region
Corn Drying Cost, incl. VAT
Bila Tserkva Elevator of OLAM International
Kyiv
103 UAH/t%
Volytsia-Agro

Kyiv

83

UAH

/

t

%

Elevators of Prometey Group
Zaporizhzhya, Kirovohrad,
Mykolaiv, Khmelnytsky,
Dnipropetrovsk, Kyiv,
Odesa, Sumy

99.6-130

UAH

/

t

%

Alebor Group
Cherkasy, Vinnytsya, Odesa

135

UAH

/

t

%

Varvarovsky Elevator of G.R. Agro

Dnipropetrovsk

180

UAH

/

t

%

UIFK-agro Elevator

Kyiv

96

UAH

/

t

%

Zerno Agro of KADORR Agro Group

Dnipropetrovsk

160.8

UAH

/

t

%

Elevator Agro of Agrain

Chernihiv

109.98 UAH/t%
"Despite the rising costs for drying at elevators in Ukraine, most of the grain is delivered there as unloading at ports is slow and not all terminals provide cleaning and drying services," comment G.R. Agro analysts.
Elevatorist.com reports that the rates at Belozavodsk Elevator are the same.
Sergey Shcherban

Director of Belozavodsk Elevator

"At Belozovodsk Elevator the price for drying services has not changed, so we took in all the corn from the two districts. We received more than we planned and more than it was actually produced in our district. We kept the cost because we figured we can afford it. Indeed, our profitability will be slightly lower, but nevertheless we will profit from turnover. The most important thing is turnover. If you lose the turnover, especially of corn, then no matter how much you raise the tariff for drying, I'm sure that it by no means matches the earnings on shipment and storage."
Obviously, not everyone can do business this way. The reality differs from region to region, and from one enterprise to another.
Ihor Bohdanov, A.G.R. Group Board member in charge of IT, adds that due to the rush in energy prices, the cost of services of Seredyna-Buda Elevator has increased too.
Ihor Bohdanov

A.G.R. Group Board member

"Sunflowerseeds drying costs now 136.2 UAH/t% (before the increase it was UAH 67.20), corn drying costs 112.02 UAH/t% (UAH 67.20). But there is a well-grounded explanation for all this: let us take August 2020 for instance, the cost per cubic meter of natural gas was UAH 3.66, whereas this year it is UAH 16.26. The math is easy that the cost of gas has grown by 4.5x. In October it was even more terrifying: UAH 6.11 vs. UAH 36. It is a sixfold price rise."
According to Elevatorist.com data, Agroprosperis Group made a gentle increase in the tariff, by 20%. While the cost of natural gas in November went up by another 35% on the October price. The company explains that gas is a key, but not the only component of the cost of service, thus they try to offset the growth of its cost.
Elena Scherbina

Director General of Agrocity-Invest, Agroprosperis

"Our margin from the rise in the drying tariff has not changed, and may even have decreased. Now this service at our elevators costs between 115 and 130 UAH depending on the region."
Corn harvest 2021
The USDA in its November report projects corn production of 38 mln t in Ukraine in 2021/22. The country's corn export is projected to reach 31.5 mln t.
The Agritel consultancy expects corn production in Ukraine at 38.2 mln t.
Corn harvest in Ukraine as of 11 November was 73% completed. Agriproducers collected 28.135 mln t of new crop corn.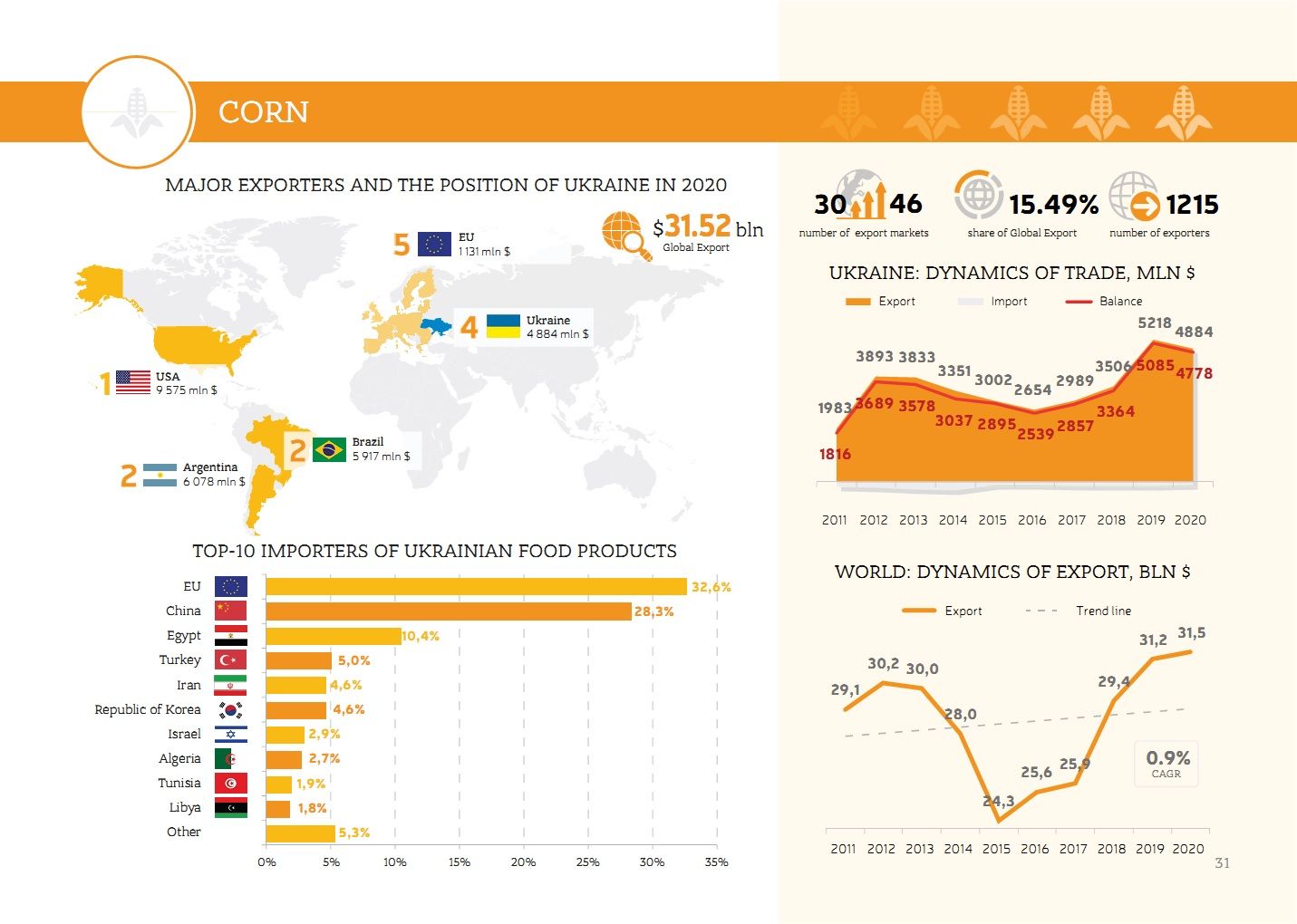 Sofia Yaroshenko, Latifundist.com