MHP factory awarded ECO-Oscar in Ecotransformation-2018 nomination
The Oril-Leader enterprise, the MHP poultry production company, was awarded the ECO-Oscar in the nomination "Ecotransformation-2018: innovative waste disposal".
In Kyiv, on December 17, Eco-Oscars were presented (the Ecotransformation-2018 Award) for achievements in the field of environmental safety. The organizers of the event, the project ECOBUSINESS (Enterprise Ecology) united key people of the state and business in the ECO sphere, industry experts, eco-activists. 50 green change stakeholders received the awards. The Ecotransformation-2018 diplomas and distinctions in special nominations were awarded to teams of the best enterprises, which presented their successful cases.
The award was given to the Oril-Leader enterprise in the nomination "Ecotransformation-2018: innovative waste disposal". At the closed-cycle poultry farm, poultry waste is processed into "green" energy in its own biogas complex, and hazardous waste is transferred to responsible organizations for further neutralization or disposal.
"Innovative production and a rational approach to waste management, reducing the harmful impact on the environment are eco-friendly trends of the present that determine the company's future," said Alexander Semenets, the Chief Ecologist of MHP.
According to him, there are many ambitious eco-projects in MHP that could be presented at the event. But the company decided to dwell on a project that has already been in operation for 5 years and one can trace its effectiveness, economic feasibility and environmental relevance. Thus, the biogas station at the Oril-Leader poultry farm is the largest in Ukraine and one of the largest in Europe.
"In 5 years, the plant produced 100 million m³ of biogas and 200 million kW of green energy. The company also disposed of 700 thou. m³ of wastewater and 300 thou. tons of chicken manure, which significantly reduced greenhouse gas emissions, in particular, methane," said Alexander Semenets.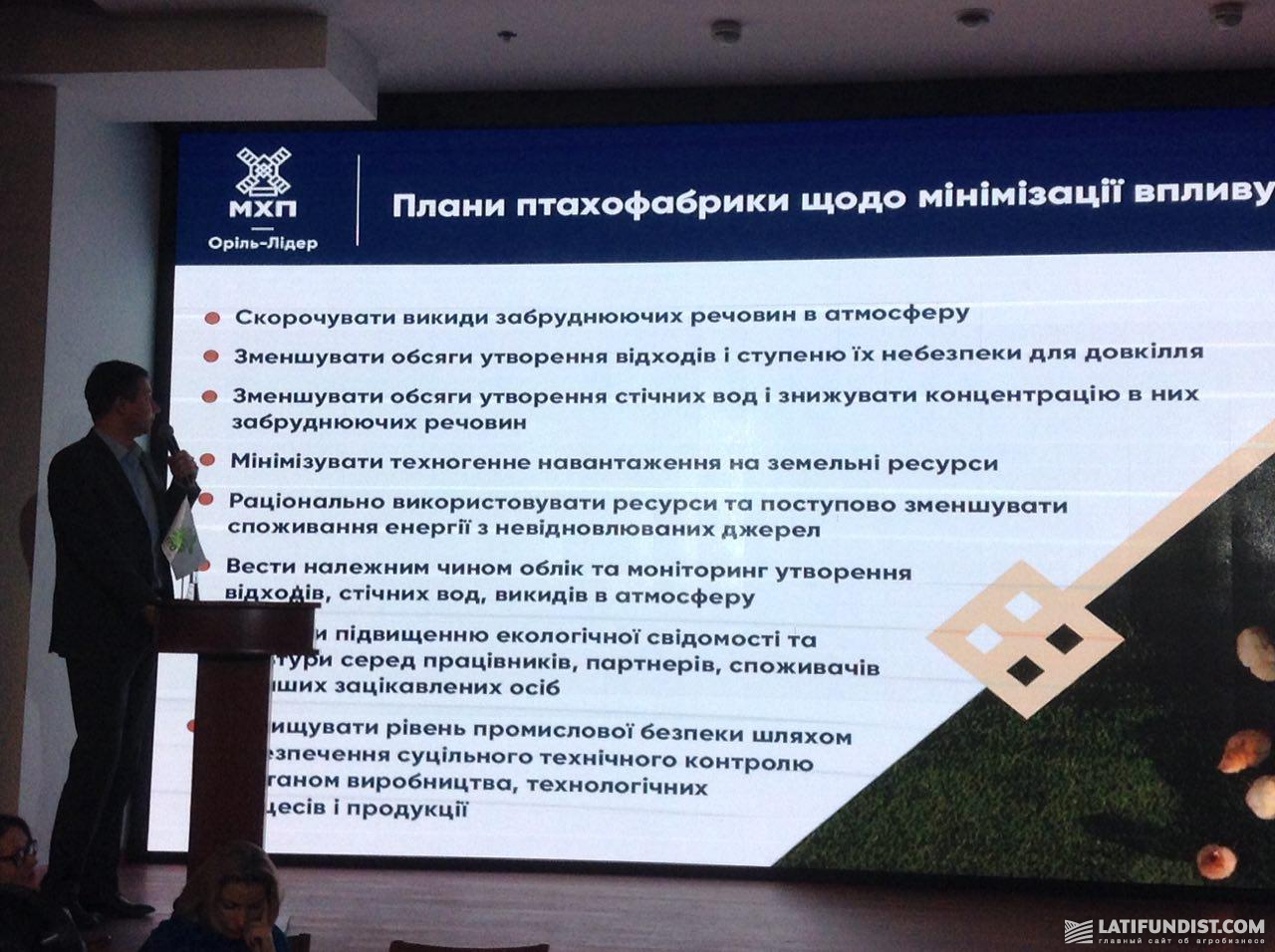 Sergey Savchuk, Head of State Agency on Energy Efficiency and Energy Saving of Ukraine, stressed during the forum that Ukraine had achieved dynamic development of renewable energy in cooperation with all market stakeholders.
"Investors are highly interested in Ukraine. Thus, over the past 4 years, about EUR 1.5 billion has been invested in new renewable energy facilities, of which EUR 1 billion has been invested into operation of more than 1,000 MW of new power generation facilities; EUR 460 million were vested in 2,000 MW of new biomass heat and power facilities," added Sergey Savchuk.
Reference: MHP continues the implementation of eco-projects. One of the main goals of the agricultural holding is to reduce the use of energy from non-renewable sources at the expense of renewable ones. Therefore, a second biogas plant is currently under construction near the town of Ladyzhyn, Vinnytsya region. The total capacity of the new facility is about 20 MWh of electricity, that is, almost 4 times more than at the Oril-Leader plant.