Seeds export from Ukraine in 2020 soared by 65%
Export of grain and oilseed crops seeds from Ukraine in 2020 reached the highest-ever level at USD 18.7 mln, up by almost 1.5x from USD 12.7 mln in 2019. Aleksandr Zakharchuk, Doctor of Economics, explained that this was driven by an increase in the selling price of this type of agricultural products on the world market last year.
"Although, Ukraine exported 4 thou. t less of cereals seeds in 2020 than in 2019 — only 12.5 thou. t, the increased demand and selling prices provided record-high foreign exchange earnings," he said.
Corn traditionally dominates the structure of Ukrainian grain and oilseed seed exports. In 2020, the volume of seed corn sales on the global market increased by 65% versus 2019 and amounted to 7.88 thou. t worth USD 13.4 mln. In addition, the share of this type of agricultural products in domestic exports increased by 8% to about 72% compared to 2019.
The largest markets for Ukrainian seed corn in 2020:
Belarus: 6.1 thou. t, USD 8.7 mln, 77% of the total supply
Moldova: 0.4 thou. t, USD 1.0 mln
Kazakhstan: 0.3 thou. t, USD 0.6 mln
Uzbekistan: 0.2 thou. t, USD 0.1 mln
Georgia: 0.1 thou. t, USD 0.1 mln
The following EU countries have been increasing their import of seed corn from Ukraine:
Romania: 0.7 thou. t, USD 1.7 mln
Austria: 30 t
Poland: 21 t
Hungary: 18 t
Italy: 9 t
Serbia: 7 t
"The volume of wheat and rye exports in 2020 remained at the level of the average annual sales over the past 5 years: wheat shipments amounted to 2.23 thou. t, rye 1.72 thou. t. Ukraine also sold abroad 533 t of soybeans, 457 t of sorghum, 124 t of buckwheat, 63 t of barley, and 40 t of rice seeds," Aleksandr Zakharchuk added.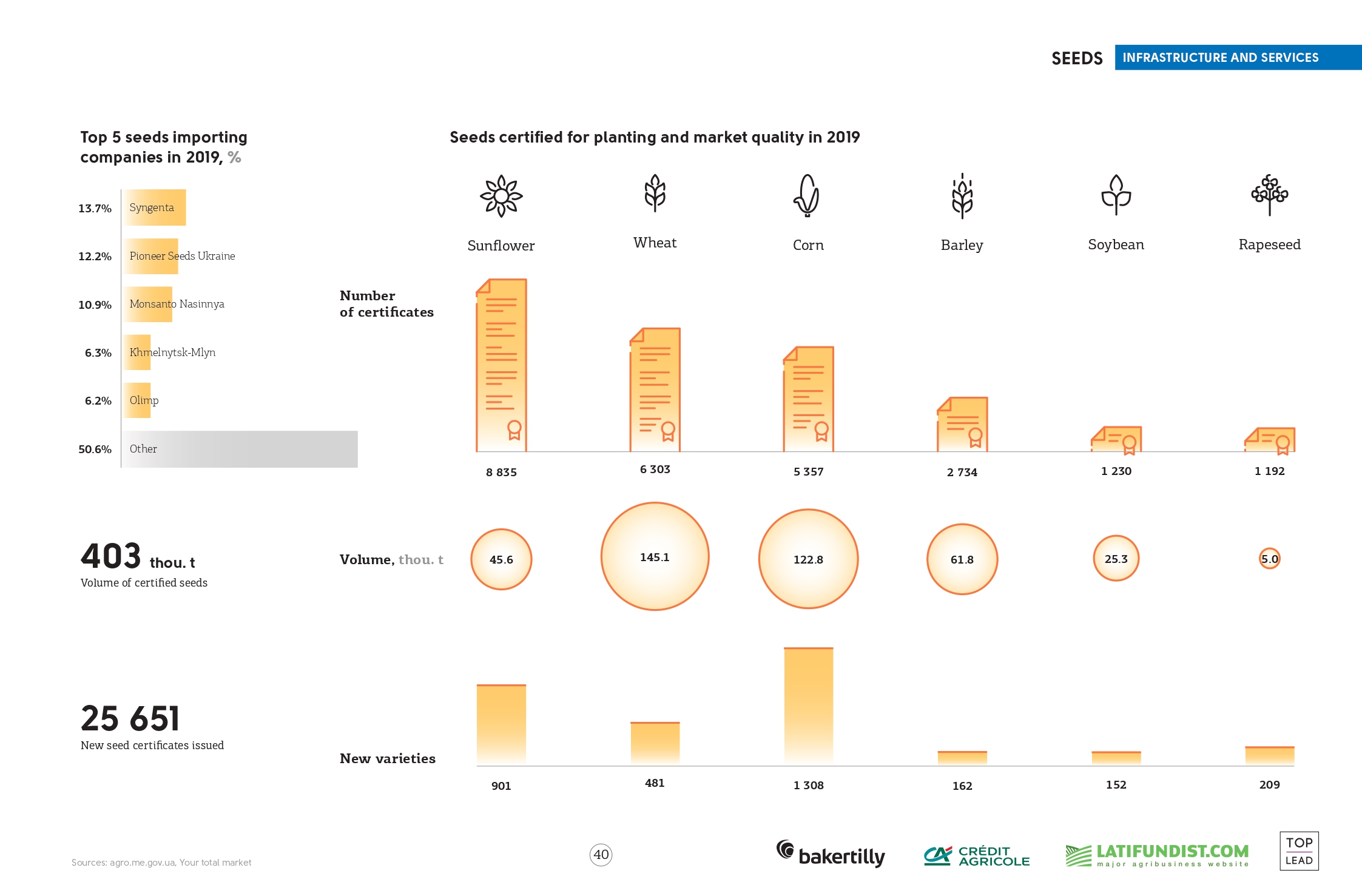 In 2020, the EU countries imported more than 795.4 thou. t of corn, wheat, barley, rapeseed, soybean and sunflower seeds for the amount of USD 3.1 mln.