USDA prospective plantings result prompted commodities price boom: Zernotorg.ua
CME futures responded with a bullish rally to the release of the USDA Prospective Plantings and Grain Stocks reports, Zernotorg.ua writes.
Following the publication of the data, quotations for corn, soybean and soybean oil quickly reached the daily growth limit and trading was halted. Experts explained that the USDA data was rather bullish, as corn, wheat and soybean stocks were significantly below last year's figures on the respective date and the 2021/22 harvest area forecast for corn and soybeans was under the experts' expectations.
"Corn and soybeans were in the consolidation during March, with the evident "stocking up" process on as traders actively accumulated additional buying awaiting for opportune news for further gains. Although the report for wheat was not as bullish, the growth in neighbouring markets reflected in wheat futures as well," said the analysts.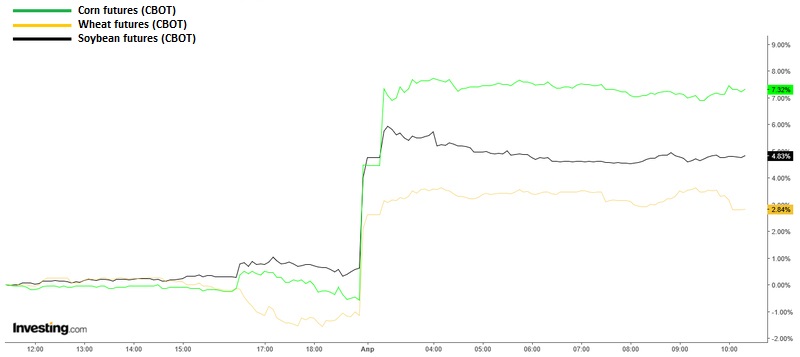 Zernotorg.ua assumes that this is quite good news for Ukrainian producers as the domestic physical market demonstrate an upward trend as early as today.
"With positive dynamics on stock exchanges, the Ukrainian market could break the downward trend that has lasted in recent weeks and show another growth cycle before the start of the new season. Therefore, agrarians should keep a close eye on the price situation and sell grain stocks on the growing market," experts concluded.
According to the USDA report, 91.14 mln ac or 36.83 mln ha of corn will be planted in the USA in 2021, 2 mln ac (0.81 mln ha) less than market expectations, but 1% (or 325 thou. ac) more than last season (90.82 mln ac or 36.75 mln ha).
Previously reported that spring crops total area in Ukraine in 2021 will make up 28.1 mln ha, 378 thou. ha more from 2020. Spring grain crops planting area is forecast at 7.6 mln ha, sunflower at 6.4 mln ha, soybean at 1.4 mln ha and sugar beet at about 223 thou. ha.
As of Dec. 7, 2020, agriproducers in Ukraine conducted sowing of winter crops for the harvest 2021 on 8.06 mln ha accounting for 98% of the planned 8.2 mln ha.