Kernel net profit surged 4.6x in 9M FY2021
The company Kernel, founded and co-owned by Andrey Verevskiy, built up its net profit for 9M FY2021(July 2020-June 2021) to USD 348 mln, 4.6x up YoY.
As per financial statements, the company's revenue in the reporting period grew 37% YoY to USD 4 bln, EBITDA improved 2.1x to USD 670 mln.
9M FY2021 net margin moved up to 8.7% from 2.6% in 9M FY2020. Earnings per share (EPS) increased by 4.5x to USD 4.14.
Segments revenue for the nine months ended 31 March 2021:
Oilseed Processing: 25% up to USD 1.3 bln

Infrastructure and Trading: 39% up to USD 3.43 bln

Farming: 13% down to USD 430 mln
Infrastructure and Trading segment's EBITDA boosted 2.5x to USD 394 mln, Farming's by 2.6x to USD 270 mln, whereas Oilseed Processing segment experienced a 26% drop to USD 62 mln.
Kernel's net-debt-to-EBITDA ratio as of 31 March 2021 (measured on 12 months trailing basis) reduced to 1.4x, as compared to 3.5x a year ago.
Kernel generated a USD 1.73 bln revenue in Q3 FY2021, up 66% YoY driven by high grain and sunflower oil prices (albeit lower physical export volumes from Ukraine) and active physical sales of soft commodities originated from 3rd-parties by Kernel's Avere subsidiary.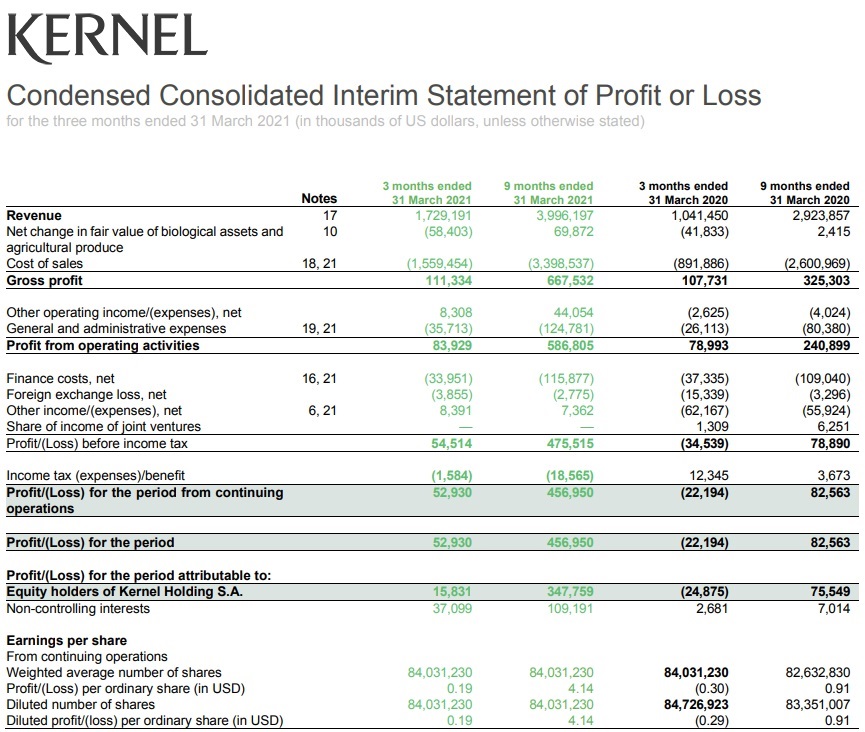 Group's EBITDA in Q3 FY2021 climbed 7% YoY to USD 111 mln. Net profit attributable to shareholders in Q3 FY2021 stood at USD 16 mln, net loss in Q3 FY2020 amounted to USD 25 mln.
Previously reported that Kernel's market cap revised upward by 3.2% to USD 1 241 mln within May 20-26, 2021.