MHP and Ukrainian Startup Fund signed memorandum of cooperation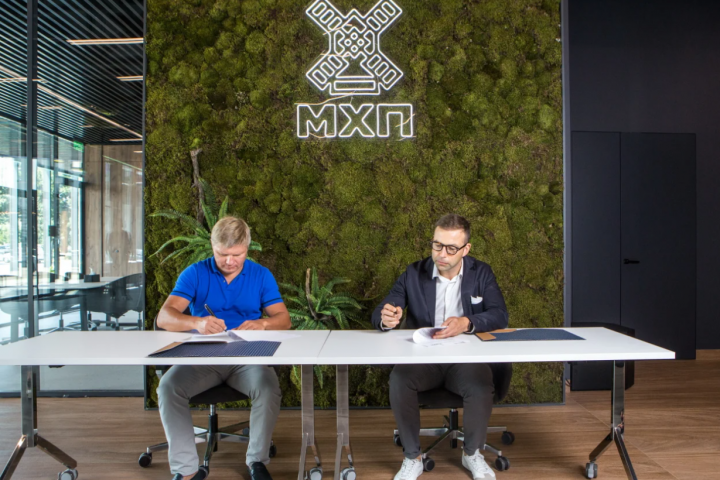 From left to right: Pavlo Kartashov, Head of Ukrainian Startup Fund, and Mykola Takzey, Chief Innovation Officer of MHP
Photo by: Пресс-служба МХП / MHP Press service
Innovations Department of MHP, the agro and industrial holding founded and chaired by Yuri Kosyuk, signed a memorandum of cooperation with the Ukrainian Startup Fund, Ukrinform reports.
The Memorandum sets out the cooperation intentions of the parties to exchange information on best practices in the development of the start-up ecosystem. It was also agreed to facilitate the transfer of relevant knowledge and skills, through participation in joint projects, events and meetings.
It is noted that MHP will be able to engage with a number of start-ups whose activities will help solve production issues, as well as provide opportunities to find new technologies for MHP's business development.
"We are following the global practice when a large corporation seeks ways to collaborate with start-ups. I am sure that this is beneficial for us, for our transformation from a commodity company to a culinary company, and I hope that our cooperation will help the innovation ecosystem of our country to develop, get rich, create and sustain even more start-ups in Ukraine," marks Mykola Takzey, Chief Innovation Officer of MHP.
The company adds that the Ukrainian Startup Fund will be granted access to experts and mentors at MHP who will help start-ups validate their hypotheses or business models, and will also be given platforms where they can test their solutions.
"I trust that MHP is a reliable partner of the fund and will perform as a convenient and efficient platform for selected start-ups to implement their pilot projects, and in the near future, MHP will consider these start-ups as a potential investor," comments Pavlo Kartashov.
The parties plan to jointly carry out activities to develop the start-up ecosystem.
NOTE: The Ukrainian Startup Fund is a state-owned fund established at the initiative of the Cabinet of Ministers of Ukraine. The fund's mission is to promote the creation and development of early-stage technology startups to improve their global competitiveness. In 2020, the fund has become the largest angel investor in Ukraine, having financed almost 200 startups for more than USD 5 mln.