Pay and Get Your Tractor Without Delay. Demand for Leasing Services Is Growing
Issues related to financing are always pertinent for farmers, yet more so when preparing for the new field season. This year, the grain price hike has not always compensated drought-driven losses of farming companies. Players are forced to accumulate funds for operational tasks. Additionally, plans of the many include purchasing land plots in the coming years. Under such circumstances, the renewal of machinery fleet becomes a challenge for farmers, especially for small agricultural enterprises. That is why finding beneficial financing instruments to purchase agricultural machinery and other equipment is more relevant than ever. Due to the unstable situation and at-times stringent requirements of banks, not all agrarians are ready to obtain loans. Besides, agribusiness undeservingly overlooks an alternative financing instrument — leasing, which has many advantages. As financial experts themselves say, a loan is just money, and you still have to buy machinery with it, while leasing is the machinery ready to be used.
Market recovery and new players coming in
The Ukrainian leasing market is still recovering after the fall during the 2014 crisis. According to the National Commission for Regulation of Financial Services Markets, which used to supervise activities of certain leasing companies (the Commission's activity was halted under the Decree of the President of Ukraine No. 259/2020 dated 30.06.2020 – Ed.), the total value of leasing transactions made in 2019 was UAH 26.2 bln, 18% more than in 2018. Nevertheless, the amount of transactions has not reached the amount of 2013 yet, which was UAH 31.6 bln.
In Ukraine, agricultural producers have traditionally been the largest lessees after representatives of the transport industry. According to the Association of Ukrainian Lessors, taking into account recurrent leasing and leaseback, agrarians concluded transactions for agricultural machinery supply totalling UAH 5.5 bln in 2019, and for three quarters of 2020, that amount was UAH 4.7 bln. Last year, farmers received 1834 agricultural machines through lease, and 1706 in January–September 2020.
CEO, Association of Ukrainian Lessors

"We observe an upward trend since the leasing market at-large has been growing incrementally from year to year, as well as the demand for leasing services in agricultural sector. Whilst the market has slightly dropped in Q2 due to the coronacrisis, the segment of agricultural leasing continued to grow"
In recent years, the share of agriculture in the leasing portfolio has been 25-30%. As the result, despite the crisis, agricultural leasing continues to grow and new players enter this market. In September 2020, Credit Agricole Bank that cooperates closely with agricultural market actors launched financial leasing.
Deputy Board Member,

Credit Agricole Bank

"This is an evolutionary stage of development of Credit Agricole Bank. Since it has been the leader on the car lending market, a strategic partner for agrarians, and has been offering partnership programs for financing machinery procurement for a long time now. We have powerful expertise in related areas, which gave us an impulse to enter the leasing market"
The bankers say that the leasing market of Ukraine has good growth potential, and actively creates the demand for the service.
"We see the demand from both customers and vendors. Moreover, even as we speak, we receive requests for not only vehicles and agricultural machinery, but also for renewable energy equipment, as well as requests from IT companies and other businesses. However, because Credit Agricole works towards organic sustained growth, we put these areas off for now"
Financial leasing program from Credit Agricole Bank provides for financing for a period of 1 to 5 years with a down payment from 15% of the asset value. The minimum financing amount is EUR 10 000. The company cooperates with major suppliers of machinery and has plans to provide not only financial but also operational leasing services.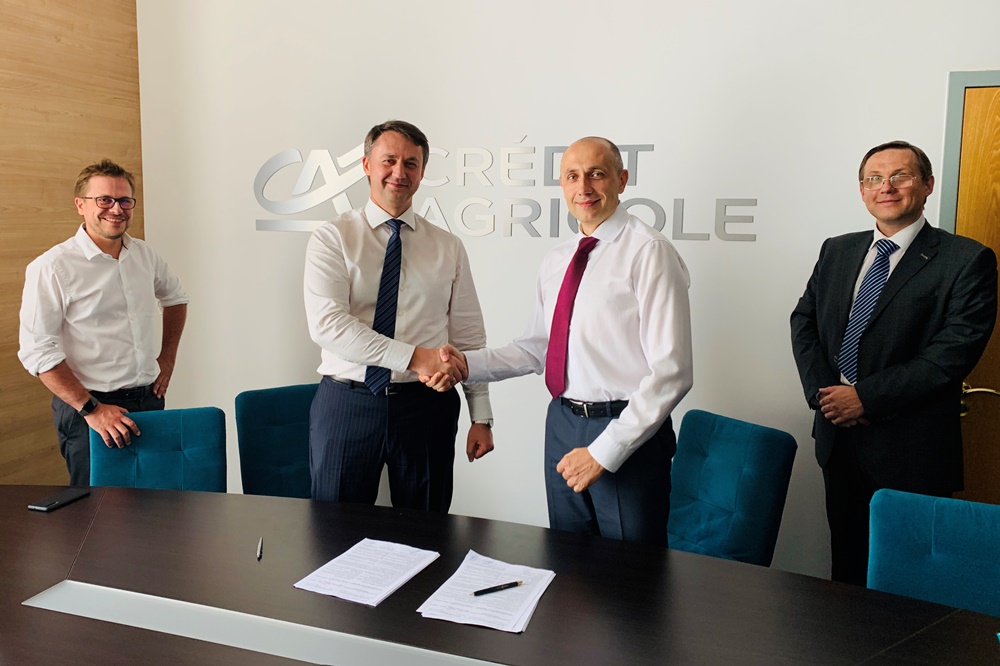 As Yurii Vasylenko says, agrarians are interested in purchasing tractors, combines, and tillage machinery through leasing. Credit Agricole Bank has basic requirements to lessees: it is important that a company works on the Ukrainian market within the last two years and can provide reports for that period. The Bank analyses different aspects, including whether it is reasonable for the customer to buy certain machinery just at the moment, and whether a company can service it, etc.
Deputy Board Member,

Credit Agricole Bank

"It is good, of course, when a company is consistently profitable. But if it has losses, the bank will analyze in detail each individual case. Besides profit and other basic indicators, we analyze a company's reputation and level of financial management as well. Figures and indicators — that's good, however, communication with management usually gives much more information"
Constraining factors
In spite of the persistent demand for leasing services from farmers, experts believe that the market could have developed more rapidly. According to research, leasing in Ukraine accounted for 3–4% fixed asset investments, while in Europe this indicator rises to 30%. In other words, the potential of the Ukrainian leasing market is great, but low awareness of players about the instrument and its advantages for financing business expansion still inhibits its growth.
"Although the majority of customers are well aware and actively use leasing, unfortunately, many players know little about it or need an additional explanation about nuances like the difference between operational and financial leasing"
Speaking of, the difference between operational and financial leasing is that after the expiry of the leasing agreement, the property is returned to the lessor, and residual value risk lies with the lessor, the bank or a leasing company. These risks can also be covered by joint programs with machinery suppliers. For now, financial leasing dominates the emerging leasing market of Ukraine, where all risks related to machinery ownership and utilization lie with the lessee.
The mentality of Ukrainians who traditionally think that it is better to own property than to rent it out hinders development of leasing. However, more and more businesspersons change their attitude and come to the understanding that rent is often more beneficial. Truth be told, the country is still lacking favourable juridical and tax base, as well as other market drivers.
On leasing advantages
Companies, which have concluded leasing agreements more than once, know that leasing is not just an alternative but a convenient financing method. Through the leasing, an agrarian can receive machinery in the shortest possible time without diverting large working capital. What is more, an agricultural producer has an advantageous possibility to buy machinery at the best price, because the bank immediately pays 100% of the goods' value, and can negotiate a discount with the supplier. Reduced paperwork is an absolute plus point.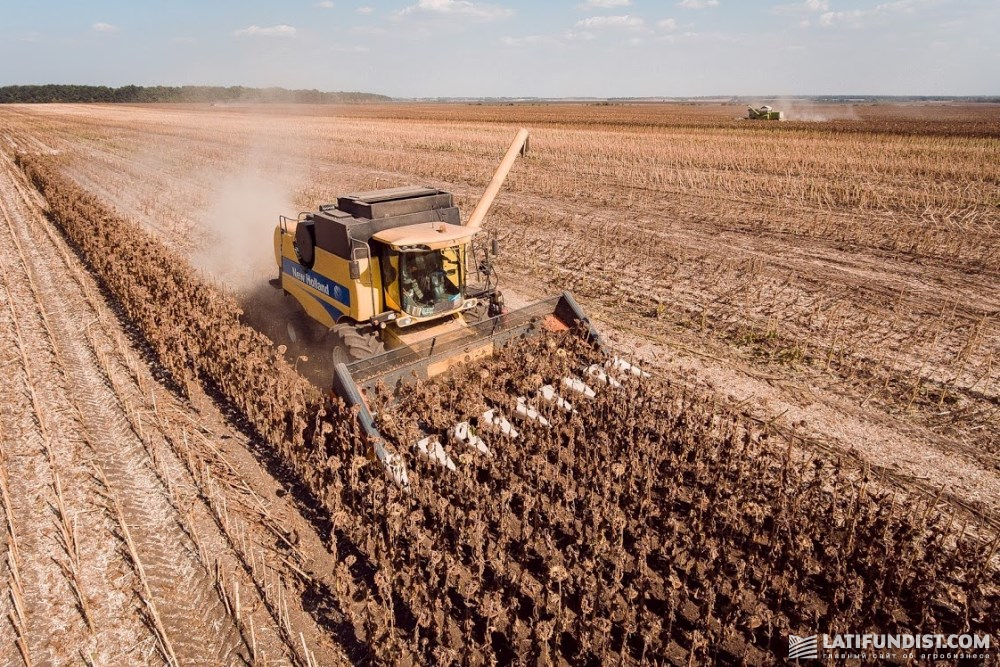 According to Aleksandre Tchesnakoff, the biggest advantage of the leasing is the speed of agreement conclusion and receipt of necessary machinery. Indeed, by saving time a businessperson loses less money. It takes Credit Agricole a week or so to make a decision, and then a couple of days more to hand machinery over meaning that the whole process may be finalized within 10 days.
Actually, apart from financing, leasing includes additional services and outsourcing.
"Leasing is not just financing, but also a number of related services such as machinery insurance, registration, and maintenance. Take the machinery and drive to the fields right away! Since the lessor is the item's owner, he is interested in this item's being repaired. Even in the case of an insured event, the bank as a big partner of insurance companies can always bring up an issue of settlements. In other words, a customer will not be left alone with his problem"
Therefore, when a leasing company or the bank handles registration and maintenance of machinery, the farmer's comfort improves, and he can use the time released to address more important operational tasks directly related to crop growing, land bank expansion, etc. By buying machinery through leasing, an agricultural producer may also divert his uncommitted funds to other purposes and investment projects. By the way, unlike a loan, no additional security is required to conclude a leasing agreement. Leased out assets are not subject to disposition by tax authorities, and cannot be included in liquidation estate in bankruptcy.
"Customer always has a choice — a loan or leasing. Our task is to provide advantages integrated in leasing together with financing," summarized Yurii Vasylenko.
Nelia Vasylieva, Latifundist.com