Asia, Europe and Africa dominate the Ukrainian agricultural exports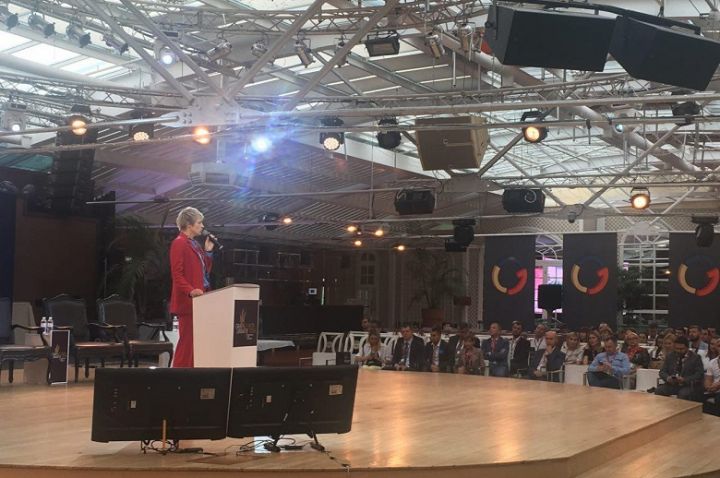 Olga Trofimtseva, Deputy Minister of Agrarian Policy and Food of Ukraine on European Integration
Photo by: Latifundist.com
Today, Ukraine exports most of its agricultural products, including grains, to the markets of Asia (42.6%), Europe (32.4%), Africa (14.6%) and others. Grains make up about 30% of all agricultural exports.
This was informed by Olga Trofimtseva, Deputy Minister of Agrarian Policy and Food of Ukraine on European Integration, in the framework of the Grain Ukraine International Conference in Odessa.
"We see that Ukraine is changing not only in terms of grain exports but also in terms of the Ukrainian business mentality. We see how our producers position themselves in foreign markets," said Olga Trofimtseva.
She noted that the Ukrainian agricultural sector demonstrated positive dynamics.
"Despite the concerns related to weather conditions, the grain harvesting campaign is going well, there are no critical cases. Perhaps, the grain yield will be slightly less than in 2017, but corn and other crops should compensate for the amount and there will be no significant disagreements in the expected supplies," Olga Trofimtseva stated.
In the current year, a record corn yield is expected in the Black Sea Region.
"I would very much like the business to pay attention to the sale of grain for cash. We, on our part, are working to change the conditions, but I would like to see business also joining the solution of this issue. After all, we should build a transparent and stable market that will be governed by the clear rules in the future. The government is already working on a sectoral export strategy. It will be decisive for the next 8-10 years," the expert stressed.
Previously it was reported that the US-China trade war would create new export opportunities for the Black Sea Region.