Kernel to issue USD 300-500 mln Eurobonds: Interfax-Ukraine
Kernel Holding S.A. plans to issue Eurobonds worth approximately USD 300-350 mln for a period of 5 or 7 years, Interfax-Ukraine reports with reference to sources in banks involved.
JPMorgan, Credit Agricole and Natixis will organize the issue.
Concurrently, Kernel announced the redemption of Eurobonds-2022 for the amount up to USD 350 mln. Early redemption deadline is set for Oct. 19.
Fitch Ratings has assigned Kernel Holding S.A.'s planned USD 350 mln-USD 300 mln bond an expected senior unsecured rating of 'BB-(EXP)' with a Recovery Rating of 'RR4' (50%).
"We expect proceeds from the new issuance to be used to strengthen the liquidity position and prepay part of the USD 500 mln Eurobond maturing in January 2022, and not for additional capex (above from what is currently in progress) or M&A. By extending the debt maturity profile, the new bond placement will ensure sufficiently strong hard-currency debt service ratio of above 1.5x over the next 12 to 18 months, underpinning Kernel's 'BB-' Long-Term Foreign-Currency (FC) Issuer Default Rating (IDR)," Fitch says in a stetement.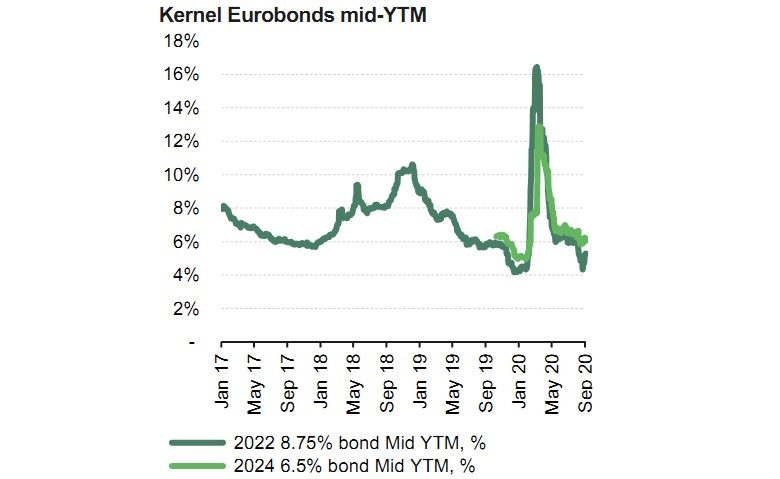 Fitch expects profitability in the core oil segment to normalise toward USD 60-USD 75 per ton in FY21-FY23, resulting in lower segment EBITDA. Nonetheless, profits should grow in FY22-FY23, supported by new capacity launches and efficiency initiatives.
Previously Kernel reported USD 123 mln of net profit in FY 2020, 31% lower YoY (FY 2019: USD 179 mln).