Sunflower covers 20% of Continental's total sown area in 2021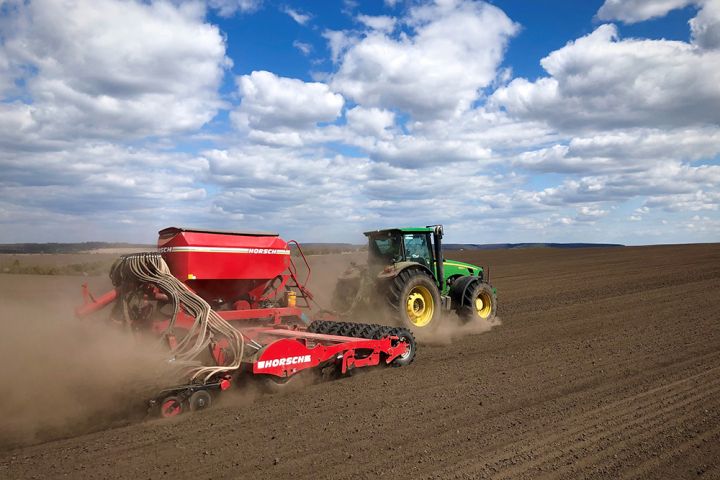 Spring crops planting in Continental Farmers Group's fields
Photo by: Пресс-служба «Континентал Фармерз Групп»
The agricultural holding Continental Farmers Group (CFG) has completed spring crops sowing campaign. In the company's total cropping plan, sunflower accounts for about 20% (37 thou. ha).
In the current production season, corn covers 31.9 thou. ha, soybean 27.9 thou. ha. Sideral crops have been sown on 360 ha. The traditional Continental crop, potatoes, were planted as planned on 1.9 thou. ha.
According to Vitaliy Stavniychuk, Continental Farmers Group's operational director, the sowing season was completed in accordance with the agronomic terms.
"We met the planned deadlines and completed the spring sowing season successfully. The principal factor that influenced it this year was the weather conditions: due to low temperatures at night and during the day, the crops emerged later compared to previous years. In terms of productivity, the Continental team worked well and efficiently," says Vitaliy Stavniychuk.
Winter crops in CFG's cropping plan 2020/21:
wheat: 43.4 thou. ha
barley: 12.2 thou. ha
rapeseed: 33.3 thou. ha
For the new crop, the company planted 189.1 thou. ha. The total company's land bank totals 195 thou. ha in Ternopil, Lviv, Khmelnytsky, Chernivtsi and Ivano-Frankivsk regions.
As a reminder, spring grain and leguminous crops were 92% planted as of May 20.