Variant Irrigation contracted with Kernel to supply irrigation machinery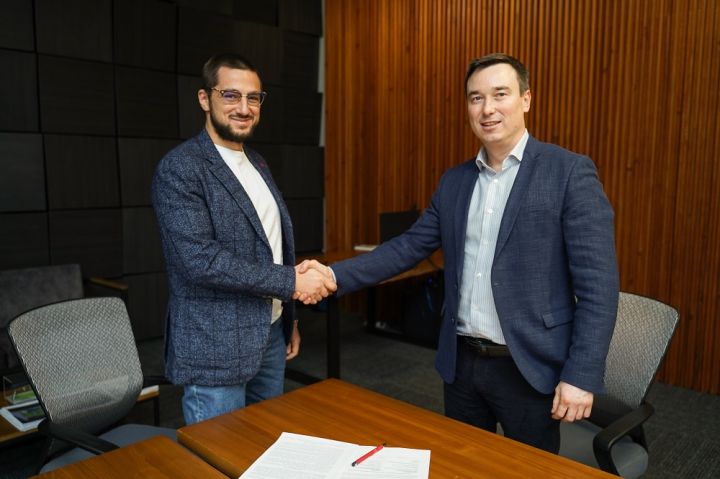 From left to right: Daniil Shufani, owner of Variant Irrigation, and Mikhail Petrov, head of the Prydniprovskyi Cluster of Kernel
Photo by: Latifundist.com
Ukrainian manufacturer of irrigation systems Variant Irrigation contracted with Kernel for the supply of two irrigation machines for the Prydniprovskyi Cluster. Delivery of the 440 m linear machines is expected in March 2022.
According to the head of the Prydniprovskyi Cluster of Kernel Mikhail Petrov, Kernel has been implementing the irrigation project since 2014 and today 2.2 thou. ha of cropland is irrigated.
He notes that since the zero risk farming zone has shifted to the northeast of Ukraine, in the central part, where the lands of the Prydniprovskyi Cluster are concentrated, it is only possible to produce a stable yield provided there is sufficient moisture. The norm for corn and sunflower hybrids is 250 mm a year.
"Previously, we partnered exclusively with the US manufacturers of machinery. This year we see that the potential of some Ukrainian manufacturers matches the level of European and US companies. One of these manufacturers is Variant Irrigation. We saw their new production capacity and modern plant, and believe that the machines produced by this company will not be worse, and perhaps in some aspects even better than their closest competitors in the United States. That is why we gave the green light to a quality Ukrainian manufacturer," said Mikhail Petrov.
Daniil Shufani, the owner of Variant Irrigation, stressed that the company follows a customized approach to each project, thus ensuring that all the customer's needs are met. For example, the software has been developed specifically for Kernel, which will help to operate the linear irrigation system via the GPRS system.
"For Kernel, we are building irrigation systems featuring completely new software, which only two US companies provide globally. We will be the third and the first in Ukraine. We are grateful to Kernel for allowing us to carry out this experiment in their farmland. There is a stereotype among many enterprises today that everything Ukrainian-made is low-quality. But for over a decade the trend has been completely different and Ukrainian manufacturers can deliver a much better quality product than their foreign counterparts. The economy of the country grows only with joint efforts. That is why I believe that many companies will follow Kernel's example and turn their attention to the Ukrainian producer," commented Daniil Shufani.
Having signed the contract, the parties discussed the maintenance of the machinery and equipment. According to Mikhail Petrov, this is one of the most pressing issues for the cluster. Daniil Shufani assured that there would be no problems with it.
"We assign priority to service as we understand that downtime in the season is the biggest problem for agricultural companies. Every year we expand the staff of service teams, provide them with vehicles and the necessary tools. We do everything to keep the crews mobile," said the owner of Variant Irrigation.
Previously reported that Variant Irrigation established the dealer network in the EU countries.