Sunflower oil prices in Ukraine hit 3-month low: AgriCensus
Sunflowerseed prices in the Ukrainian market have fallen to a three-month low as falling crude sunflower oil prices weigh on the vegetable oil complex and the spread of a new strain of COVID-19, Omicron, raises fears of tighter restrictions on travel in Europe, AgriCensus reports.
Ukrainian sunflower oil prices for shipment in February have fallen by an average of 25 USD/t a day over the past few days and now stand at 1288 USD/t FOB, practically reaching the lowest level since the start of the 2021/22 season (September-August).
"This occurred amid a shortage of sunflowerseed supply from Ukrainian farmers, who, despite a record harvest and lower sunflower oil prices, continue to hold back sales amid falling prices," the report reads.
According to USDA estimates, Ukraine's sunflower harvest should reach a record 17.5 mln tonnes, 19% higher than in 2020 when production was severely damaged by drought conditions in the Black Sea Region.
"Influenced by a larger drop in the oilseed complex, sunflower prices have fallen by more than UAH 1,500-2,000/t (55-73 USD/t) in the last week and now stand at 18,500-19,500 USD/t (678-715 USD/t)," said AgriCensus analysts.
Still, sunflower supplies remain extremely tight and so is crushing plants' utilization, while processors believe that the New Year holidays and the possession of sufficient working capital by farmers mean that they are unlikely to start selling sunflowers before February 2022.
"Despite a low supply of raw materials to processors, monthly sunflower oil exports are on the rise. According to the State Statistics Service, sunflower oil exports in November increased by 32% mth/mth, bringing exports in September-November 2021/22 to 1.35 mln t," AgriCensus writes.
According to experts, this figure is still 7.5% lower than a year earlier. According to USDA estimates, sunflower oil exports from Ukraine in 2021/22 will increase by 21% YoY to 6.65 mln t.
Ukroilprom projects sunflower oil production in Ukraine in 2021/22 to grow by 24% YoY.
Crude sunflower oil production in Ukraine in 2020/21 totalled 4.7 mln t. Refined sunflower oil output by crushers in Ukraine made up 745.3 thou. t.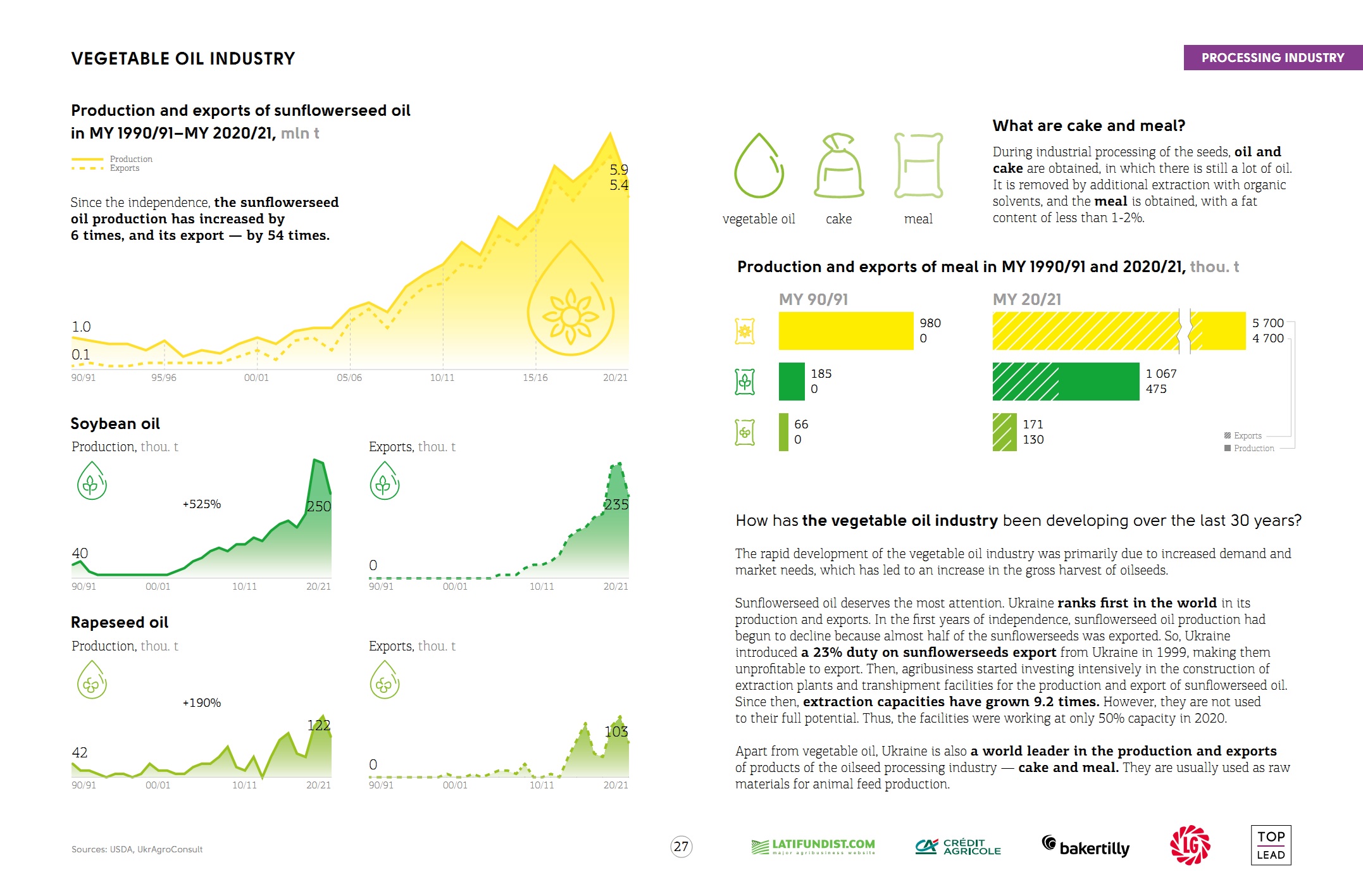 Related: