Ukraine wheat, corn slowly resume upward: Refinitiv
As of February 15, Ukrainian wheat offers with a protein content of 11.5% and 12.5% FOB Berdyansk for February-first half of March shipment stood at 284-285 USD/t and 288 USD/t, respectively. The price is about USD 1 up on Friday, February 11, Refinitiv Agriculture reports with reference to Atria Brokers analysts.
Offers of 11.5% wheat FOB Mykolaiv also grew by around 1 USD/t, to 310 USD/t.
"A price bottom has already been reached, the hot volumes have been sold. Russia's announcement of the return of part of its troops after the drills to their cantonment areas helped prices to stop falling. At the same time, wheat quotations on CBOT and Euronext on Tuesday, February 15, declined rapidly following this information," the message reads.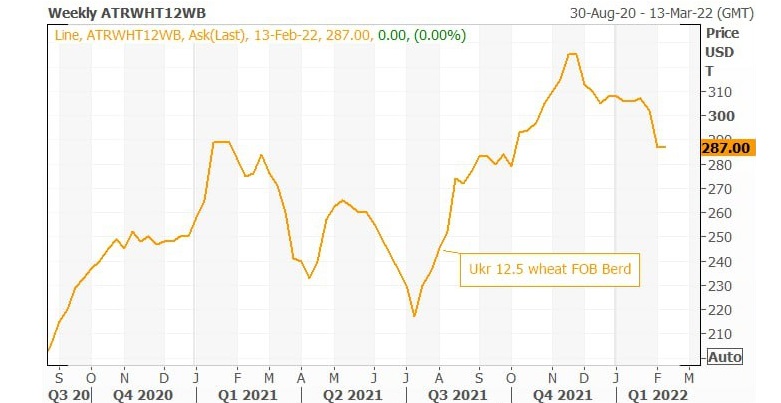 According to analysts, corn offers in Mykolaiv rose to around 284-285 USD/t FOB for February shipment. On Tuesday, however, there were downward signals from the CBOT.
"Besides reports of some Russian troops returning to their cantonment areas after the drills, rains are forecast in a week in Argentina, which could improve the condition of the corn crops," analysts added.
As of February 14, wheat export from Ukraine totalled 17.5 mln t, 32% up YoY.
As a reminder, wheat export from Ukraine in 2021/22 was limited to 25.3 mln t. The Memorandum of Understanding was signed by the Agrarian Ministry and grain market participants. The Government also considers milling wheat export from the country. The decision was reported to be taken in January, but it has not happened yet.