TOP 10 Wheat Producing Countries in 2020/21
The United States Department of Agriculture (USDA) revised downward its global wheat production forecast for the 2020/21 season to the 2019/20 level. Such estimates were prompted by lower forecasts for Argentina and Brazil, where rainfall deficit and consequently lower yields were observed. Despite this, the world wheat harvest set a new all-time record of 776.5 mln t.
Under the April USDA report, this growth was made possible by an increase of 5.02 mln ha, or 2%, to 221.96 mln ha of the sown area and a high average yield of 3.5 t/ha. The most significant increases were in Australia (+2.8 mln ha), India (+2.0 mln ha), and Russia (+1.4 mln ha). However, the EU saw the largest reduction (-1.5 mln ha).
Top 5 countries by wheat sown area (mln ha):
India: 31.4

Russia: 28.7

China: 23.4

US: 14.9

Australia: 13.0
The world leaders in wheat yields in 2020/21 have not changed from the previous season. The highest indicators are forecast in Germany at 7.53 t/ha, France 6.8 t/ha, Egypt 6.4 t/ha, and China 5.7 t/ha.
Wheat production leaders, China, India and Russia, have retained their positions as well. Only their total share decreased from 46% in 2019/20 to 42% in 2020/21.
Ukraine's wheat harvest is forecast to reach 25.5 mln t, placing it 8th in the world producers' ranking. Besides, the country's harvested area decreased by 3% to 6.8 mln ha and the average yield to 3.8 t/ha (4.1 t/ha in 2019/20).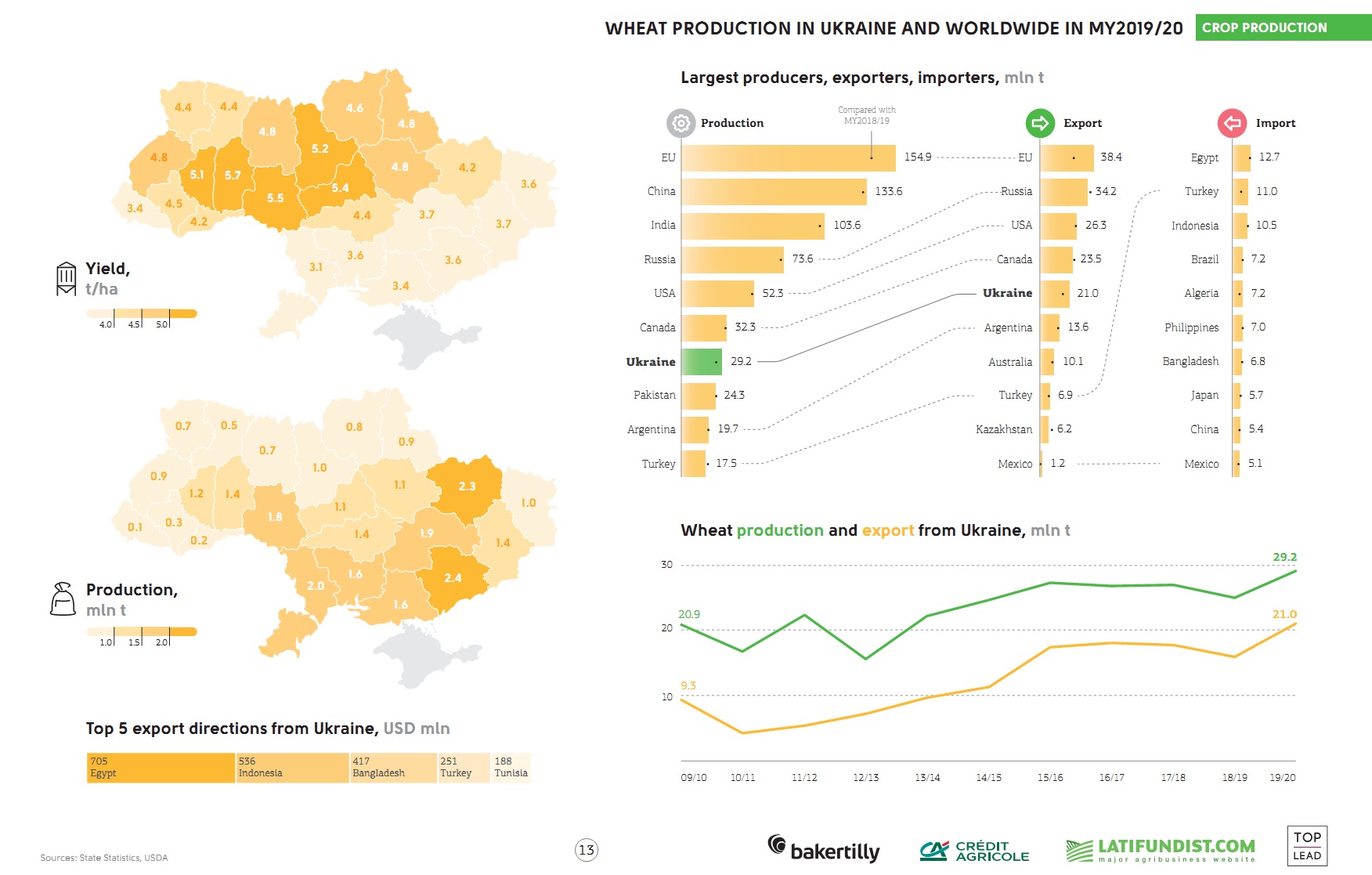 According to the latest USDA forecasts, the total volume of foreign trade in wheat in 2020/21 will amount to 196.31 mln t based on April 2021 market situation. Notably, over the last 10 years (i.e. since 2010/11 MY), this figure has increased by 63.27 mln t, by 48%.
Top 5 wheat exporting countries in 2020/21 (mln t):
Russia: 39.5

EU: 27.5

Canada: 27.0

US: 27.0

Australia: 19.5
Australia has increased wheat exports by 93% over the past year. India has joined the club of wheat exporters having increased the shipment by 4x in 2020/21 to 2 mln t. Brazil has more than doubled its wheat exports to 0.9 mln t. At the same time, the EU has reduced the export of wheat by almost a third to 27.5 mln t. Ukraine sells not more than 17.5 mln t of wheat to foreign markets in the current MY, 17% down on the previous season.
Top 5 wheat importing countries in 2020/21 (mln t):
Egypt: 13.0
Indonesia: 10.5
China: 10.5
Turkey: 8.2
Philippines: 6.8
In 2020/21, a considerable reduction in wheat imports will be made by Turkey (by 24% to 8.2 mln t), Australia (by 78% to 0.2 mln t) and Saudi Arabia (by 18% to 3 mln t).
Volodymyr Demchuk, Latifundist.com analyst