Petr Toman: Ban on the Purchase of Farmland by Foreigners Halts Ukraine's Dreams about Investment
In October 2019, Agromino finalized the acquisition of 100% Resilient shares (a subsidiary in Ukraine) from the Czech investment fund Mabon. We dare to assume that this information may slightly confuse our reader. After all, last year, Mabon acquired a controlling stake in Agromino. It is, in fact, the consolidation of assets. As a result, today we have a strengthened player in the TOP 100 Latifundists of Ukraine with 52 thou. ha.
We asked the CEO of Agromino and Resilient, Petr Toman, about the relationship in this "agricultural triangle", investment plans, the features of work in anticipation of the liberalization of the farmland market in Ukraine and resistance to raider attacks.
Latifundist.com: What was your career path in the agricultural sector? How did you come to Mabon, Resilient and now to Agromino?
Petr Toman: As the saying goes, it all started with personal connections. My friend and fellow student from the university worked in the Czech agribusiness for over 20 years, now he is the majority shareholder in Agromino and Resilient. Together we started contemplating how to develop this business in Ukraine. And in a couple of months, we bought the first farm in Lviv region and started investing in other projects.
Latifundist.com: If I'm not mistaken, you started a business in Ukraine in 2014. It was a hard time as the military conflict started in the East...
Petr Toman: I agree, it was a risky period. The business was actually leaving Ukraine, and we came in at that time. The fact is that we saw that there is room for growth and development here. There is a huge potential in Ukrainian agriculture. Applying modern technologies, knowledge, the best foreign experience, we can get some good results. Above all, the soil is perfect here. But we care not only about ourselves, but it is important for the company to work efficiently and transparently, to pay taxes, to develop business and at the same time earn money in Ukraine.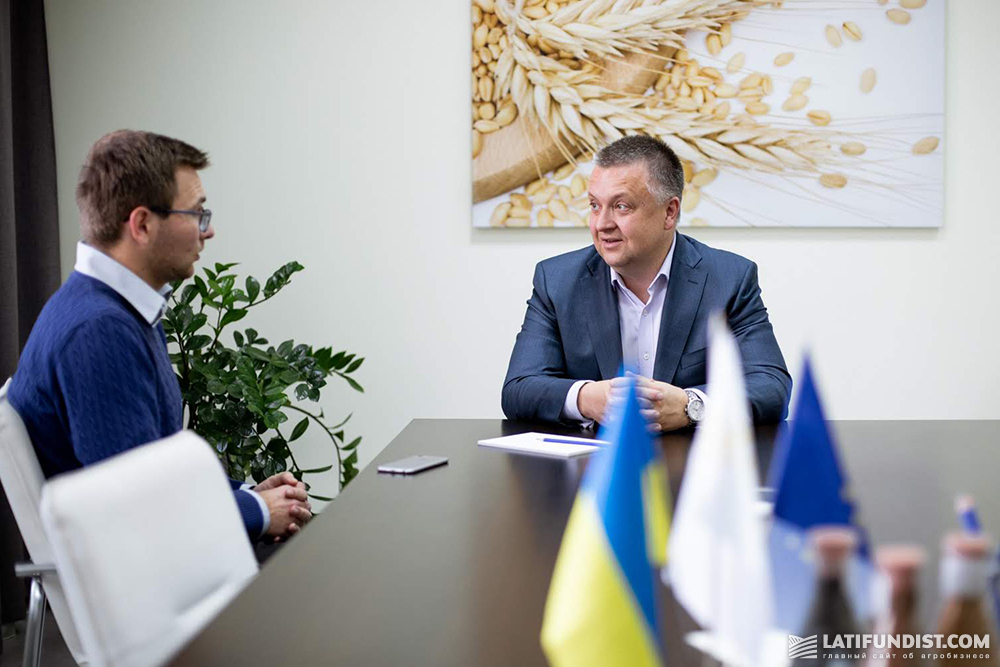 Latifundist.com: Congratulations on your successful completion of the transaction. But I would like to shed some light on the history of the relationship between Mabon, Resilient and Agromino right at the beginning of our conversation. Is this some kind of asset consolidation?
Petr Toman: When we joined Agromino, the company was far from its best condition at the time, especially in terms of yields. If in Resilient we had 12 tons of corn, 6.5 tons of wheat and 4 tons of sunflower per hectare, Agromino harvested half of these volumes. Last year we concluded that it would be more effective if these companies were to be combined and thus strengthened. The introduction of the company Resilient in the authorized capital of Agromino was the most appropriate option, as it complies with the laws of Ukraine, Denmark, Sweden and the Czech Republic, where we are present in different formats.
Latifundist.com: Following this merger, how will crop production be organized? Agromino adheres to the principles of minimum tillage, and Resilient works more on intensive technology.
Petr Toman: It's hard to answer in a simple way. The company is present in different regions, in different conditions in terms of weather and soil quality. Therefore, we will not be able to find one formula equally effective everywhere. We experimentally determine the best solutions to achieve high results. This year Agromino has already switched from the ratio of 60% of winter crops to 40% of spring crops. The final goal will be 25% of winter and 75% of spring crops. Having done the experimental work, we came to the conclusion that Agromino is more effective by using deep tillage in most areas.
Latifundist.com: Was technology change successful?
Petr Toman: Most certainly. Yields are improving considerably and this is very inspiring. There is a potential for growth and development! Already now, for example, in Kharkiv region our neighbours come to us, look at our fields and do not believe their eyes. Generally, this year was fruitful for us, even despite the long dry periods. We did lose some of the winter crops, in particular, wheat, because of the lack of moisture. But the spring crops were fine, they got moisture at the right time when the grain was filling. Sunflowers, for example, yielded excellent results.
Of course, all these weather fluctuations cause much trouble for producers. But, frankly speaking, these are the least of our problems in comparison with negative trends in the economy. We are especially concerned about the decrease in the market price for ag commodities, and about the currency changes. Now the hryvnia has become stronger and for us, as exporters, it is a problem as wages and rent are paid in hryvnias, while sales are in dollars.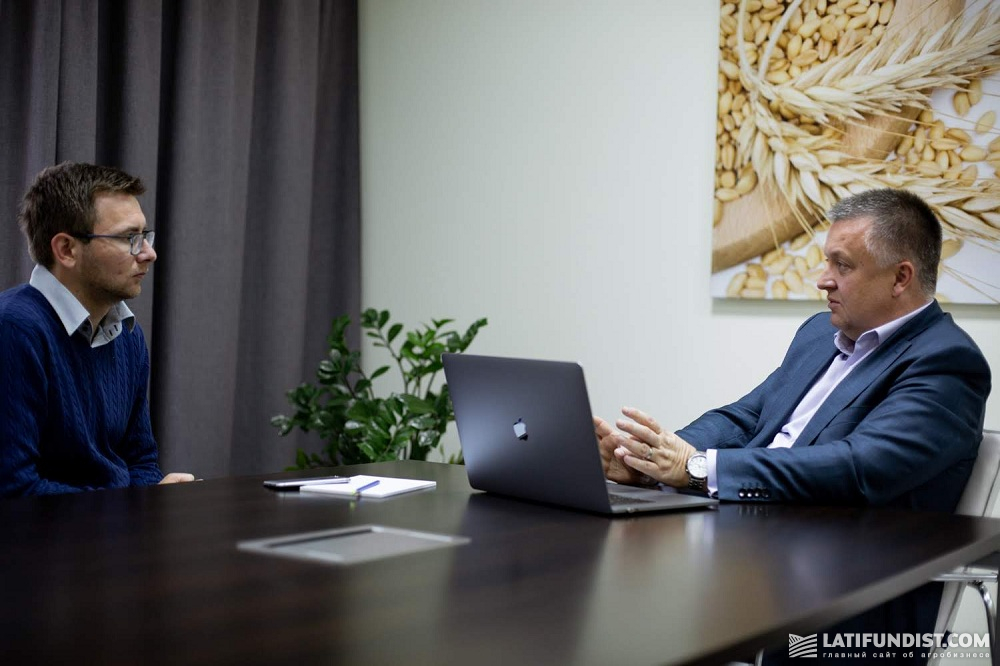 Latifundist.com: What technologies do you implement? How have the introduced innovations proved themselves?
Petr Toman: In agronomy, we prefer Strip-Till technology and deep loosening, which gives us much better results, particularly in terms of soil moisture preservation. Our predecessors were not used to smart working with water, they better were because the technology allows one to close the moisture in spring to work with it in summer dry periods.
We also use the Cropio system which provides fresh satellite images showing the state of each crop. In case there is a situation with yield or weeds, we immediately take the necessary measures. In addition, we installed cameras on tractors, combine harvesters, and now our offices can online monitor the work of machinery in the Ukrainian fields, monitor the processes and indicators.
Besides, we benefit from using the IoT (Internet of Things) technology — we put sensors in the field designed to determine the temperature and level of soil and air humidity, record the amount of precipitation in a particular field. Based on this, we carry out all work in the most optimum time including sowing, fertilization, application of crop protection products, etc. That is, we implement new technologies in every possible way to achieve better results.
Latifundist.com: How is Agromino's human resources management organized now? Have you had any significant changes in the management team since you joined Agromino? How has the company changed?
Petr Toman: Integrating new assets is an art form, especially when it comes to people. Companies have different corporate cultures, different histories. And this has to be taken into account. Of course, there have been layoffs in this process, but globally, people work, salaries grow and are officially paid, and thus productivity should increase.
Latifundist.com: You have mentioned that Agromino plans a change in the crop rotation system — to reduce the volume of winter crops and to increase it for spring crops. In this context, which will be the staple crops?
Petr Toman: It is of great importance for us to take into account the economy of all crops. If we are talking about corn and sunflower, their economic results are better than those of wheat, so they are a priority. Rapeseed is known to be a bit of a risky crop, although it is rather marginal compared to other oilseeds. Besides, in the case of frost damage, it can be replaced. We also grow soybean and millet as additional crops.
Latifundist.com: A few words about the company's investment plans. What tasks do you set today especially in connection with the recent purchase made by Agromino?
Petr Toman: As for our nearest plans, we want to improve our crops. We will invest in precision planters for this purpose. We also plan to double the storage capacity of Agromino elevators, particularly for drying and storage of corn grain. But this does not exhaust the investment budget, because we still have a lot to do.
Latifundist.com: What about animal husbandry? Earlier you have mentioned that you have managed to make it although minimally, but still profitable.
Petr Toman: We have managed to improve a lot of things, but I repeat that these investments mainly depend on what happens to the land market. That is, there is no point in commenting on animal husbandry now because if we want to invest in it, it is important to understand what rules the land market will follow. If the market becomes fully liberalized, the actual price of land is formed. And if there is the set price for land, the banks will be ready to take it as a pledge and provide credit. And these funds can be invested in the development of any areas of business, including animal husbandry. Now, with the moratorium still in effect, banks do not issue loans or do it at a very high-interest rate. That is, there is no stimulus for the real launch of the economy.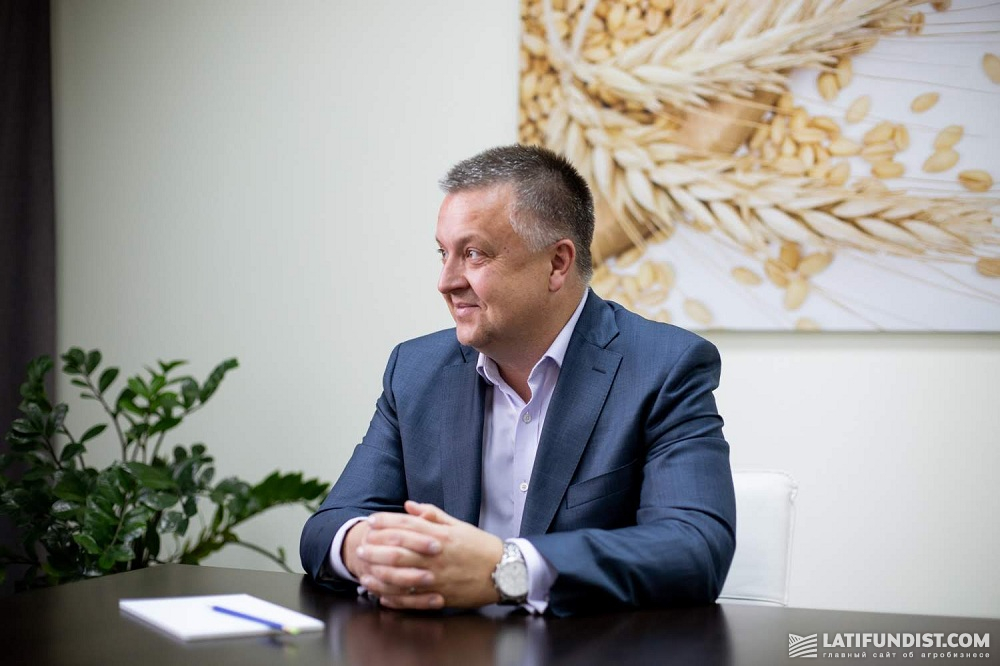 This can be confirmed by the holding's farms in Estonia. We are one of the few Estonian companies that operate on the international market and develop milk production at the highest level. Our farms are among the largest not only in the country but also in the whole territory of the EU, as there is more than 8 thou. head of dairy cattle and the average milk production is 40 litres per day. This development was preceded, of course, by the establishment of a liberal farmland market. That is why Estonian agriculture is highly developed.
Latifundist.com: In light of the active discussion around the probable land market opening in Ukraine next year, I cannot but ask about your position on this issue, in particular, on the opportunities for foreign companies?
Petr Toman: I do welcome this perspective. Opening of the land market is Ukraine's aspiration towards democratic reforms. At the same time, we are somewhat concerned about the escalation of processes designed to completely isolate a company with foreign capital from the purchase of land. Unfortunately, we see that already now raiders and resellers are trying to limit the land market for such companies as ours, so as to be able to buy land cheaply. They are trying to create a privileged group, which will deprive small Ukrainian landowners of their property at the lowest price. These people are not acting in the interests of the country, but for their own personal benefit. It is clear that the fewer restrictions there are and the more companies can buy land, the more efficient the agriculture in Ukraine will be, and the entire economy will be more successful and wealthy. The state will be able to receive more income because the majority of companies owned by foreign citizens honestly and officially pay all taxes, salaries, etc., while raiders prefer to work in the shadow.
Of course, I do not support the idea of any foreigner having an opportunity to buy land here, but the blanket ban is illogical — it will damage the economy of Ukraine for decades to come. There should be a clear regulation at the state level, which will take into account how the company operates in Ukraine, how transparent and honestly it conducts business, how many taxes it pays, etc. That is, if a foreign company is already developing its business here, it should have the right to buy land it works on. And I am proud to admit that both Agromino, which has been operating in Ukraine since 2007, and Resilient, which has been here since 2014, meet these criteria, and in many things, they have mentally become more Ukrainian than foreign. If speaking about last year, we paid UAH 2 thou. per hectare excluding VAT.
I would like to emphasize once again that companies with foreign capital in the vast majority of cases do business transparently and, consequently, are a reliable income source for the state budget. All their real trade turnover is open, salaries and rent are paid officially and taxed on a regular basis. Such companies should have full access to the land market and equal opportunities with all participants.
Latifundist.com: You have tackled the topic of unfair competition. It is known that last year your company encountered this business practice. Have you managed to cope with this situation?
Petr Toman: Not just last year, but in 2017 too, and this year is no exception. Unfortunately, the situation is not improving. And it is especially egregious that even the commission of the Ministry of Justice made decisions in favour of raiders on the basis of letters from already deceased people. Moreover, some members of the commission openly laughed at the situation, having no shame in the presence of the Embassy of the Czech Republic representatives at the meetings.
Trust me, it takes much faith in justice to resist such a flagrant violation of the law. We had to hear from the district courts that the raiders were right, that the deceased person could sign a contract, that the registration of the second lease agreement by the "black" registrar was legal, etc. But we were especially surprised at how convincingly were the lower courts won by the former deputies' companies.
Latifundist.com: In your opinion, will market liberalization affect unfair competition? And will you invest in buying farmland when the opportunity arises?
Petr Toman: I think it will since the landowner has more power to protect his assets than the tenant. As for the second question, of course, we, as well as other responsible agrarians, are interested in having a certain part of the land owned by us so that we can continue working on it. First of all, we would not like to lose the investments that have already been made in buildings, technologies, etc. Secondly, we want to continue investing, in particular, in the soil — to apply long-term mineral fertilizers, to apply erosion control measures, to use green manure, to increase the soil humus content, etc. Of course, this is a lot of money and it is important for us that these investments are safe and secure. I assure you that only the agribusinesses that own the land take the best care of it. But the absence of a land market by now has led to land degradation. And the situation will worsen even more if the market is limited, and the interests of groups hindering the property rights of shareholders will prevail.
That's how we see it. But we are not talking about actual plans yet as it is not yet known what kind of market model will be implemented, what the cost of land will be, etc. In addition, many shareholders, according to statistics, more than 80%, are not ready to sell their land because they are afraid to sell it cheap. And, by the way, if the land market is limited, it will be so. This is the end of Ukrainian dreams of foreign investments, of raising the living standards of citizens. Let's recall the experience of neighbouring Poland. In 1990, Poland was at the level of Ukraine, but now it is three times as rich. This was also due to the liberalization of the land market and the rule of law in this process.
Latifundist.com: You have probably heard about the fears Ukrainians have regarding the massive purchase of farmland by foreigners once the market is completely liberal.
Petr Toman: This was also feared in other countries, including the Czech Republic. And what has happened? Nothing. This is a regular business, where everyone protects his assets. A million investors will not come here to buy everything. But the shareholders will be able to get the maximum price for their land. As a result, the state land will also be priced higher in the market conditions. In other words, there will be price development in a fair share market. One should not underestimate shareholders. A shareholder is smart, he knows what he wants to do, and there is no need to make a decision for him.
Some see it better to sell, some want to work on their land, while others want to rent out. There are many opportunities, and people will choose the most suitable option.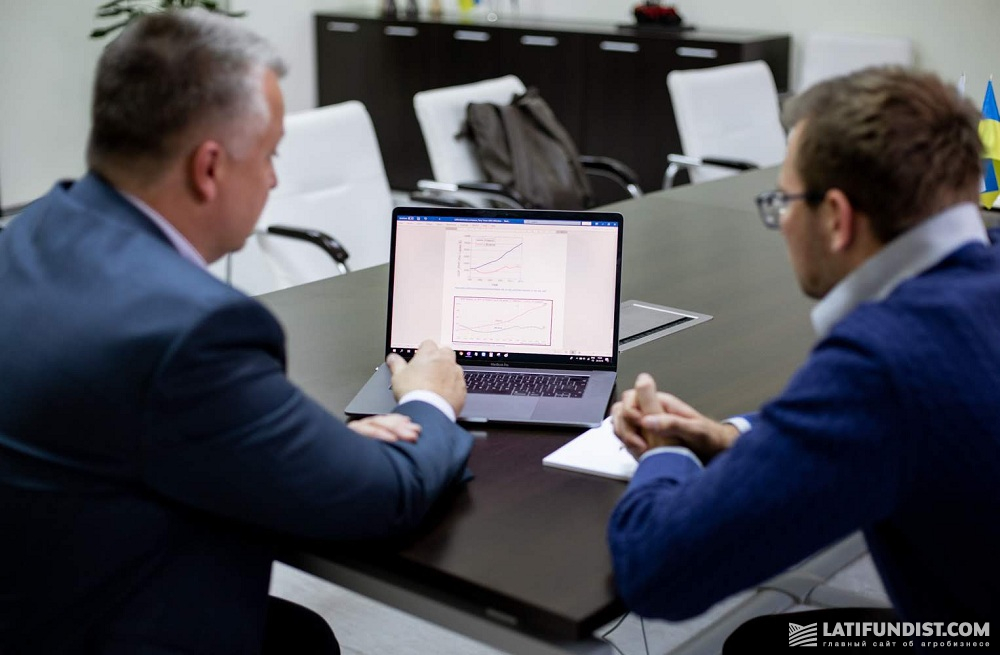 And the fear of someone buying all the land here that people had in the Czech Republic at the time, is groundless. Besides, there is much more land in Ukraine. By the way, there is no efficiency on many land plots, but there are companies that are subsidized using "grey" schemes and thus unfairly compete with farmers. All this, I believe, will disappear with the establishment of the adequate land market. In addition, do not forget that if the market is severely limited, there will always be those who will start circumventing any restrictions, looking for legal loopholes which bring us again to the "grey" market, tax evasion, etc.
Latifundist.com: In the context of foreign expansion, it is still claimed that foreigners have the opportunity to attract cheap financing, let's say at 1-2%, and buy land in Ukraine. And this is against the background of sky-high rates in Ukraine. What do you think about it?
Petr Toman: We are unlikely to get cheap financing for the development of Ukrainian assets considering the existing risks, including political ones. Well, maybe at very high interest rates, although I'm not sure. European banks like stability and reliability. But if we plan to invest in the Czech Republic, then we can get a loan at about 2% p.a. So claiming that we can take cheap loans from the Czechs and invest them in our business in Ukraine is nothing but a myth.
Konstantin Tkachenko, Latifundist.com