Ukrainian and US Corn Price Rally
Barva Invest analysts elaborated on the price ratio for Ukrainian and US corn. They also outlined the factors directly affecting the price formation of this popular grain crop.
Ukrainian corn is traded in close connection with US corn: besides the fact that the US is a global market maker, the two countries have common markets. Accordingly, to remain competitive, prices tend to be highly correlated and respond to local news from both continents. Since domestic factors have practically settled the price: large sown areas, weather conditions are comfortable and competition is high, so the market is watchful of Chicago. After all, deteriorating conditions in the US may give an impulse for higher prices for Ukrainian corn, among other things. We saw a similar picture last year when floods in the US drove Ukrainian corn prices up rapidly at the risk of global crop failure and then eventually turned down in Chicago.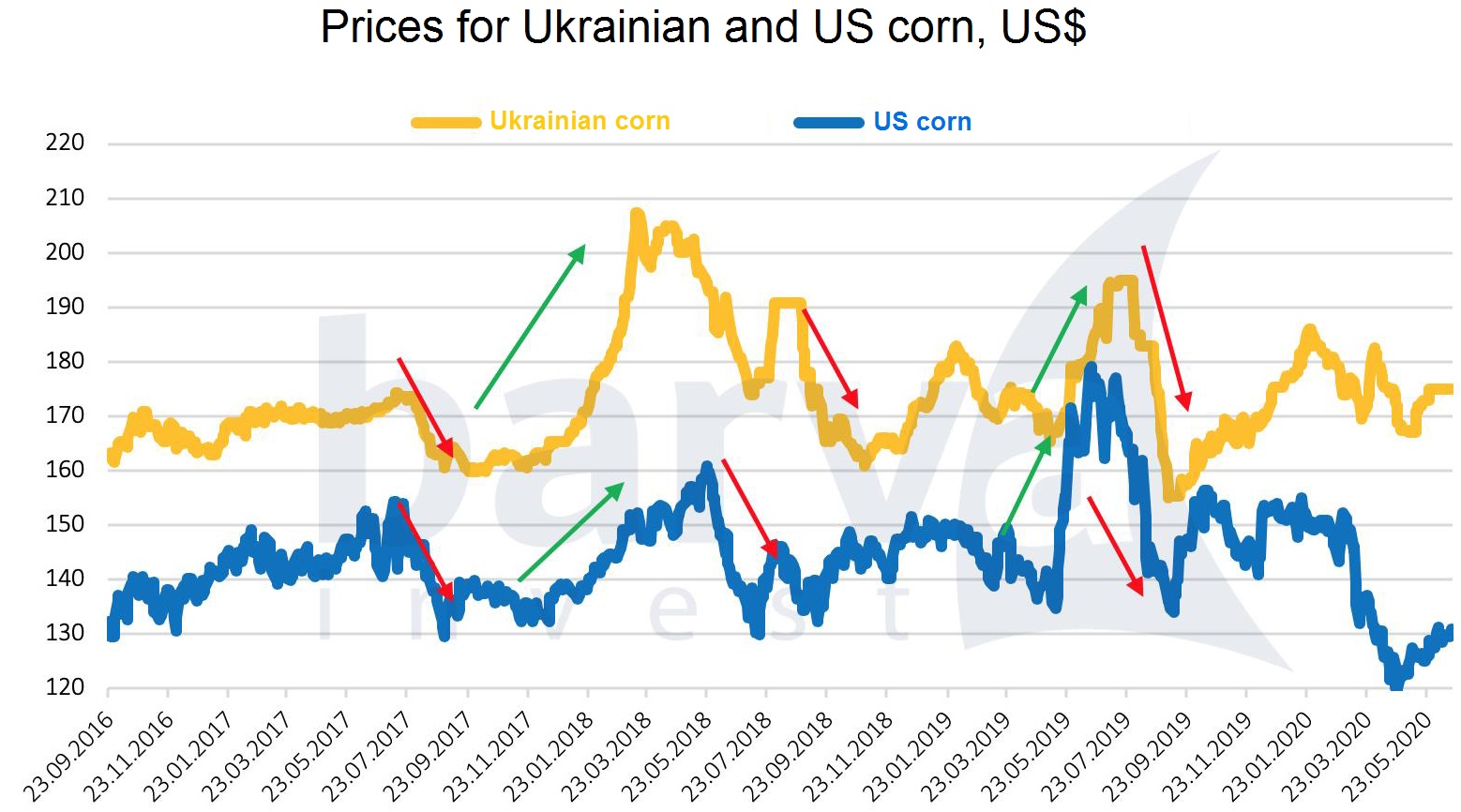 It should be noted that at times strong correlation is changed by the base break (price difference between countries) and it is caused by various local factors. In addition to the emergence of excess demand, logistics problems that can reduce the correlation between prices, it is worth paying attention to the fact that the US is primarily a large consumer of corn and quite often local factors have a significant influence in Chicago. The chart below demonstrates that the domestic market utilizes between 75 and 85% of the crop, while exports account for only 10-15%.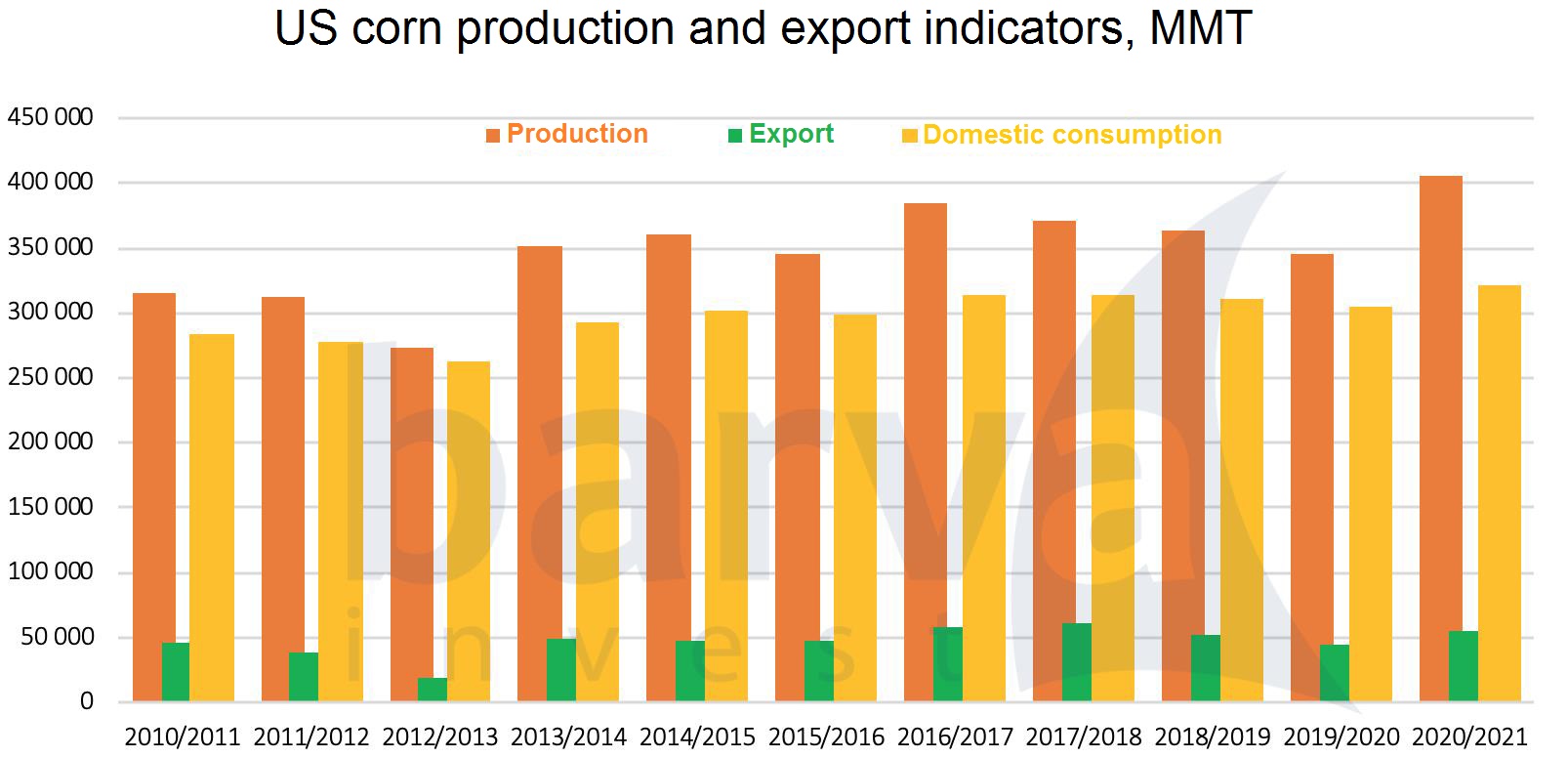 Therefore, to forecast further price trends, one should pay special attention to the local US market, and take into account that this year's crop area is record-breaking accompanied by no severe weather conditions. In any case, this means overproduction.
Although every third ton of corn is purchased by the world's corn importers from the US, this is not the only way for American farmers to sell their crops. About 35% is used for ethanol production (mostly used as fuel for vehicles), more than 40% for feed production. Through the development of domestic consumption, corn prices are not as dependent on import demand as Ukrainian ones.
The spread of the coronavirus infection COVID-19 and national quarantine measures have reduced domestic consumption of ethanol, affecting plants that have rapidly exhausted storage reserves. This is one of the primary factors behind the spring price decline in Chicago (-25 US$/t). Since late spring, when quarantine was eased, we have seen an active recovery in ethanol production (left chart), which has not yet kept pace with even more active consumption growth (right chart). Further expansion of processing capacity may become one of the few factors to support corn prices.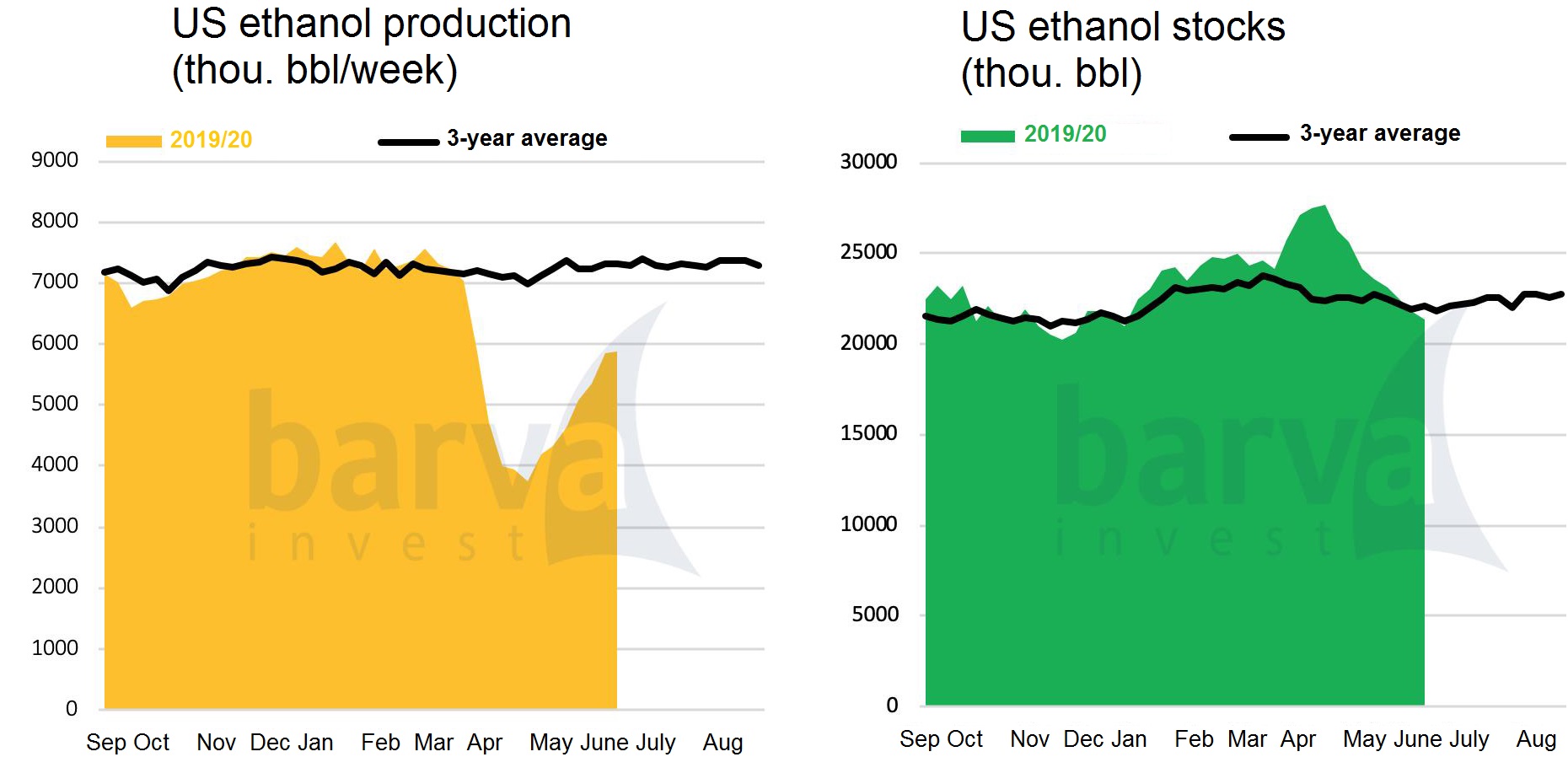 After the completion of the sowing campaign, an update of the US crop condition assessment is released weekly.
Due to the development of GM engineering, the use of effective plant protection products and techniques, corn yields in the US are becoming less dependent on weather, making the standard crop assessment model less relevant.
As given in the chart, a noticeable difference in yields only occurs when corn production is affected by adverse conditions (as in 2019). While on the periphery producers harvest lower yields, in the key states of the Corn Belt the situation is more stable: over the last 4 seasons yields in Iowa have ranged between 12.3-12.7 t/ha, which often levels out losses in less important regions. However, in case of significant problems, the decline in yields in these states will have a strong impact on national production, which is why there are often price rallies in Chicago in summer, the impact of which is also evident in Ukraine. This year, the weather will be the decisive factor leading to an increase in world prices.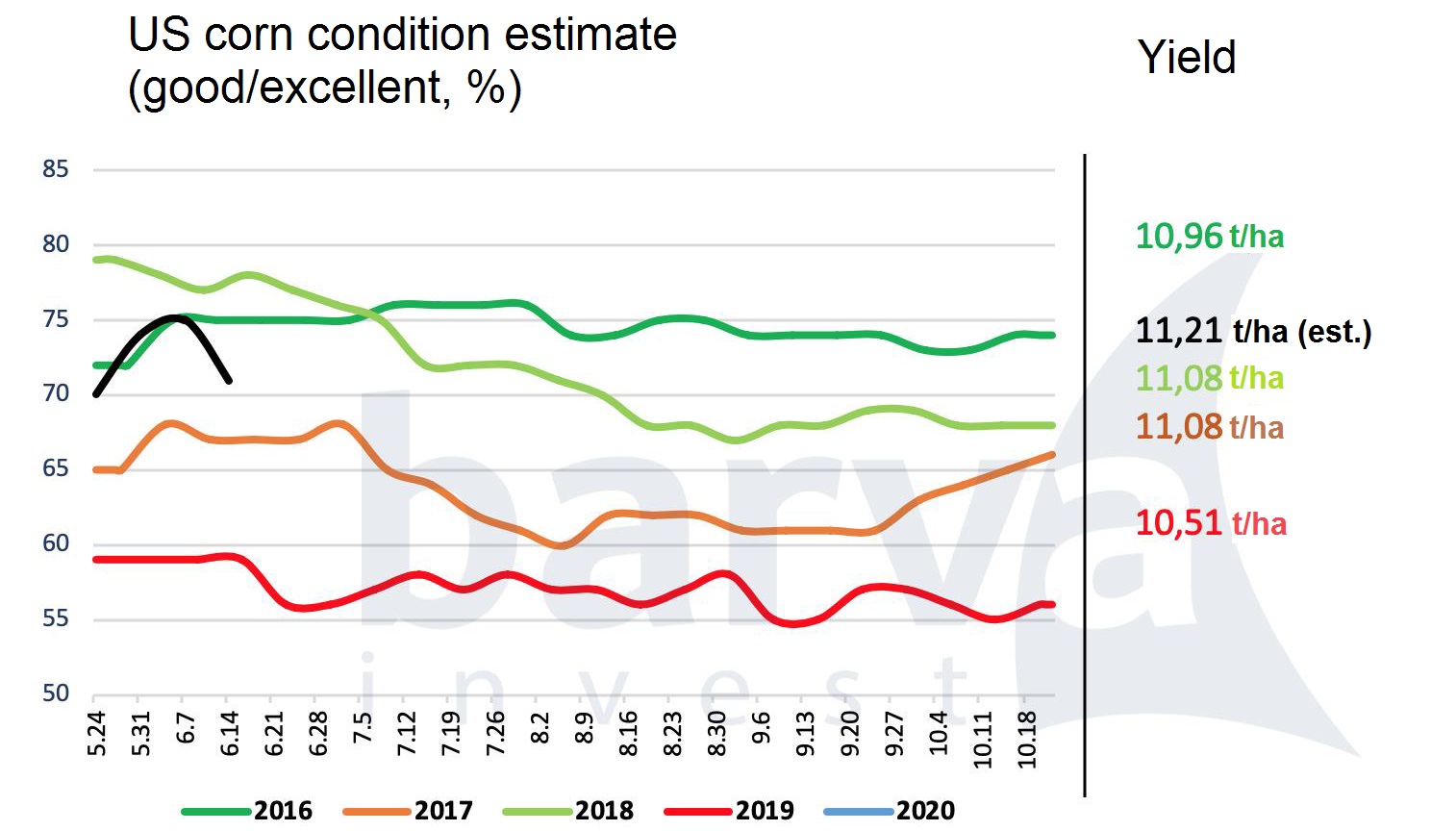 Olga Harabara and Pavel Haustov, Barva Invest analysts
Learn more: