Svarog West Group for the first time presented its own organic products at BIOFACH 2017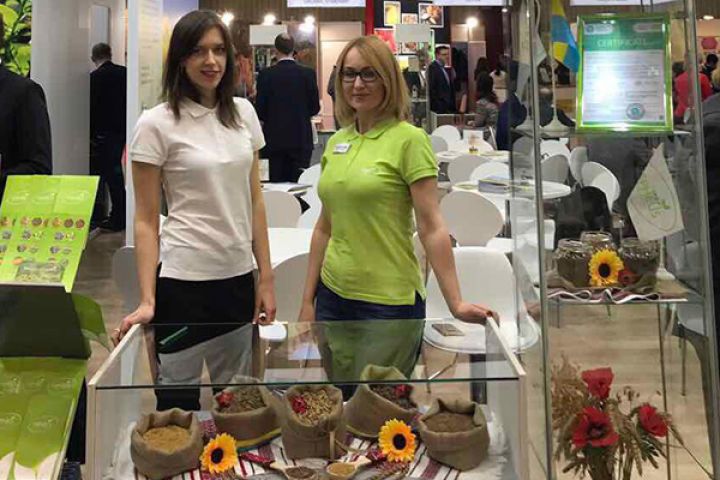 Svarog West Group Corporation presented for the first time its own organic domestic production at the leading international exhibition of organic products BIOFACH in Nuremberg (Germany).
It is reported by the press service of the corporation.
Svarog West Group presented to the participants of the BIOFACH 2017 exhibition brown and golden flax, spelt (peeled and unshelled), fennel and buckwheat, grown on its organic fields.
According to the information, received from the corporation, the idea of the organic crops production originated in 2012. At that time the company in Zhytomyr Region was created, its task was to provide a high yield of organic crops using the sparing tillage systems, careful selection of seeds and sensitive plants care.
Only the lands which had not been cultivated for about 20 years were selected for the organic crops. The lands have been also tested by the certification authority, as a result, Svarog West Group Corporation received Organic Standard Certificate of Quality.
"We are confident that the high quality and environmentally friendly products consumed by every Ukrainian make an integral part of modern life. This global trend is supported and promoted by Svarog West Group in Ukraine. Using innovative technologies, we create competitive products that have already been highly assessed by European consumers", said the Head of the corporation Andrei Gordiychuk.
According to the Head of the Corporation, in the near future the range of organic products from this agricultural holding will expand significantly.
The company adds, that organic production in Svarog West Group started with the cultivation of spelt. Today the range of organic crops has expanded to include buckwheat, pumpkin, sunflower and flax. In addition, organic apples are grown in the wild gardens. The company considers it progressive to cultivate medicinal plants — chamomile, calendula, fennel, thistle, marshmallow and coneflower.
"In 2016 we had 2.7 thousand hectares of land under organic production. We plan to increase these areas significantly. In the past year up to 98% of our organic produce was exported to Europe. The main importers of our organic products are Germany, Poland and Hungary", said Andrei Gordiychuk.