Germany came forward as key importer of Ukrainian oilseeds in 9M 2019
For the first time in recent years, in 2018 Germany became the leader among the largest importers of Ukrainian oilseed crops and has been confidently holding this position, the National Scientific Center Institute of Agrarian Economics of NAAS reports.
As reported by Nikolai Pugachev, Deputy Director of the National Scientific Center, the country's share in the total export of these products amounted to 18.7%. In Jan-Sep, Germany purchased Ukrainian oilseeds for the amount of USD 312 mln. Shares of Turkey and Belgium amount to 16.4% and 13.5%, respectively.
However, oilseeds were less actively imported by the Netherlands (9.7%), Egypt (7.3%), France (7.1%), Belarus (5.1%) and Poland (4.7%). The aggregate share of these countries in domestic exports exceeds 82%.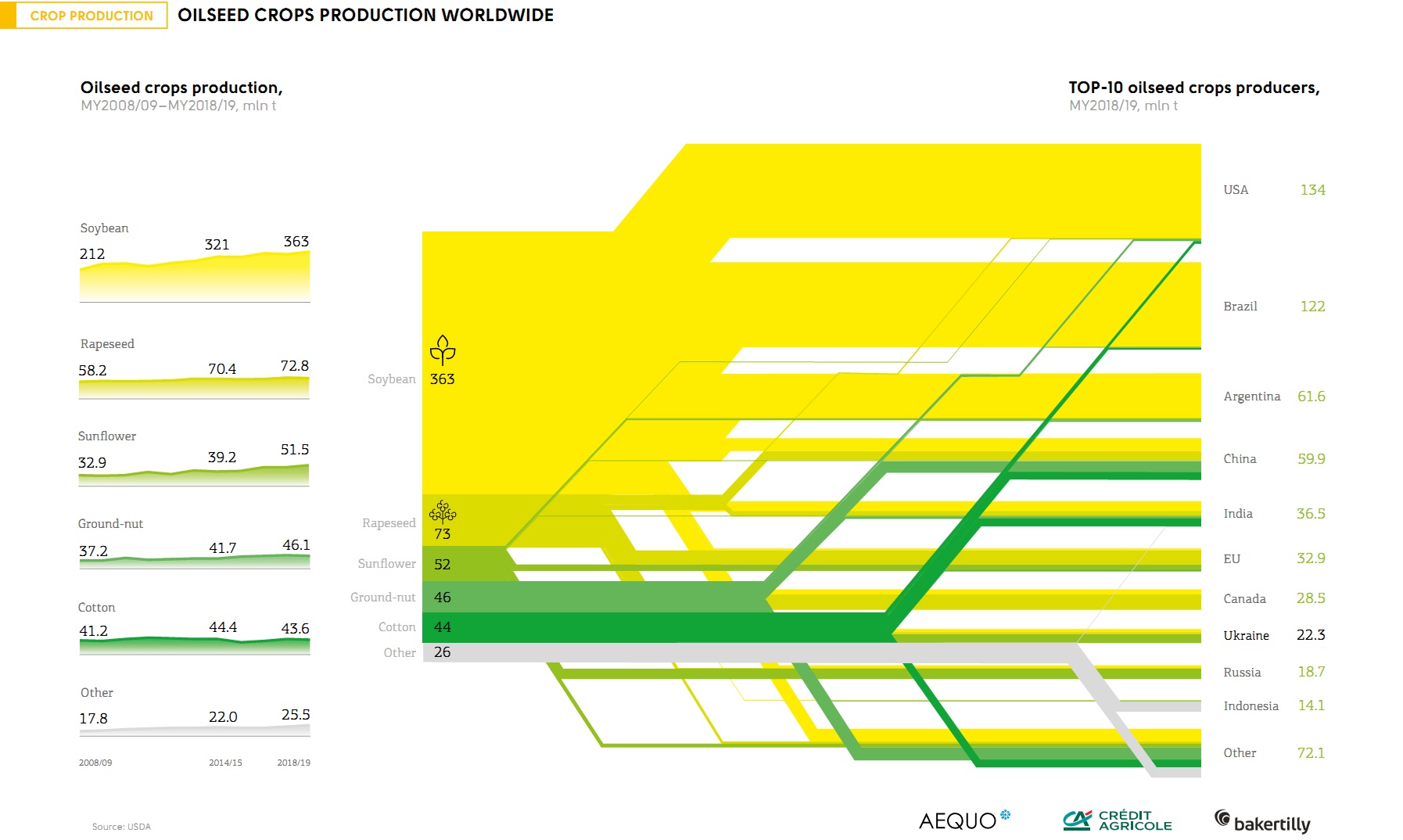 In Jan-Sep, rapeseed exports dominate in terms of supply volumes of this group of products. This oilseed crop was exported in the amount of 2.3 mln t worth USD 911 mln. Soybean export shipment exceeded 2.1 mln t having brought USD 683 mln of export revenue. Sunflower seeds trade totalled 71 thou. t for the amount of USD 29 mln.
In 9M 2019, Ukraine exported oilseeds by USD 1.65 bln, almost a quarter (+23.2%) more from the corresponding period of the previous year.
As reported, the European member states were the key importers of Ukrainian oilseeds in the indicated period with a 63.9% share of exports.
"Over the reporting period, Ukraine exported fats and oils by USD 3.3 bln, 3.9% more from the prior year's comparative period," said Nikolai Pugachev.
The main export ag commodity of this group is sunflower oil. It was sold to the global market for USD 3 bln, USD 0.1 bln more than in the first 9 months of 2018.
India has traditionally been the major buyer of fats and oils produced in Ukraine, and has been increasing its purchases of sunflower oil since 2015. In the reporting period, its share in the structure of Ukrainian exports of this type of product made up 31.3%.
Key importers of oils and fats by country:
India — 31.3%;

China — 15.3%;

the Netherlands — 10.1%;

Spain — 6.1%;

Iraq — 5.9%;

Italy — 5.8%;

Poland — 3.6%.
Together, these countries account for about 78% of the oil and fat exports value.
Previously reported that in 9M 2019 exports of Ukrainian grains increased by almost 44% against last year's levels and reached a record 39.8 mln t.