Sunflower export from Ukraine boosted 10.5x so far 2020/21
The increase of new crop sunflowerseed exports from Ukraine in September-December is one of the features of 2020/21, Ukroilprom reports.
"In the first four months (September-December) of 2020/21, 148.9 thou. t (79% of 2020 volumes) were exported from Ukraine valued at USD 49.8 mln (USD 334.4 per ton). The export supply surged 10.5x YoY," the report reads.
The EU countries are the main importers of Ukrainian sunflower with more than 114 thou. t of purchases, an increase of 10.6x. Among these countries, the largest volumes of sunflower were exported to Bulgaria — 101.9 thou. t, an increase of 250x YoY, for the amount of USD 33.218 mln (USD 326 per ton).
Analysts note that 29.825 thou. t was exported to Turkey in September-December 2020/21, an increase of 57.6x YoY, at a total cost of USD 6.37 mln (USD 213.6 per ton).
"In the domestic market, sunflowerseed prices in 2020/21 started rapidly rising and reached USD 770-800 per ton at the end of 2020. At the same time, its sale by crushers is held back," they add.
As reported, this is also one of the main features of the current marketing year, when domestic prices are twice or even three times higher than the prices at which sunflowerseeds are exported.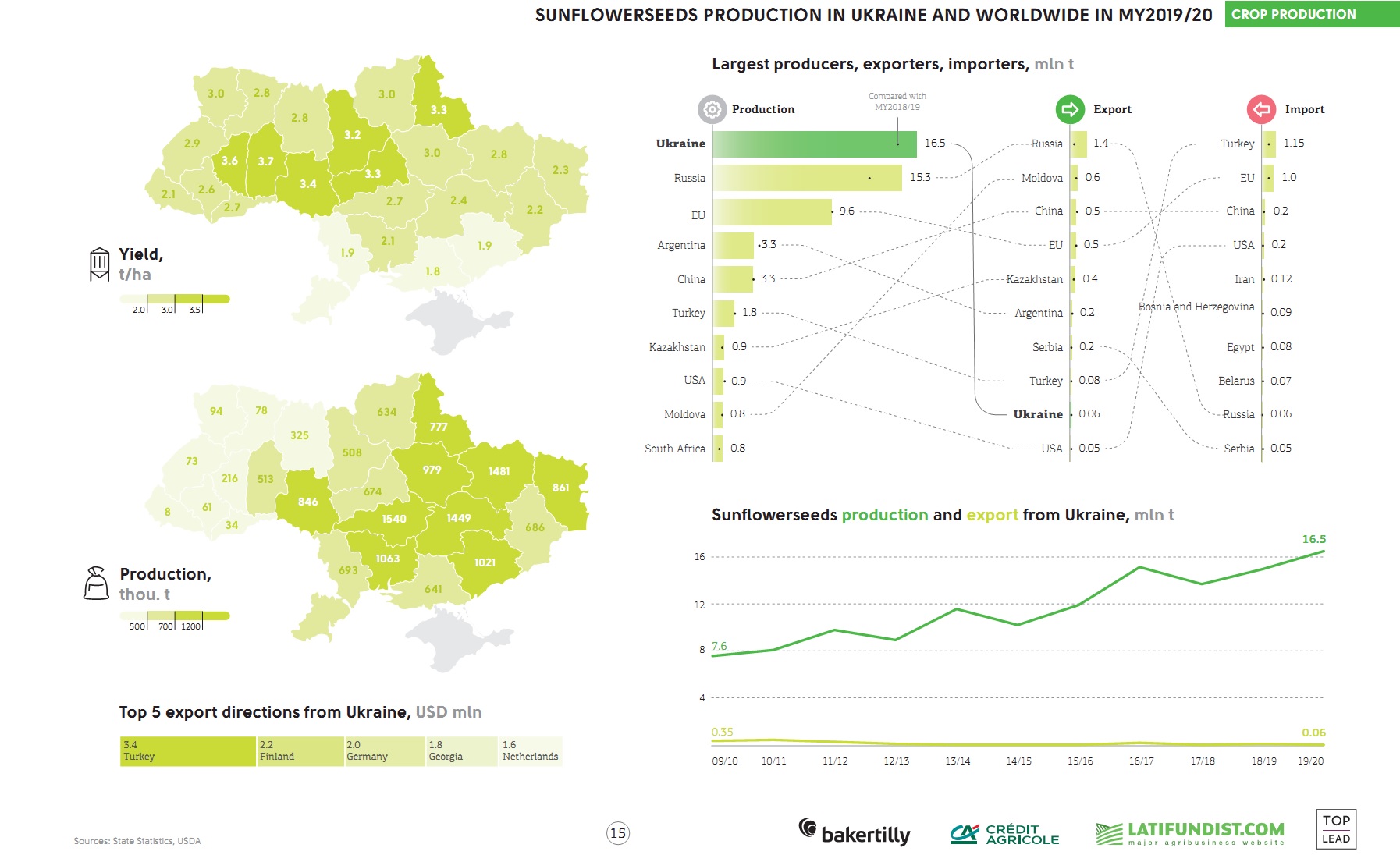 "External factors, such as rising prices for soybeans and oils on the world market, also influence the growth of sunflowerseed prices, yet prices in the domestic market are higher than the world, and export prices are much lower than domestic and world prices," the experts comment.
Sunflowerseeds export from Ukraine in 12M 2020 totalled 187.9 thou. t, 2.3x more YoY.
In the 2020 production season, agriproducers in Ukraine harvested 13.07 mln t of sunflower.