China topped rating of largest Ukrainian ag commodities importers first time in 2020
Grain export shipment from Ukraine has increased significantly over the past 10 years. 51.3 mln t of Ukrainian grain was exported to foreign markets in 2020. This represents a 3.7-fold increase over 2010, although 10% less than in the record-breaking year of 2019, the NSC Institute of Agrarian Economics of NAAS reports.
Grain export revenue totalled USD 9.4 bln last year. A decline in shipments of most of the commodity groups was observed compared to 2019.
"Corn shipment stood at 27.9 mln t, 14% less than the previous year's 32.3 mln t, yet almost 7x higher from 2010. Wheat export volumes reached 18.1 mln t. This is 10% less than in 2019, but 3.7x higher from 2010. Barley shipment to foreign markets in 2020 increased compared to the previous year by 0.9 mln t to 5.0 mln t. Rye exports slashed significantly again — by 63% to 5,000 t," comments Nikolai Pugachev, deputy director of the NSC Institute of Agrarian Economics.
As before, Asia, Africa and Europe were the major buyers of Ukrainian grain in 2020.
Nikolai Pugachev notes that the distinctive feature of 2020 was Egypt's ousting from the top position in the rating of the largest importers of Ukrainian grains, which it had held since 2011, and the further strengthening of China's position.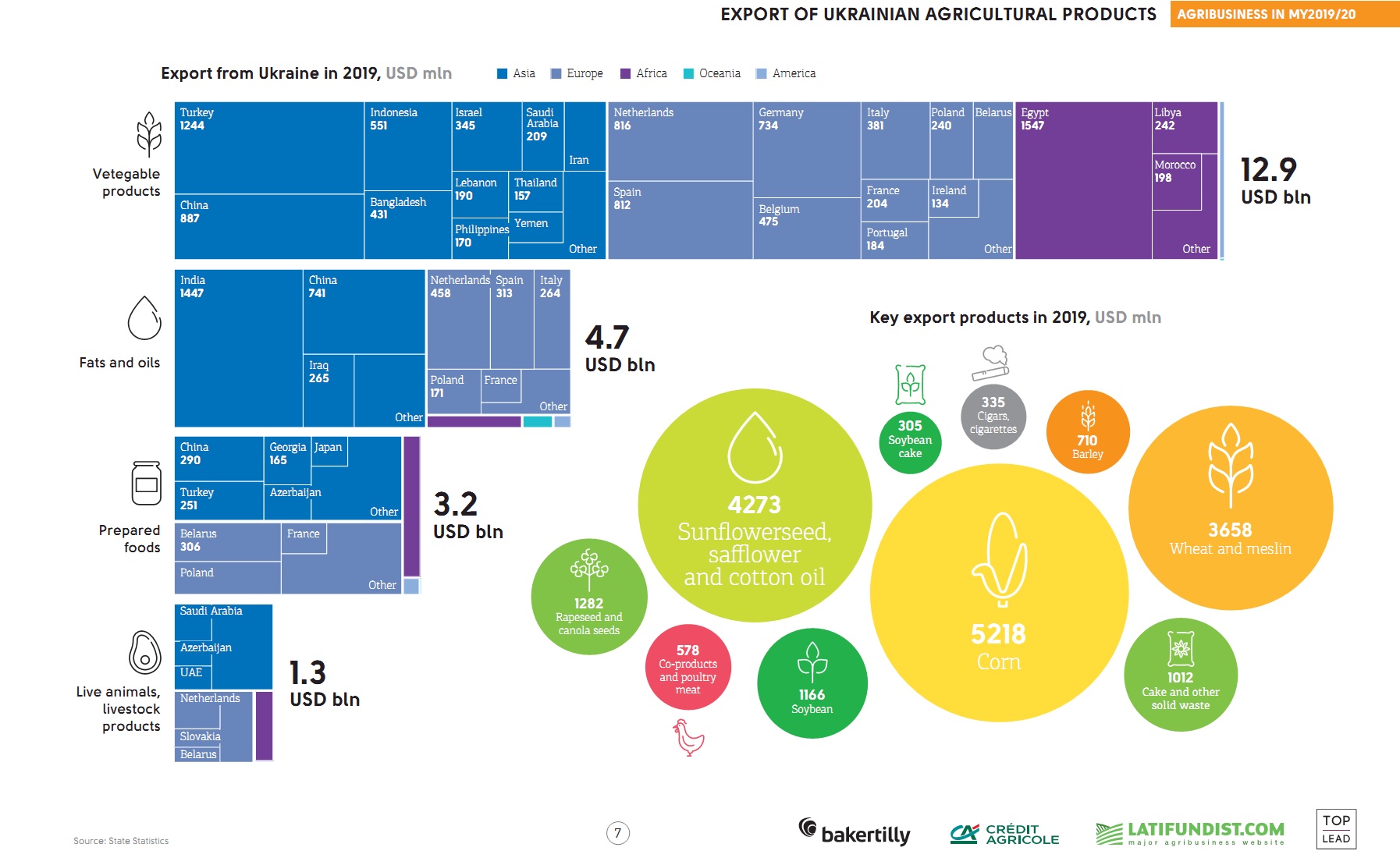 "In 2020, China for the first time led the top 10 importers of Ukrainian grain, having purchased about 20% of the value of domestic grain exports worth USD 1.86 bln. Over three years, since 2018, this country has increased the volume of grain purchases from Ukraine by more than threefold. At the same time, China's share in the value of domestic grain exports increased from 8.9% in 2019 to 19.7% in 2020," he adds.
Egypt bought 15% less Ukrainian grain last year than in 2019, supply was worth USD 1.12 bln. Its share in total exports made up 11.9%.
The largest importing countries in the reporting period:
China: USD 1855 mln
Egypt: USD 1120 mln
Indonesia: USD 547 mln
Spain: USD 543 mln
Netherlands: USD 519 mln
Turkey: USD 473 mln
Tunisia: USD 347 mln
Bangladesh: USD 317 mln
South Korea: USD 282 mln
Libya: USD 265 mln
These 10 states accounted for 67% of the value of all grain export from Ukraine.
Previously reported that staple grains export shipment from Ukraine totalled 30.38 mln t as of February 15.
Learn more: