USDA shortened global old and new crop corn stocks: June report
In its June report, USDA lowered the forecast for the global corn ending stocks in 2020/21 and 2021/22 to 280.6 mln t and 289.41 mln t, respectively.
World corn production in 2020/21 is expected at 1,125.03 mln t and exports at 187.04 mln t.
USDA reduces old/new crop world #corn stocks, but new crop #wheat increases with bigger crops expected in USA, Europe, Russia and Ukraine. #China imports of corn and #soybeans unchanged in both crop years. pic.twitter.com/y3EJ2eR2uH

— Karen Braun (@kannbwx) June 10, 2021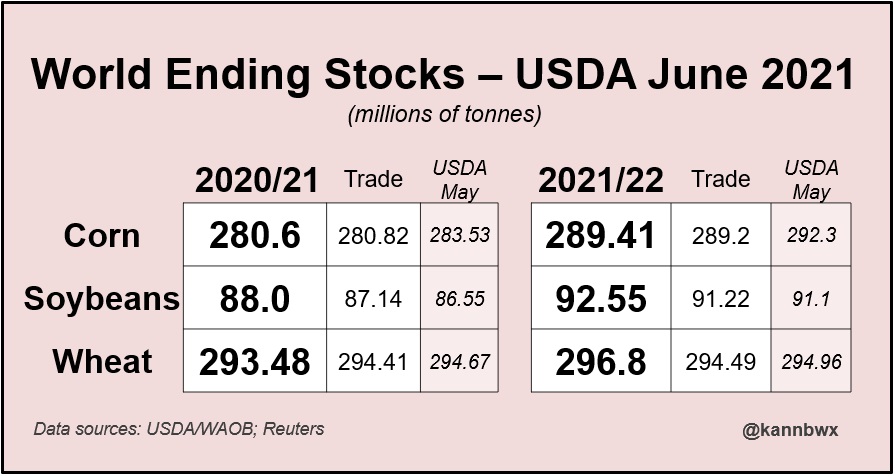 The Agriculture Department reduced its estimate for Brazil's corn crop in 2020/21 to 98.5 mln t from 102 mln t. No change was made for Argentina's corn crop.
The global corn production in 2021/22 is forecast at 1,189.85 mln t, unchanged from the previous month, with exports at 197.47 mln t.
Corn production in Ukraine in 2021/22 is forecast at 37.5 mln t, flat with the May forecast, exports at 30.5 mln t and ending stocks at 1.11 mln t.
As of June 9, corn export from Ukraine was 21.78 mln t, 25% down YoY. Corn export shipment in the 2020/21 season is limited to 24 mln t.
Previously FAO reported that corn will be the key driving force of the global coarse grains production growth in 2021.
Learn more: