IGC September forecast for world grain production 2021/22 grew on corn
Based on a higher-than-forecast corn and sorghum production, but with lower wheat, barley, and oats harvest, the 2021/22 total world grain production (wheat and coarse grains) forecast is 5 mln t higher than the August IGC outlook, at 2,289 mln t, up 3% YoY.
IGC analysts mark that considering larger than previously estimated opening stocks and increased production, and with the figure for consumption unchanged m/m, the outlook for global stocks at the end of 2021/22 is boosted by 10 mln t m/m, mainly for maize. Including increased wheat shipments, the forecast for global total grains trade (Jul/Jun) is up by 2 mln t m/m, to 416 mln t.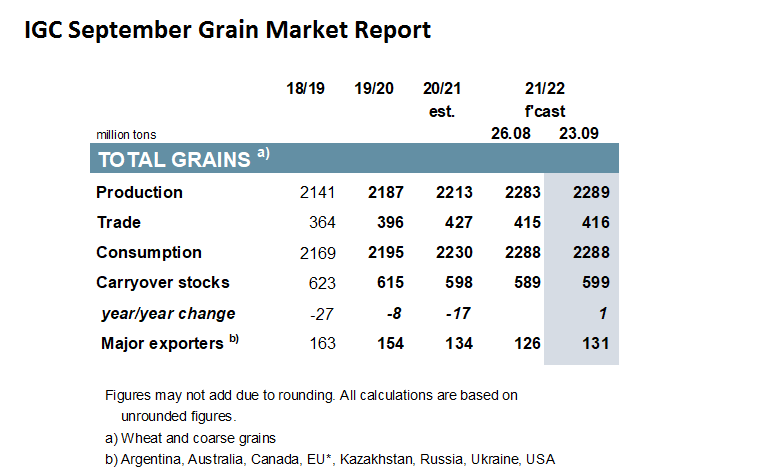 Led by a jump in maize use amid more ample supplies, world total grains consumption is expected to expand by 3%, to 2,288 mln t, IGC report reads.
"After four successive annual contractions, world stocks are expected to broadly stabilise, as falls for wheat, barley and oats are seen being balanced by build-ups of maize, sorghum and rye," analysts project.
Grains trade is predicted to shrink by 11 mln t y/y, to 416 mln t, mainly linked to smaller shipments of maize and barley.
Staple grains export from Ukraine as of September 22 totalled 12.12 mln t.
The USDA in its September report put the projection for Ukraine's wheat export in 2021/22 at 23.5 mln t, corn at 32 mln t.
Learn more: