TOP 10 Soybeans Exporters from Ukraine in 2019
The tendency to cut soybean sown areas in Ukraine has been persisting for years. Over the past three years, the area has decreased by 10% more. In the 2020/21(September-August) season, this oilseed crop was planted by Ukrainian agrarians on 1.45 mln ha.
During the last four years, the share of soybean export on average is 63% of the production volume. In 2020/21, this indicator will reach 66% of total outturn according to the USDA(The United States Department of Agriculture (USDA)) forecasts.
It should be stated, the export volumes of soybeans in 2018/19 fell 8.2% YoY amid the 21% production growth.
A decline in production and exports is also projected to reach 5% in 2020/21.
As regards imports, Ukraine has traditionally satisfied the needs of domestic processing with its own raw materials. Imports of pulses were limited strictly to sowing material.
But this year, the situation changed dramatically after the Pology OEP imported 20 thou. t of Brazilian soybeans to secure the production with raw materials. This import delivery was the first in the history of Ukraine.
It bears reminding that this was preceded by a sharp increase in domestic procurement prices and a scarce supply from agriproducers. Some market players claimed that the agrarians were holding back the sales in anticipation of further price increases. But most of the processors and traders we interviewed said that soybean was simply "traded abroad".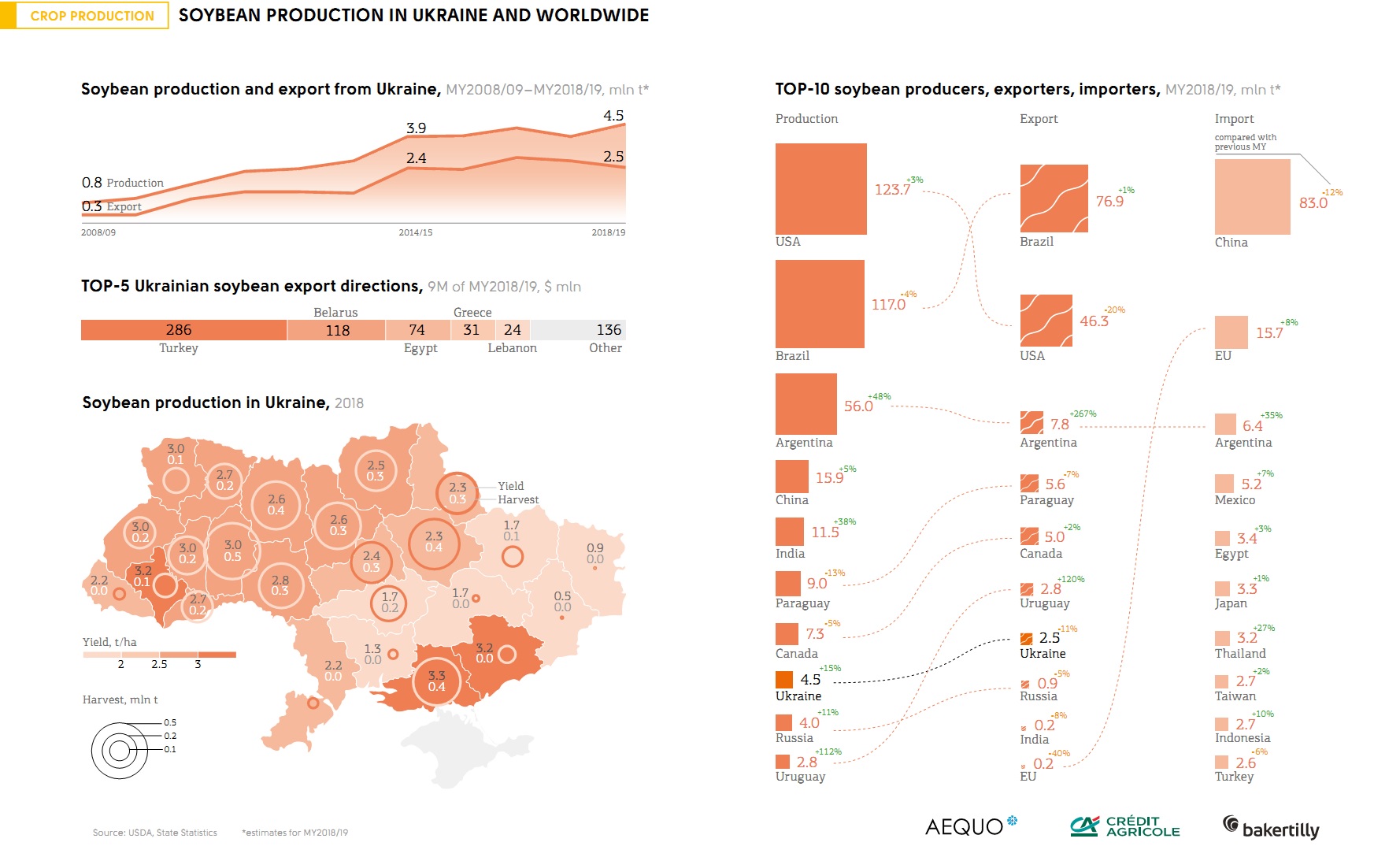 "In the coming four months, by my estimates, the domestic market will be short of soybeans amid the overproduction in the external market. Something, as I have said, can be replaced with sunflower meal, yet it is not the case for everyone," Dmytro Motuzko, AdamPolSoya project manager at ATK, told Latifundist.com.
The analysis of exporting companies traces a pattern that the bulk of soybeans were shipped to Turkey and Egypt.
"We wanted to contract with the Turks to supply soy meal starting from the new year. And they told us: "Guys, your price is not working for us. Our domestic price is lower, your meal is expensive." It turned out that they had imported 2.2 mln tons of beans before the New Year when the price of soybean was USD 300, and now they produce meal much cheaper than ours," a trader at a soybean processing enterprise, located in the central part of the country, told anonymously.
The TOP 10 companies hold a 27% share of the total soybean market in Ukraine.
Data source: Full cycle marketing solutions agency YOUR TOTAL MARKET. Field of expertise: market analysis, marketing, creativity, strategy.
Julia Lysenko, Latifundist.com analyst