TOP 10 Unrefined Sunflower Oil Producers 2019/20 in Ukraine
Ukraine retains the status of the world's largest producer and exporter of sunflower oil. With regard to unrefined sunflower oil, its production was one of the fastest-growing segments of the Ukrainian agricultural market last year.
In the year 2019, crusher in Ukraine produced 6.33 mln t of unrefined sunflower oil, while in 2013 the output reached 3.58 mln t. Sunflower oil dominates vegetable oil production in the country, it accounts for 92.2% (5.84 mln t) of the total, rapeseed and mustard oil production stands at 2.3% (146.87 thou. t), other types of vegoils make up 5.5% (346.89 thou. t).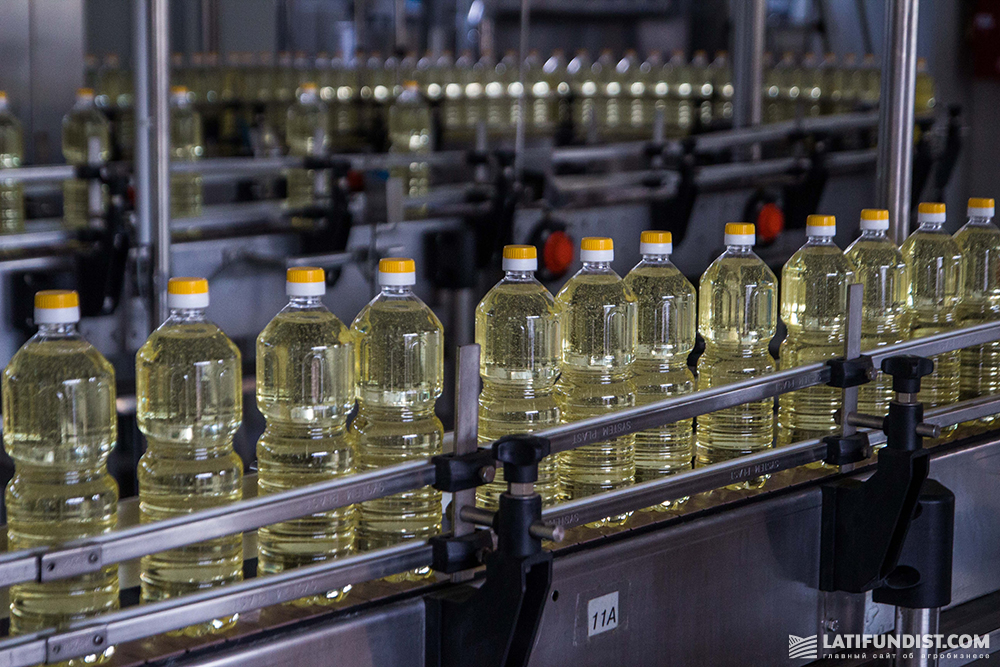 According to USDA estimates, Ukraine produced 7.05 mln t of sunflower oil (refined and unrefined) in 2019/20(September-August) and thus maintains its top spot, outpacing its closest competitor by nearly a quarter.
The dynamics over the past few years is impressive. In 2018, there was a reduction in sunflower oil production to 5.4 mln t, until 2019 the processing plants not only recovered but even increased capacity by 13.7% to 5.8 mln t. If viewed in a five-year period, the annual average growth rate stands at 10.6%. During the period January-October 2020, 4.76 mln t were produced, a 6.4% increase from the corresponding period last year (4.47 mln t).
In the current 2020/21 season, there is a decrease observed in sunflower oil production, which is driven by a drop in the production of sunflowerseeds and a decrease in their oil content as a result of the long-term negative impact of the dry weather conditions.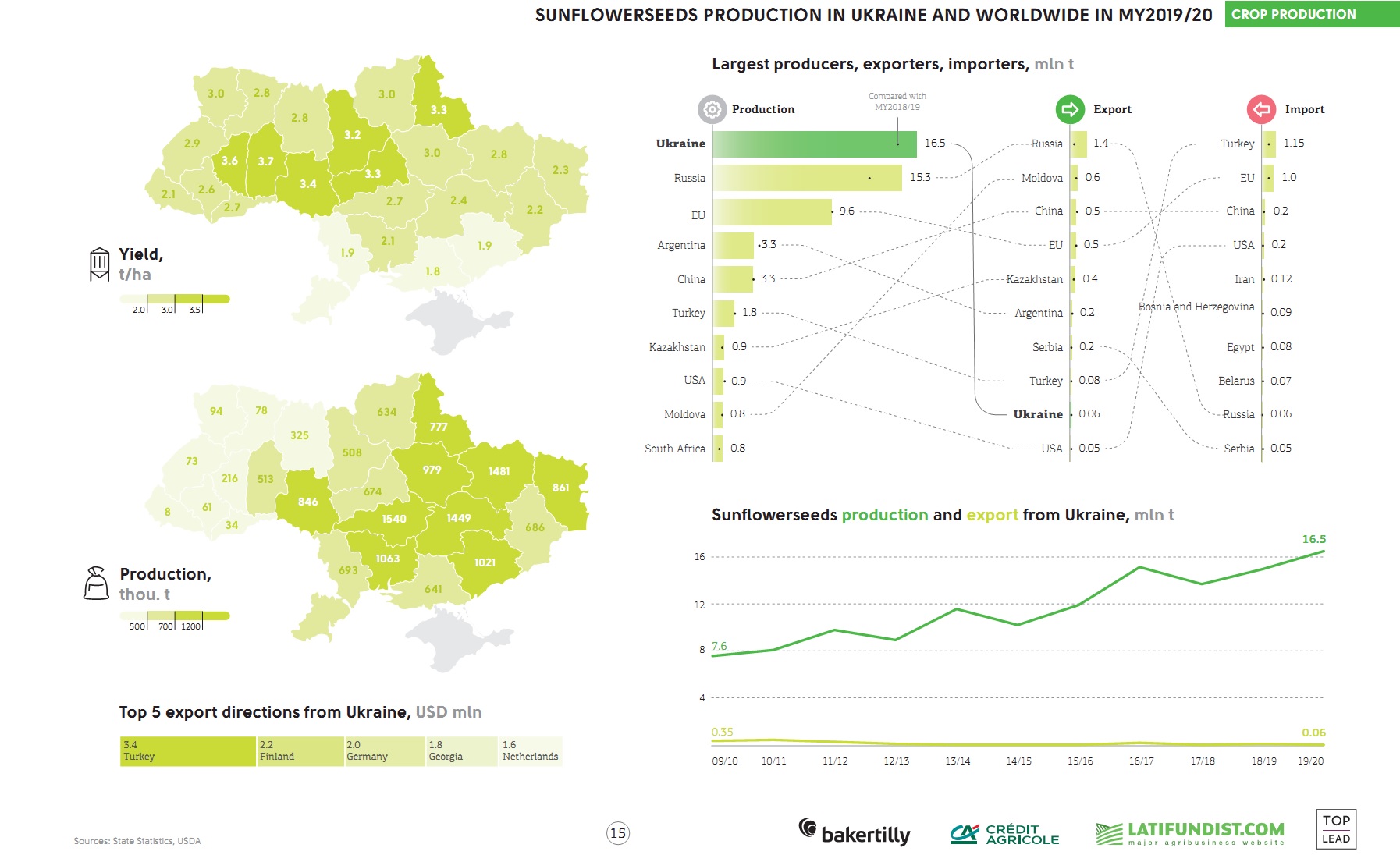 Grains and pulses stocks in Ukraine as of November 1 dropped to 20.4 mln t, 33% or 10.2 mln t lower YoY (30.5 mln t), the data of the State Statistics Service show. Sunflower reserves stood at 7.2 mln t (Nov 1, 2019: 8.8 mln t) or 17% lower, including 4.1 mln t stored by agricultural producers, and 3.2 mln t at enterprises engaged in storage and processing.
Provided by the data of the Harvest Online 2020 project, the sunflower average yield in Ukraine amounted to 2.05 t/ha. As of November 19, agriproducers harvested 13 mln t of sunflowerseeds on 6.4 mln t.
"This year several factors impacted the formation of sunflower prices. Firstly, it is the reduction of sown areas. Secondly, it is an unexpected harvest decline. In early summer, a record sunflower harvest was projected for Ukraine, about 16 mln t," noted Dmitry Sukh, Commercial Director G.R. Agro.
Oil production may decrease by 15% to 5985 thou. t, still it won't change Ukraine's position in the market. In 2019/20, Ukraine also led exports with a total market share of 51% or 6650 thou. t, thus once again confirming its status as the world's largest sunflower oil producer and exporter. But, similarly to production, trade volume is projected to decrease by 17.3% to 5500 thou. t in 2020/21.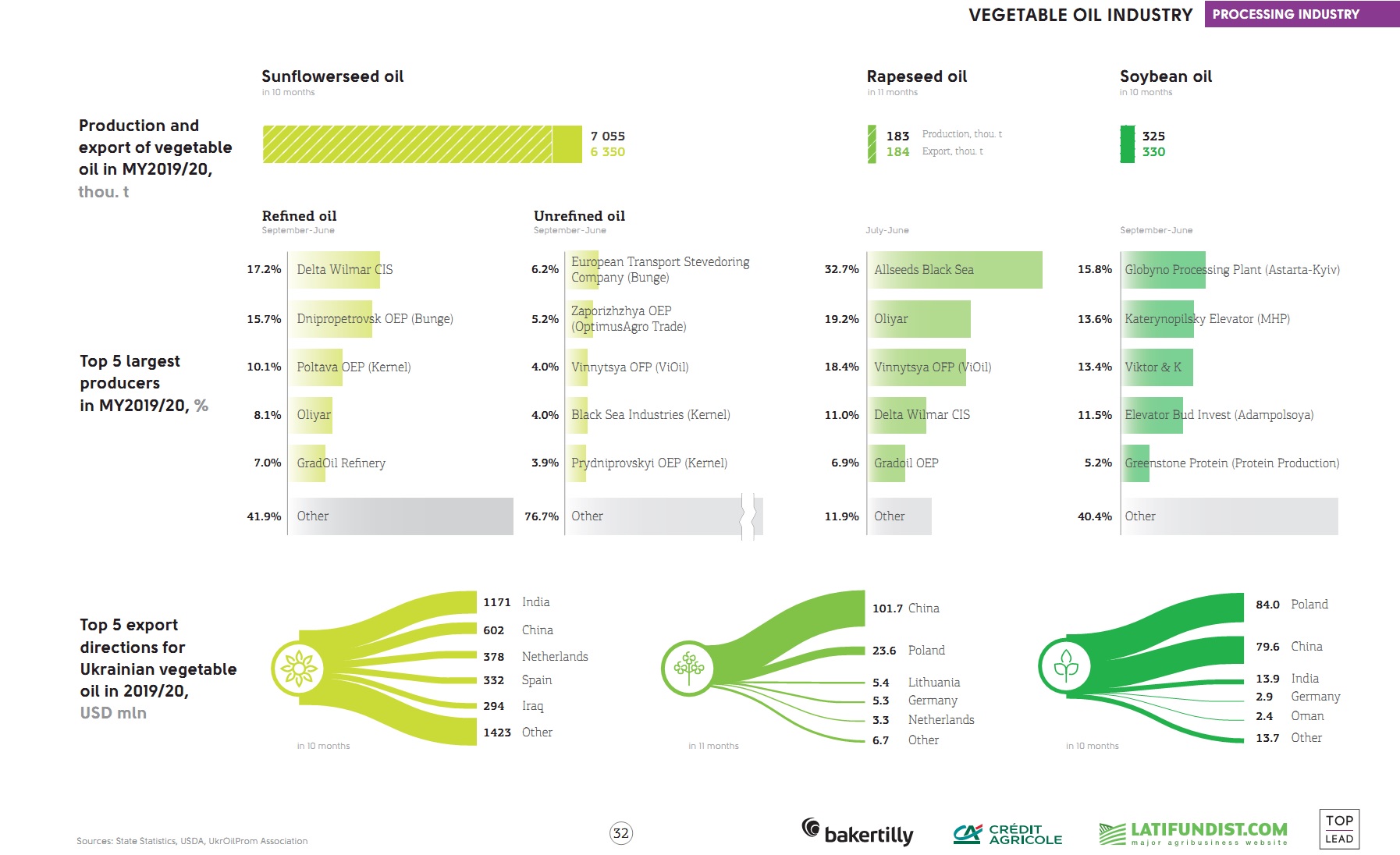 According to Ukroilprom analysts, oil extraction plants in Ukraine are 50% loaded of their total capacity, despite the fact that the domestic oil and fat industry over the past 15-20 years has become a world leader.
"There are at least 118 oil extraction plants in Ukraine, their annual processing capacity is 23 mln t, and 50 thou. t per day. If earlier it cost UAH 500 mln, now the amount reaches UAH 750 mln. It seemed that the agrarian earns from it, but it is impossible to buy sunflower, there is no sunflower. The plants are now operating at 50% capacity. But it is expected that the price will rise even more. To top it all, mass export of sunflower has intensified," the Director of Ukroilprom Association Stepan Kapshuk stated.
Latifundist.com compiled a rating of the 10 largest producers of unrefined sunflower oil in Ukraine in the 2019/20 season. The top five companies comprise 15 production sites accounting for half of all oil extraction in Ukraine.
Volodymyr Demchuk, Latifundist.com analyst