Astarta-Kyiv sugar export plunged 85% in 2019
Astarta-Kyiv agri-industrial holding cut sugar sales in 2019 by 7% to 301 thou. t which drove revenues down 2% to EUR 116.9 mln.
As noted in the company's report, due to weak global sugar prices, exports fell by 85% to 20 thou. t (2018: 131 thou. t), the segment's EBITDA totalled EUR 2.3 mln. Sugar production last season was reduced by 14% to 302 thou. t. Gross margin decreased from 13% in 2018 to 8% in 2019 reflecting the higher cost of sales.
Last year, Astarta-Kyiv harvested 1.01 mln t of grains and oilseeds. The export share accounted for 80% compared to 72% in 2018. EBITDA of the segment in 2019 was EUR 53 mln.
In the reporting period, the company processed 231 thou. t of soybeans, accounting for 14% of the Ukrainian soybean processing market, with segment EBITDA reaching EUR 7 mln. Exports accounted for 89% of revenue in 2019 in value terms.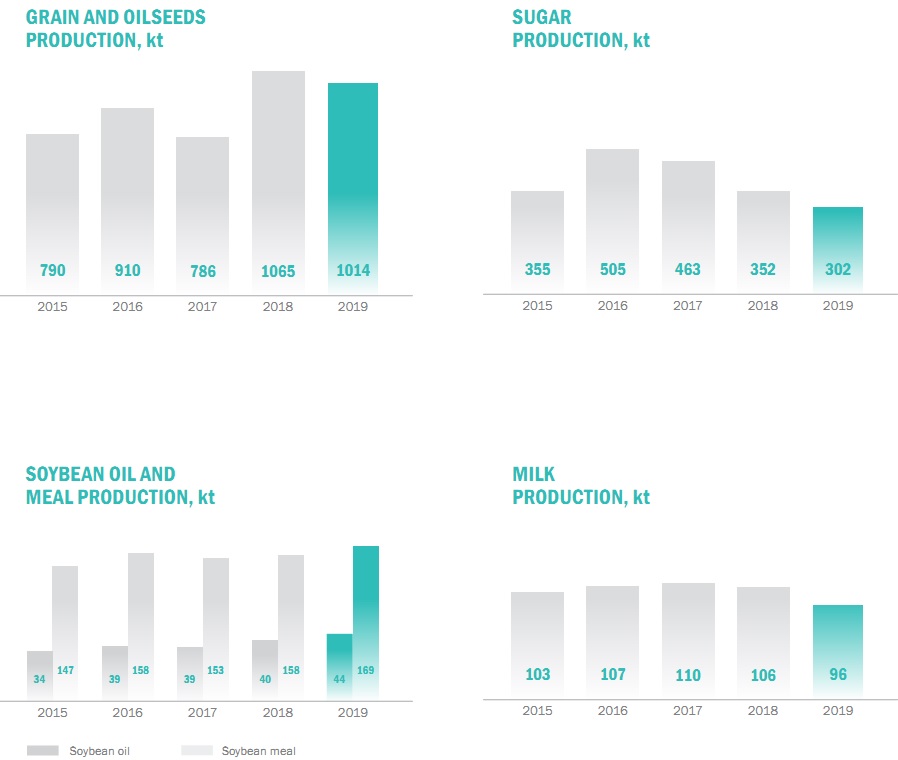 Milk production stood at 96 thou. t, 10% below 2018. Segment EBITDA reached EUR 16 mln.
Segments revenues include:
agriculture — EUR 205.7 mln (46% in the consolidated income structure);
sugar — EUR 116.9 mln (26%);
soybean — EUR 82.7 mln (18%);
dairy — EUR 34.6 mln (8%).
In 2019, Astarta's revenues increased to EUR 448 mln, up by 20% y-o-y. EBITDA increased by 15% from EUR 68 mln to EUR 78 mln. Exports contributed EUR 253 mln or 56% of the company's revenues of which sales to the EU markets totalled EUR 152 mln.
The company's net profit made up EUR 1.69 mln vs. EUR 21.1 mln of net loss in 2018.
"Entering the new 2020 season, I would like to recap the 2019 results. Looking back, I must confess that last year was not easy, but at the same time, very motivating — our business had a clear task to mobilize internal resources, and the company today is a more resilient business than a year ago. Bespoke system for the efficiency improvement (Lean-based) and further implementation of new IT-solutions in agribusiness management delivered us cost and resource savings. In 2020, we continue to develop our vision in three priority areas: operational improvements, digitization and ESG compliance," commented Viktor Ivanchyk, Founder and CEO.
Previously reported that Deutsche Investitions- und Entwicklungsgesellschaft (DEG), a member of German KfW Group, issued a USD 10 mln tranche to Astarta-Kyiv under the credit agreement totalling USD 20 mln.