Ukraine provided the bulk of EU sunflower oil import: European Commission
The European Union (EU) intensified imports of vegetable oils within thirteen weeks of the 2020/21(July-June) marketing year as compared with the prior year's comparative period, the European Commission customs surveillance data show.
Sunflower oil import to the EU increased by 2% to 462.6 thou. t, soybean oil by 10% to 123.1 thou. t, rapeseed oil by 20% to 81.8 thou. t, palm oil by 1% to 1.453,6 thou. t.
Provided by the report data, Ukraine is the key supplier of sunflower oil to the EU in the reporting period: 93.2% of the total supply or 431.14 thou. t.
Ukraine also stands the key exporter of rapeseed and soybean oil: 40.6% (33.19 thou. t) and 42.2% (51.89 thou. t), respectively.
The country's positions in other ag commodities exports to the EU:
1st: 66.8% of rapeseed supply (966.6 thou. t)
1st: 42% of rapeseed meal shipment (33.3 thou. t)
2nd: 34.3% of sunflowerseed meal supply (167.65 thou. t)
5th: 6.9% of sunflowerseed export (5.48 thou. t)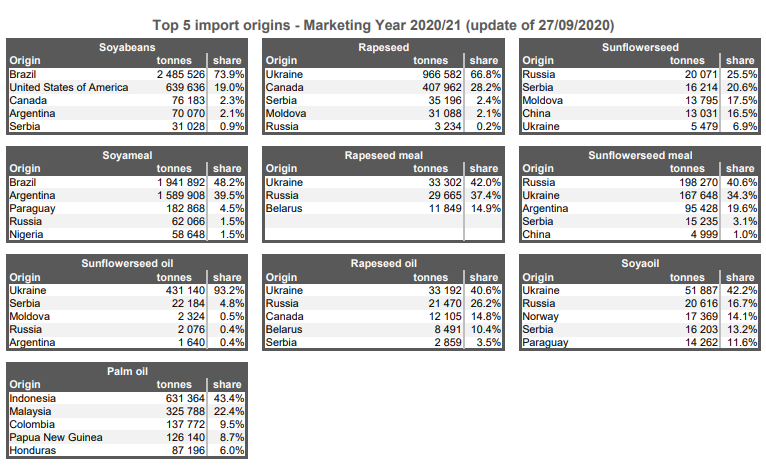 Previously reported that Ukraine's Food Safety and Consumer Protection Service appealed to EU member states to take the appropriate decision to lift the restrictions imposed on Ukraine in terms of poultry export.
Learn more: