Grain storage capacity 2020: regions rating
In the year 2020, elevator storage capacity in Ukraine summed 55.3 mln t, the data in the rating by Elevatorist.com reveal.
All existing elevators — farm, portside, mill, feed and crushing plants — are currently in operation. According to statistical data, agriproducers in Ukraine harvested 63.35 mln t of grains and legumes in 2020.
In the aggregate volume of elevator capacity in Ukraine, floor storage currently accounts for 34.8%, SOGs for 18.73% and metal silos for 46.47%.
The construction of new grain elevators was underway in many regions of Ukraine. Chernihiv region added the most, 660 thou. t of storage capacity and thus rose from the 12th position of the previous year to the 9th. Vinnytsya region also increased its capacities in 2020 by 380 thou. t, remaining in the 4th position, and the third is still held by Mykolaiv region.
The rating of regions by elevator grain storage capacity in 2020:
Odesa: 5.39 mln t
Poltava: 5.16 mln t
Mykolaiv: 4.29 mln t
Vinnytsya: 4.13 mln t
Kirovohrad: 3.63 mln t
Dnipropetrovsk: 3.15 mln t
Kharkiv: 2.97 mln t
Khmelnytsky: 2.89 mln t
Chernihiv: 2.86 mln t
Sumy: 2.76 mln t
Cherkasy: 2.7 mln t
Kyiv: 2.61 mln t
Zaporizhzhya: 2.19 mln t
Kherson: 1.93 mln t
Ternopil: 1.77 mln t
Zhytomyr: 1.25 mln t
Donetsk: 1.07 mln t
Rivne: 1.01 mln t
Lviv: 979.95 thou. t
Luhansk: 902.65 thou. t
Volyn: 839.17 thou. t
Ivano-Frankivsk: 507.31 thou. t
Chernivtsi: 230.6 thou. t
Zakarpattya: 111.45 thou. t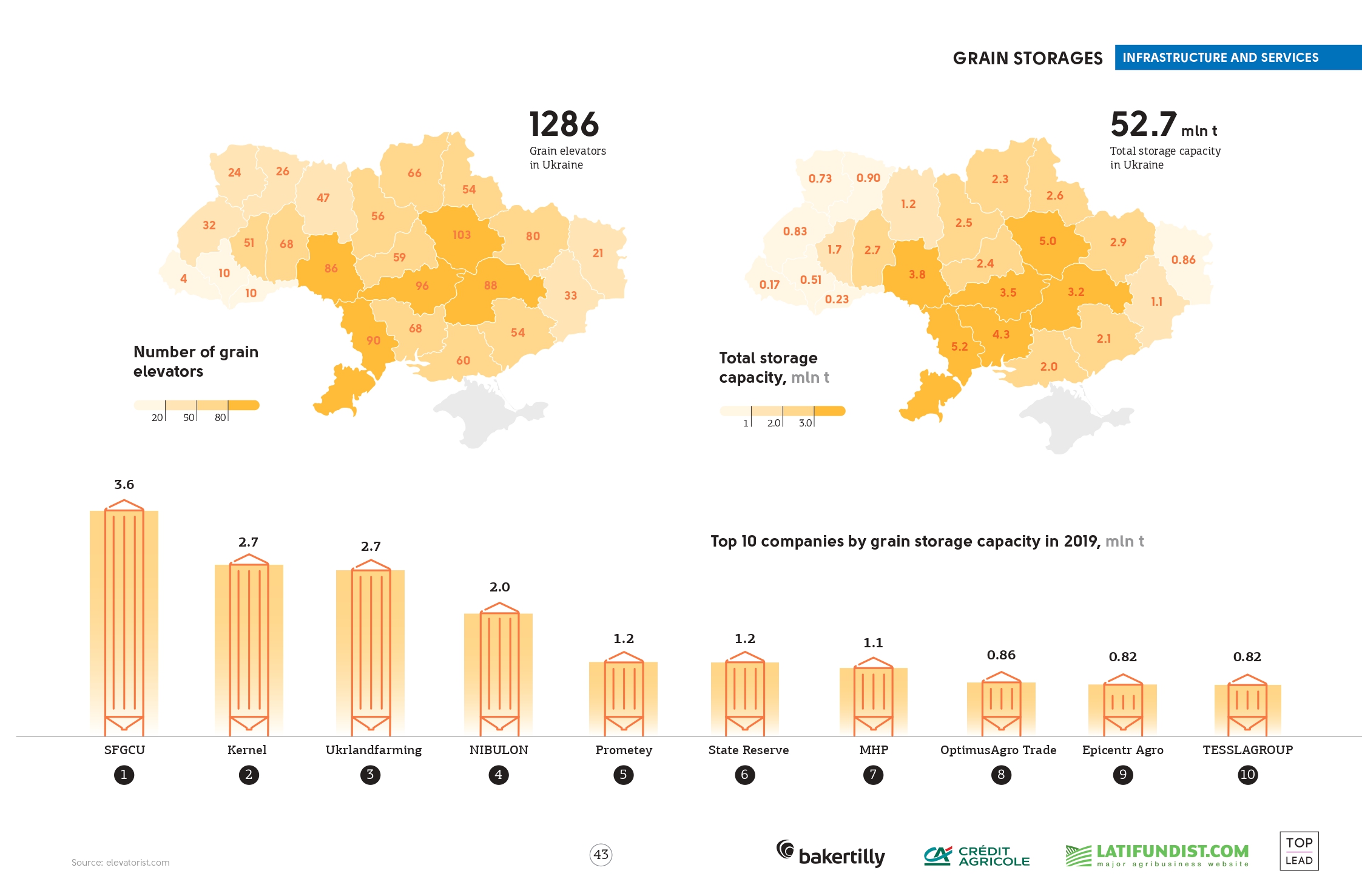 Ukrlandfarming's Agroterminal Construction tops the rating of the largest grain storages in Ukraine in 2020.
In 2021, a number of companies plan to complete the earlier initiated construction and launch new projects in Ukraine.