Crop production in the lead of agribusiness sectors — YouControl study
Crop production is the sector that generates the highest revenue in agribusiness. The study on the most profitable sectors of the Ukrainian agro-industrial complex was conducted by the YouControl analytical system.
"Of the top 10 agricultural categories, the highest aggregate revenue in 2018 was accumulated by the companies engaged in the production of grains, legumes and seeds," state the analysts.
As reported, this sector earned about 3x more than the companies in nine other top agricultural categories combined. Thus, among the top 20 agricultural enterprises, half of them are engaged in the production of these crops. Among them, Zernoproduct MHP, Druzhba Nova, Enselko Agro and Forest Sunrise have the highest capacity.
Poultry farms ranked second in terms of revenue in the agricultural sector, with a huge gap of 7x between them and the leaders. 9 out of 20 positions are held by the agricultural companies of this category in 2018. Among them are Vinnytsya Poultry Farm, Myronivska Poultry Farm, Avangard, Agromars and Yasensvit.
The study results show that pigs breeding business is among the agricultural production categories generating the highest revenues.
"The number of companies in the "Crop production" category has also had its effect. Thus, the revenue of more than UAH 420 bln was generated by apx. 38 thou. enterprises. Like in the case of money, this figure is 8x higher from the figures reached by all categories of the rating. The smallest number of companies (52) is represented in the "Seed treatment for reproduction" category. Lebedyn Seed Plant ranks third among the TOP-20 agricultural enterprises belonging to this category," reads the study.
The report also notes that agricultural commodities are one of the key components of Ukrainian exports. The share of grain in the structure of Ukraine's exports for the first 9 months of 2019 equals 18.4%, being almost identical to the volume of ferrous metals exports (18.7%). At the same time, according to the State Statistics Service, grain exports increased by 42% YoY, while sales of ferrous metals decreased by 10%.
"Thus, Ukraine's agro-export continues intensifying and taking over the positions previously held by traditional metallurgy products. Together, companies from the leading categories drew about UAH 150 bln of foreign trade revenues. The companies producing crops again dominated export shipments. Their result is worth UAH 138 bln," summed up the experts.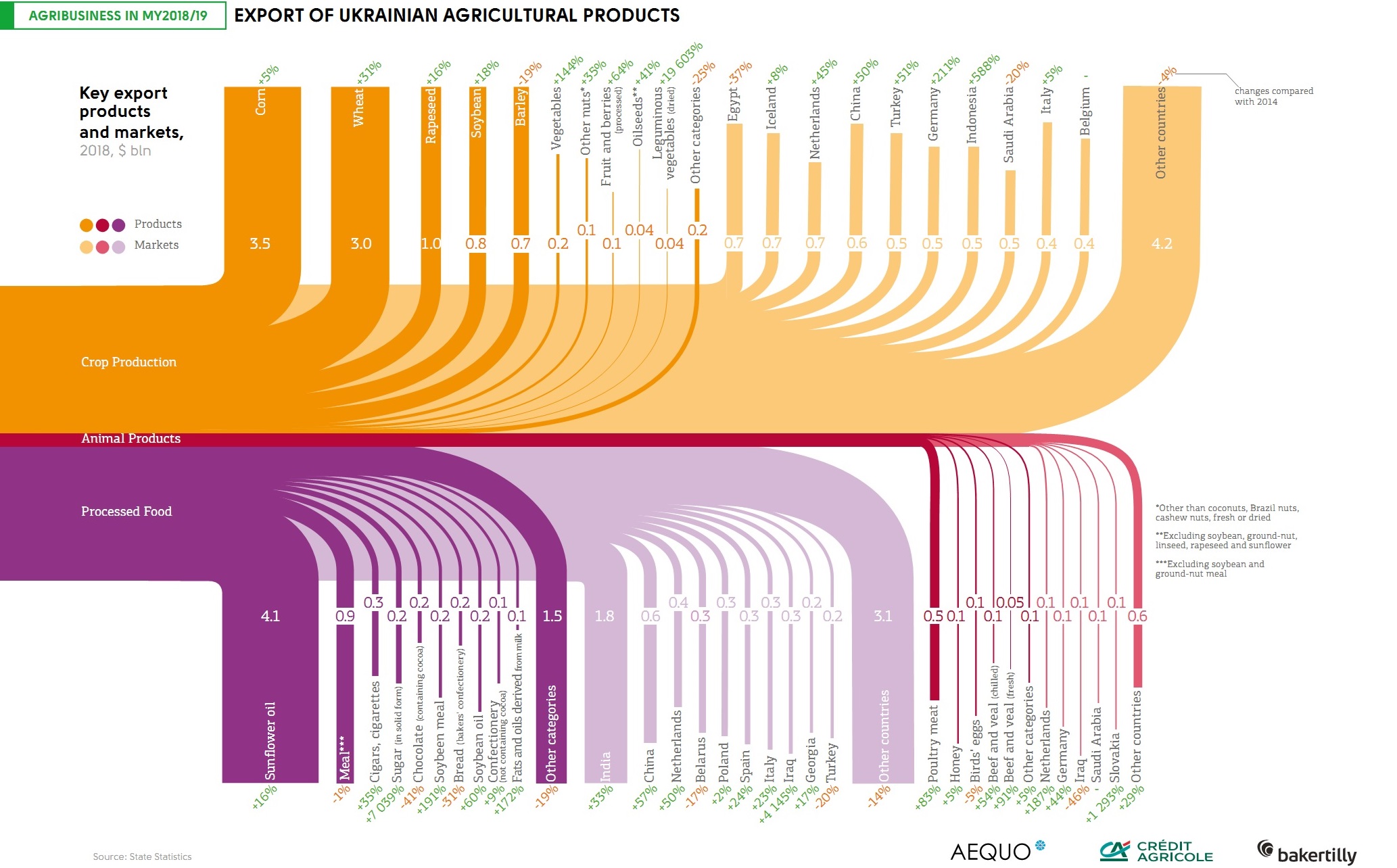 Ukrainian seaports have shipped 27.36 mln t of staple grains for export since the start of 2019/20. As of December 13th, commodities shipment increased by 6.77 mln t from the comparative period of the previous year.