Continental Farmers Group constructs potato storage facility in Lviv region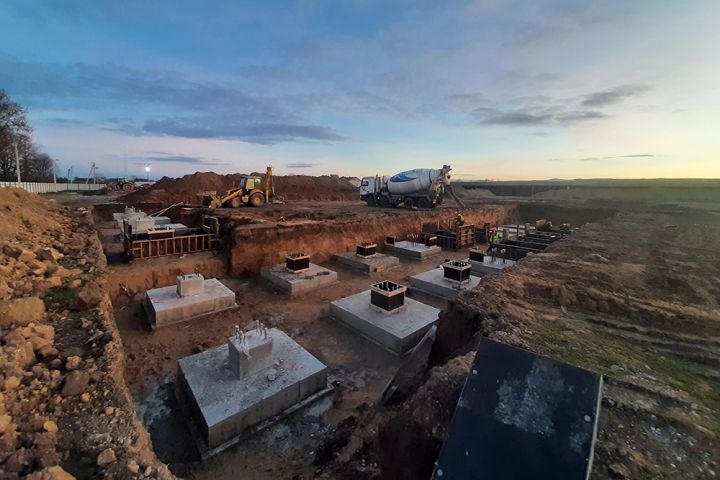 CFG potato storage facility construction in the village of Chukva in Sambir district of Lviv region
Photo by: «Континентал Фармерз Групп» / Continental Farmers Group
Continental Farmers Group (CFG) started the construction of a new potato storage facility in the village of Chukva in Sambir district of Lviv region.
The 16 thou. t potato storage is designed to store crops for up to 10 months. It is specified that the new storage facility will be used to store potatoes grown in the fields of the company's Sambir cluster.
"The required project documentation has already been prepared and the installation of concrete structures for the metal supports of the warehouse has begun. Meanwhile, the purchase of refrigeration, ventilation and other equipment is in progress. Continental plans to complete the construction of the potato storage facility in Chukva village by August of this year before the new crop is delivered," the company says in a statement.
Potato production remains one of the priority areas for Continental Farmers Group. The company grows seed, food potato and varieties for chips production in Lviv and Ternopil regions. The total area under the crop in the production season of 2020 was 1.6 thou. ha. In the new season, it is planned to increase it to more than 2 thou. ha.
The company is one of the largest potato producers in Ukraine and uses its own proven cultivation technologies. It owns modernized potato storage facilities with a total capacity of over 87 thou. t. It also has its own starch factory and modern specialized equipment for cultivating this crop.
In early November, Continental completed potato harvesting on a total area of 1.6 thou. ha. The average gross yield of the crop reached 36 t/ha, which is higher than the planned indicators.