Ukraine's wheat export expected to break double record in 2022
The number of countries importing Ukrainian wheat for more than USD 10 thou. has increased from 32 to 50 in recent years. At the same time, wheat today is exported from Ukraine by more than 1,000 companies, Latifundist.com analysts report.
In January-September 2021, Ukraine delivered to foreign markets 13.1 mln t of wheat worth USD 3.15 bln. The price of wheat grew in the reporting period: the average price was 240 USD/t vs. last year's USD 198.
According to the Ministry of Agrarian Policy and Food of Ukraine, producers harvested 32.8 mln t of wheat in the 2021 crop year. This is a new all-time high for two reasons. Firstly, the total area of wheat in 2021 was significantly higher than last year — 7.1 mln ha against 6.5 mln ha. Secondly, weather conditions in the current production season were exceptionally favourable for wheat cultivation in Ukraine.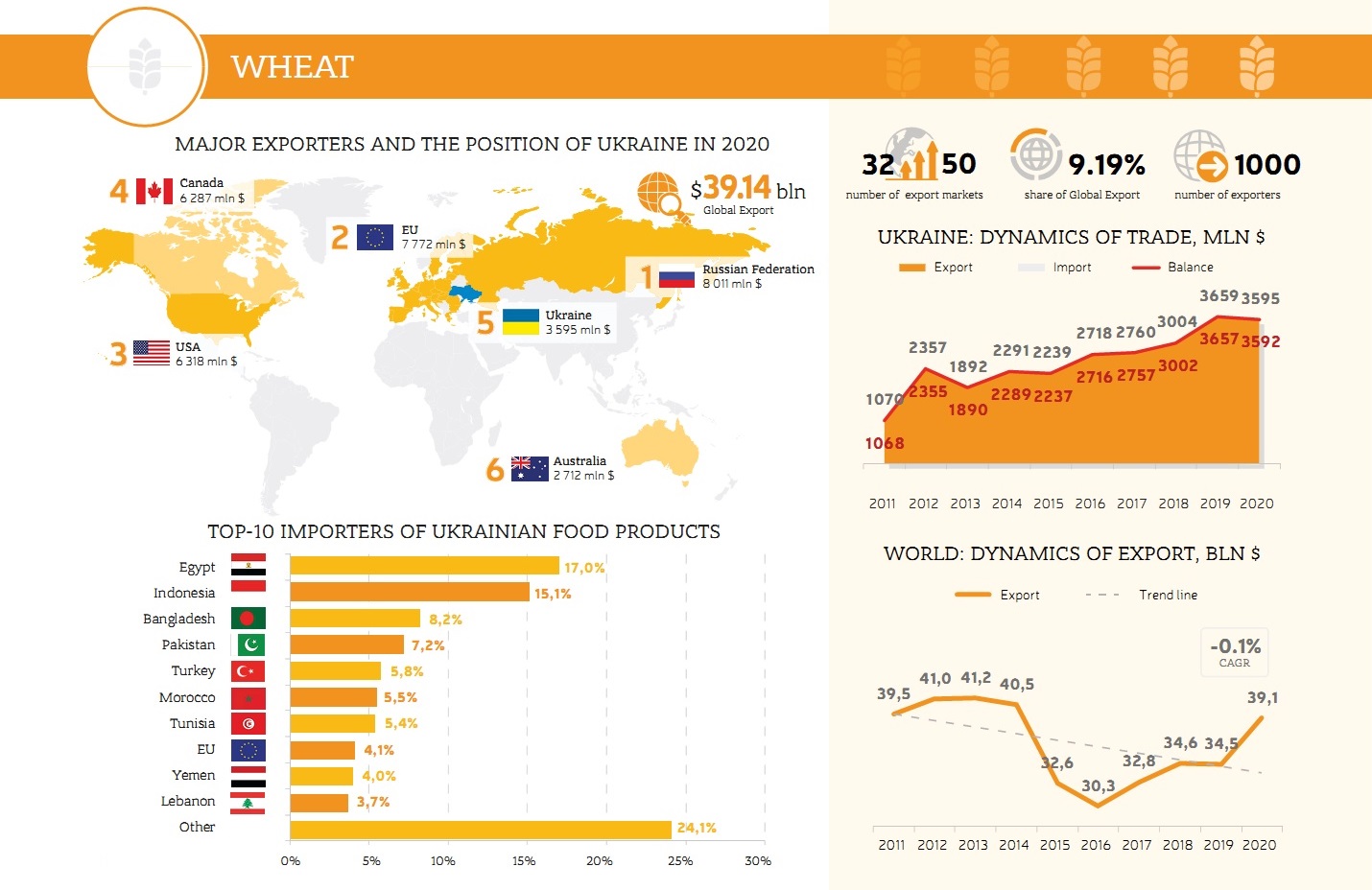 There is every reason to believe that Ukraine will set a double record for the export of wheat: both in value and in volume terms. Now the share of wheat in the total exports from Ukraine in 9M 2021, as per the State Customs Service data, is 6.5%. In 2020, it exceeded 7.3%.
In 2020, Ukraine was the 5th largest exporter of wheat with a USD 3.6 bln value of supplies. The U.S., Canada, Russia and the EU exported precede Ukraine in this ranking. Ukraine's share of the global wheat market in 2020 was 9.2%. The total volume of world wheat exports went beyond USD 39 bln. Within a decade, Ukraine has significantly expanded its presence on the world market.
Since the start of 2021/22, wheat export from Ukraine has increased by 12% YoY. The USDA in its October report left unchanged the projection for Ukraine's wheat export in 2021/22 at 23.5 mln t.
Wheat export from Ukraine in 2021/22 was limited to 25.3 mln t. The Memorandum of Understanding was signed by the Agrarian Ministry and grain market participants.
Learn more: