US corn prices firm though 2022, lower plantings foreseen
A 3 million acre shift from corn to soybeans is possible in the US, with both corn and soybean acreage at around 90 million acres (36.42 mln ha) in the marketing year 2022-23 (September-August), due to fertilizer price and supply constraints, according to S&P Global Platts Analytics.
Soybean is presumed to become attractive as it has lower fertilizer requirement.
Rabobank holds a similar view. "Rabobank expects corn acreage in 2022-23 will fall to 91.8 million acres (37.15 mln ha) as input-squeezed margins, unfavourable crop rotations, and competition outweigh CBOT corn high price and historically advantageous ratio to soybean," it said in its Agri Commodity Market Research Outlook 2022.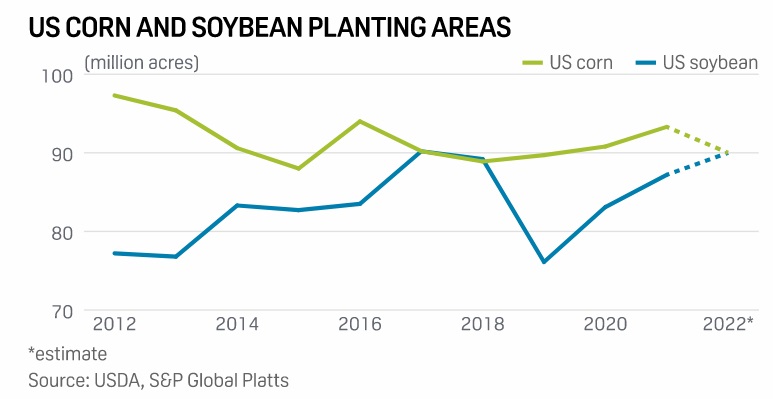 Price is just one piece of the puzzle as availability will also play a role, Platts Analytics said in a recent update.
"While Platts Analytics made an early call on 2022-23 acreage at 90 million acres for corn and soybeans, the price of natural gas will be a factor moving forward," it said, adding that "it is our opinion that a recent drop in the price of nitrogen can move the needle slightly in favor of corn but not to the extent some are suggesting."
The higher input cost for corn also means that corn prices will need to stay elevated to be profitable.
"The task of the agricultural markets from here will be to keep prices high enough to the farmer for nitrogen intensive crops such as corn to maintain economics that is favourable to corn production relative to other crops," IHS Markit said in an October update.
Beyond fertilizers, US corn prices are also likely to take support from rising demand from the ethanol industry. Corn is the primary feedstock for ethanol in the US and nearly 40% of the country's corn output is consumed by the ethanol industry.
US corn prices touched multi-year highs during April-May. The March 2022 corn futures contract on the Chicago Board of Trade reached as high as $6.405/bushel and was back over $6/bu coming into the end of the year.
In the 2020/21 season, the corn planting area in Ukraine made up 5.35 mln ha. As of Dec. 20, corn harvesting was 98% completed, the new crop reached 40 mln t.
Related: